Summary

K2fly announced its full-year update and Q4 reports.
K2fly's Q4 FY20 operations resulted in a positive cash flow of AUD 0.7M.
Q4 being K2F's largest invoice quarter, it raised invoices of AUD 1.9M in Q4 FY20.
New significant clients added during the challenging times.
K2F's SaaS ARR is now AUD 2.36M with a CAGR of 177 per cent, and TCV is AUD 7.47M, CAGR of 663 per cent.
The technology company, K2fly Limited (ASX: K2F) owns two software solutions - RCubed, and Infoscope and offers strategic alliances focussed on solving client's problems. The company states that since the addition of RCubed, K2F could attract several deals with significant global mining clients.
K2fly's full-year update, Q4 performed exceptionally well
Invoices grow significantly: Typically, Q4 is the company's largest invoicing quarter. In Q4 FY20, K2fly raised invoices for AUD 1.9M, an increase of 28 per cent over the corresponding quarter in the previous year.
Image source: company's announcement
Consequently, total invoices raised for FY20 were AUD 6.626M, which is a whopping 60 per cent increase on invoices raised during the last year, which stood at AUD 4.145M. These results are more significant due to the ongoing Covid-19 crisis.
Positive cash flow: In Q4 FY20, K2F reported positive operating cash flow at AUD 0.7M. As at 30 June 2020, the available cash was AUD 2.9M, and also there was AUD 1.13M in receivables from Tier 1 clients.
Image source: Company's announcement
Must read: K2fly Delivers Strong Quarterly Performance; Cash flow from Ops Positive
Between March and May 2020, K2F gained AUD 1.719 million (before costs) from the exercise of 8,596,096 listed options (K2FOA) which expired on 18 May (Options).
Also read: K2fly Enters $1.53 million underwriting agreement with K S Capital Pty Limited
In Q4, ATO granted K2F an R&D tax refund of more than AUD 88k. Moreover, K2F has applied for subsidies and entitlements given by the Federal government in response to the Covid-19 pandemic.
K2fly onboarded notable new clients during the pandemic
The new clients' list includes Nexa Resources, Rio Tinto, Newcrest, Imerys, Glencore Canada, Kinross Gold, Orano, South 32 Goldfields, Newmont, and Sibelco. Some clients also extended their licencing deals such as AngloGold Ashanti by three years, Westgold by five years, and Teck Resources by three years.
Here, it is evident that K2F could achieve market penetration and SaaS sales even during the global crisis of the Covid-19 pandemic. The technology company could provide the flexibility of implementing SaaS solutions remotely during the epidemic. K2fly is confident of adding new names to its clients' list in 2020.
Software as a Service (SaaS) Update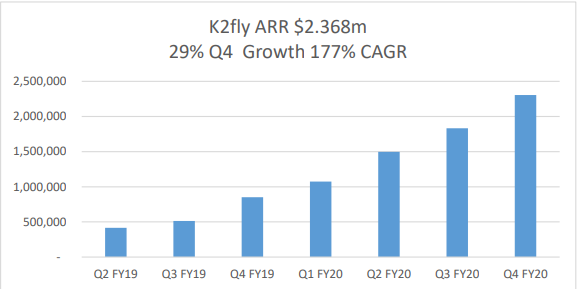 Image source: Company's announcement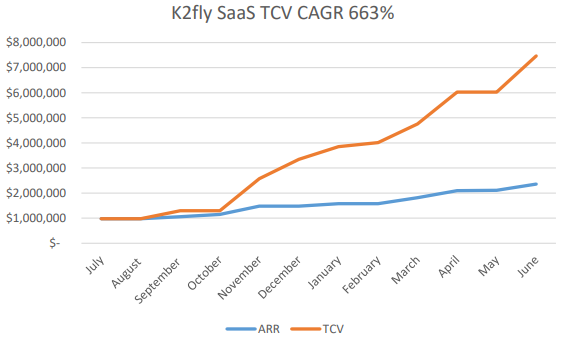 Image source: Company's announcement
Annual Recurring Revenue (ARR)has increased to AUD 2.36M, quarterly growth of 29 per cent and Compound Annual Growth Rate (CAGR) of 177 per cent.
The Total Contract Value (TCV) for SaaS deals is nearly AUD 7.47M, quarterly growth of 57 per cent and a CAGR of 663 per cent. K2fly's average SaaS contract terms are now over three years across one, three and five-year agreements.
Milestone achieved for RCubed
RCubed solution's new clients added in Q4 helped K2F to accomplish its acquisition performance milestones. Due to these contracts, the net new Annual Recurring Revenues (ARR) exceeded AUD 500k. The final milestone in the revenue acquisition performance set for RCubed over three years is successfully achieved.
MOU with Decipher for Tailings Storage Facilities solution
On 8 July K2fly joined forces with Decipher to build an integrated monitoring and governance platform for Tailings Storage Facilities (TSF). On a global level, K2fly is already collaborating with SAP on Tailing solution for SAP customers and Decipher alliance will add to the detailed monitoring of facilities as it offers an award-winning cloud monitoring platform.
Related: K2fly, Decipher's MOU to create Tailings Storage Facilities solutions globally
On 29 July, K2F closed the day's trade at AUD 0.270, with a market cap of AUD 26.33 million.