Summary

Empire Resources Limited owns two highly prospective projects in Western Australia with several identified prospects.
Two broad, historically untested areas were identified at Penny's Find gold mine through the geological review.
Yuinmery Copper-Gold Project includes two mining, and three are exploration leases spread over a total area of 84.5 km2.
ERL has obtained a 100% interest in the Barloweerie Project, as highlighted by the tenement holdings' schedule by the end of June quarter.
Gold and copper focussed explorer and developer, Empire Resources Limited (ASX:ERL) owns 100% of two highly prospective projects, namely the Yuinmery Copper-Gold Project and the Penny's Gold Project.
The Yuinmery Copper-Gold Project is located in the base metal-rich Youanmi greenstone belt while the Penny's Gold Project in the prolific Eastern Goldfields Region of Western Australia. Notably, ERL has identified several exploration targets at these projects which offer substantial potential for development in the region.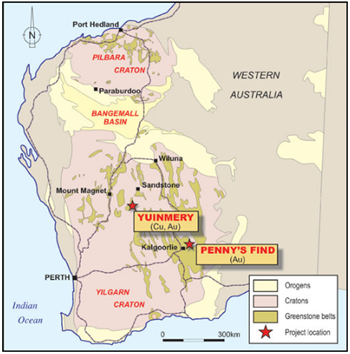 Projects Locations (Source: ERL's Website)
Related: Empire Resource's Investment in NTM Gold Proves Lucrative, Grows From $0.0325 to ~$0.09 Within a Year
Let us dive deep into the details of these highly prolific projects of Empire Resources.
Penny's Find Gold Mine (WA) (100% interest)
All the assets, as well as exploration tenements, in relation to the Penny's Find gold mine, were acquired in full ownership by ERL and the project is located 50km east of Kalgoorlie, Western Australia.
Moreover, the gold mineralisation at Penny's occurs within a lower order northwest-trending shear that intersects a northerly trending structure.
ERL completed a comprehensive geological review at its Penny's Gold Project, for which the Company that engaged an independent geological consultant during June 2019 quarter.
Two broad, historically untested areas were identified through the geological review by targeting structurally controlled gold mineralisation comparable to the Penny's Find open-pit mine.
Moreover, the previous drilling has indicated the potential for the area, especially 1.7km to the north of the Penny's Find open-pit mine. Previous drilling at this mine has intercepted elevated gold mineralisation including 4m @ 1.63g/t Au from 32m from RC hole PFRC10-07.
Interesting Read: Empire Resources Unveils Encouraging DHEM Responses & Broad Sulphide Mineralisation at Yuinmery
Yuinmery Copper-Gold Project (WA)
The Yuinmery Copper-Gold Project comprises of five granted tenements, of which two are mining, and three are exploration, spread over a total area of 84.5 km2.
Mining tenements; M57/265 and M57/636 and exploration tenement; E57/1037 are 100% owned by Empire
Exploration tenements are E57/681 and E57/1027, subject to a Net Smelter Royalty (NSR) of 1.25%
Notably, the project has an impressive current JORC 2012 Resource of 2.52Mt @ 1.31% Cu, 0.49g/t Au and 1.76g/t Ag using a 0.5% Cu cut-off and eighteen new target areas have been identified for follow up exploration at the project. These targets were identified through the integration of the geochemical and geophysical datasets.
The targets identified through the geological survey are at various stages of exploration development. Moreover, ERL has identified some targets as priority 1 targets in the south that are deemed ready for reconnaissance drilling.
On the other hand, additional soil sampling programs shall be required to support reconnaissance drilling at priority 2 and 3 target areas.
Some of the prominent target areas of ERL at Yuinmery Project include the following:
Smith Well Prospect: Historic copper-gold prospect with recently identified anomalous nickel in drilling and includes following drilling intersections:
12m @ 0.49% Cu, 0.28% Ni & 0.03% Co from 86m from YRC20-13, including:

4m @ 0.61% Cu, 0.32% Ni & 0.04% Co from 94m

12m @ 0.38% Cu & 0.01% Ni from 60m from YRC20-12
Sulphides, including chalcopyrite, pyrrhotite and pyrite have been intercepted in varying concentrations through drilling during 2020 till quarter ended 30 June 2020.
YT01 Prospect: An independent review of historical geochemical, geological mapping, drilling and geophysics datasets identified YT01 Prospect. Its drilling intersections include the following:
44m @ 0.47% Cu & 0.07g/t Au from 88m from YRC20-14; including

1m @ 1.00% Cu & 0.18g/t Au from 93m,
2m @ 1.05% Cu & 0.22g/t Au from 95m
1m @ 1.40% Cu & 0.13g/t Au from 101m

12m @ 1.02% Cu from 44m YRC20-03, including:

1m @ 2.56% Cu from 44m
3m @ 1.31% Cu from 48m

3m @ 1.01% Cu from 57m and 1m @ 1.03% Cu from 79m YRC20-02
Did you read: Empire Resources Reports Significant Results from Drilling Campaigns, Stock Zooms by ~7%
Barloweerie Project (Zn-Pb-Ag-Au-Cu)
Earlier, ERL had applied for a 113km2 exploration licence located approximately 155km west of Cue in Western Australia covers part of the Barloweerie greenstone belt where historical exploration discovered highly anomalous zinc, lead, silver, gold, and copper mineralisation.
ERL's tenement holdings' schedule released in June quarterly activities shows that the Company has obtained 100% interest in the project and had held the same interest at the end of previous quarter ended 31 March 2020.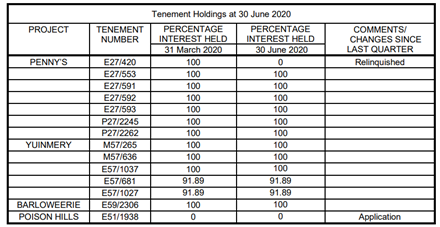 Source: ASX Announcement
More importantly, ERL has a professional leadership team with a depth of experience in exploration, development and finance and share a strong commitment towards building a mineral business that is sustainable while being profitable.
Presently, ERL is engaged in re-assaying recent drilling to help to develop better insights about the geological setting of YT01 and its implications for mineralisation.
On 19 August 2020, ERL shares quoted at $0.015 with a market capitalisation of $13.63 million.
All financials are mentioned in AUD, unless otherwise specified.