Summary

Empire Resources fully owns two highly prospective projects and seeks to extract value from direct exploration in its existing projects.
ERL recently delivered encouraging exploration results through reverse circulation (RC) drilling at the Yuinmery Copper-Gold Project.
Occurrence of elevated Palladium and Platinum values encountered towards the bottom of the hole at YT01 prospect.
ERL is optimistic about the significant opportunity for growth with the encouraging Cu-Ni-PGM results returned from drilling at Yuinmery and highly prospective gold targets at Penny's Gold Project.
Mineral exploration and resource investment company, Empire Resources Ltd. (ASX:ERL) owns 100% of two highly prospective projects, namely the Yuinmery Copper-Gold Project and the Penny's Gold Project located in the base metal-rich Youanmi greenstone belt and prolific Eastern Goldfields Region of Western Australia, respectively.
Off late, ERL delivered excellent exploration results through reverse circulation (RC) drilling at the Yuinmery Copper-Gold Project.
Latest Progress at Yuinmery Copper-Gold project
Located in the Mid-West region of Western Australia, the Yuinmery Copper-Gold project comprises of five granted tenements, two mining and three exploration tenements for a total area of 84.5 km2, of which M57/265 and M57/636 mining tenements and E57/1037 exploration tenement are 100% owned by Empire Resources.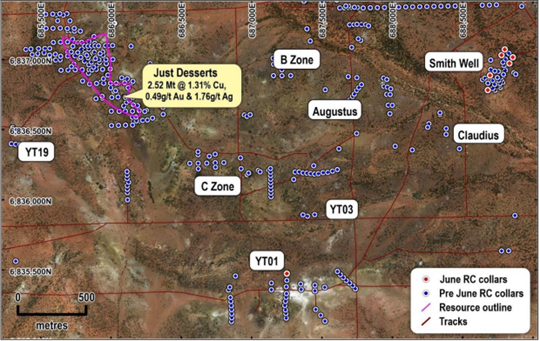 Yuinmery Copper-Gold Project Prospects and Drill Hole Locations (Source: ASX Announcement 23 July 2020)
Interesting Read: Empire Resources Limited Calls the Tune in Its Significant Landholdings, A Walk Through Its Project Portfolio
Moreover, exploration tenements E57/681 and E57/1027 are subject to a Net Smelter Royalty (NSR) of 1.25%.
Empire Resources Ltd had commenced exploration in the area during 2006, and a number of RAB, RC and diamond drilling programmes as well as aerial, surface and downhole electromagnetic (EM) surveys have been completed to date at the area.
The geological work was driven by the aim of generating precious and base metal mineralisation prospective new target areas within the project limits. ERL identified eighteen new target areas for follow up exploration. Some of the target areas of exploration development are the priority 1 targets while some are priority 2 and 3 target areas.
In July 2020, ERL reported impressive results from the seven reverse circulations (RC) holes for 1,001m at the Yuinmery Copper-Gold Project that was completed in June 2020. The drilling program was aimed at testing the following:
Interpreted north-east plunging copper-nickel mineralisation at Smith Well
Extents of mineralisation in the south-western limb of Smith Well and demonstrated continuity of mineralisation at depth at YT01
ERL believes that the results received were highly encouraging as drilling progressed to intercept copper-nickel mineralisation at depth and down plunge in the north-east of Smith Well. The Yuinmery project has remained on track to produce excellent exploration results, including
High concentrations of PGE's towards the west of Smith Well Prospect that have not been observed historically in such concentrations, and
Presence of a broad zone of palladium and platinum metals at the YT01 Prospect makes Yuinmery Project an excellent opportunity for significant discoveries.
Did you read: Empire Resource's Investment in NTM Gold Proves Lucrative, Grows From $0.0325 to ~$0.09 Within a Year
Encouraging Results at YT01 and Smith Well Prospects
At YT01, encouraging results were received showing broad zone of Cu-Ni-PGM mineralisation in RC hole YRC20-28 and the presence of elevated Pd and Pt values encountered towards the bottom of the hole. ERL is presently engaged in re-assaying the latest drilling to aid in recognising the geological setting of YT01 and its consequences for mineralisation.
At Smith Well prospect, three RC holes were drilled in May to check the additional DHEM data as compared to 2008 anomaly and six RC holes were completed by ERL in June 2020. RC Drilling at Smith Well prospect in June intersected disseminated to matrix sulphide mineralisation with assay results comprising:
10m @ 0.42% Cu, 0.24% Ni & 0.03% Co from 63m (YRC20-22), including:

1m @ 0.87% Cu, 0.13% Ni & 0.02% Co from 67m
1m @ 0.92% Cu, 0.23% Ni & 0.05% Co from 69m

8m @ 0.29% Cu, 0.22% Ni & 0.03% Co from 149m (YRC20-23)
ERL believes that further exploration is required at the Smith Well Prospect for a definitive assessment of the area.
Detailed Discussion at: Empire Resources Reports Significant Results from Drilling Campaigns, Stock Zooms by ~7%
Funds Raised For Development of Projects
In early August 2020, ERL further completed a placement to raise around $1.3 million before costs through the issue of approximately 108 million new fully paid ordinary shares at an issue price of A$0.012 per share to investors.
There had been strong demand from investors witnessed in capital raising. The funds raised from the placement are anticipated to be utilised for financing the exploration drilling at the Yuinmery Project, the Penny's Gold Project near Kalgoorlie and working capital requirements.
ERL is optimistic that there lies a significant opportunity for growth represented by the recent encouraging Cu-Ni-PGM results returned from drilling at Yuinmery, along with highly prospective gold targets at Penny's in a situation where the gold price is at an all-time high.
Related: Empire Resources Unveils Encouraging DHEM Responses & Broad Sulphide Mineralisation at Yuinmery
ERL share price was noted at $0.014 (AEST:03:17pm) with a market capitalisation of $12.72 million on 28 August 2020.