Summary

Cobalt prices have exceeded the US$33,000 mark, on the back of burgeoning electric vehicle industry with government reforms and incentives. Europe emerging as the new centre of the EV Industry.
Cobalt Blue Holdings' Broken Hill Cobalt Project, the largest greenfield cobalt project ex Africa, targets 17 years of operational life and average production of 3,500-3,600 tonnes of cobalt per annum.
Encouraged by better economics, higher reserves and longer targeted mine life, COB advances on numerous sampling programs designed to establish high purity, battery grade characteristics of the cobalt product prior to the completion of feasibility study.
With the outbreak of COVID-19, global economic activity came to a near standstill and the commodity space was no outlier. The outbreak, which led to the largest economic shock the world has experienced in decades, impacted demand for almost all commodities; however, the ongoing unprecedented situation has pushed up prices of few commodities.
The coronavirus pandemic led to the shut down and supply cut back of cobalt from Ambatovy, Compagnie de Tifnout Tiranimine (CTT), Voisey's Bay, Raglan Cobalt and other mining operations. The outbreak had a major impact on the industrial demand for cobalt. However, lately cobalt prices have recovered, with demand for lithium-ion battery packs going up, fuelled by government reforms and incentives towards encouraging electric vehicle adoption.
A strategic metal, cobalt is in strong demand for new generation batteries, majorly lithium-ion batteries that are widely used in clean energy systems.
Click here to read our article on how the pandemic emerged as an accidental catalyst for the cobalt market, fuelled by pro-EV sentiments and reforms, globally.
Cobalt prices have recovered after taking a toll, on the back of subdued demand. The demand shock was mostly counterbalanced by supply disruptions due to halting and production cutbacks at mining operations. The growth in demand in recent months especially in the European market has triggered the cobalt price recovery.
Cobalt has often been associated with supply restrictions mostly concerning geopolitical issues, and Bou Azzar, the only one primary cobalt mine, currently operates, globally, with remaining being sourced from secondary cobalt mines along with nickel and copper products.
On a global level, electric vehicle sales grew strongly during H1 2020, with volumes greater than the 2018 annual volumes. The reintroduction of subsidies in the Chinese market has increased to 2018 levels when the incentives were offered. Additionally, growing electric vehicle sales volume across Europe highlights that the region has gained the steering of the EV sector and anticipates emerging as the largest EV market by volumes in 2020.
Cobalt Blue Developing Australia's Largest Cobalt Sulphide Deposit, BHCP
Cobalt Blue Holdings Limited (ASX:COB) is an exploration and project development company, which is advancing work programs to develop the Broken Hill Cobalt Project in New South Wales. The project is located in a matured mining environment, which hosts world-class nickel, lead, silver and zinc mining operations.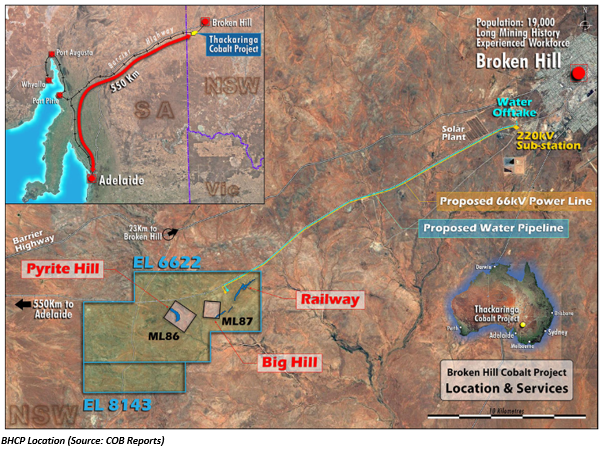 Upon commencement, the Broken Hill Cobalt Project is expected to emerge as a major supplier of battery grade ethical cobalt with a processing capacity of up to 6.3 million tonnes of ore producing 3,500-3,600 tonnes per annum along with substantial by-product credits of up to 300,000 tonnes per year of elemental sulphur.
Last month, Cobalt Blue released a project update, delivering significant enhancements in the project economics against the 2018 pre-feasibility study. Apart from economic parameters including operating and capital costs, the project update also highlighted upgraded mineral ore probable reserves by 55% to 71.8 million tonnes with a grade of 710 ppm cobalt, expanding the targeted life of mine to over 17 years.
Related: Cobalt Blue's BHCP Update Highlights Increased Ore Reserve, Longer Operating Life and Lower Costs
Sampling Programs to Establish Cobalt Product and De-risk BHCP
Cobalt Blue has also been collaborating with global top-tier companies to benchmark the battery grade and intermediate cobalt products against the industry specifications, even prior to the completion of feasibility study anticipated in 2022. COB plans to enter as many as 10 sampling agreements with cobalt trading companies and battery precursor manufacturers.
The Broken Hill or Thackaringa Cobalt Project, holding the potential to be one of the largest suppliers of ethical cobalt (ex-Africa), is aiming to be a top 10 global operation, by size of annual cobalt production, in a low political risk jurisdiction with well-established infrastructure.
Stock Information - COB stock settled the day's trade at AU$0.100 on 19 August 2020, with a market capitalisation of AU$20.98 million.
Must Read: Scan Through Cobalt Blue's June 2020 Quarterly Report With Noteworthy Accomplishments