Highlights

Cauldron Energy (ASX: CXU) has embarked on a new strategy focusing on decarbonisation and broader energy transition.
CXU has refreshed its leadership team with Ian Mulholland as its new Chairman and Jonathan Fisher as new CEO, to pace up its growth trajectory.
The company believes in the potential of Melrose Project, which sits nearby Chalice's Julimar and Barrabarra projects.
Results from new geophysical modelling for Target 04 at its Melrose Project have confirmed the presence of a huge magnetic body coincident with historical air-core drill data.
Australia-based exploration company Cauldron Energy Limited (ASX: CXU) has embarked on a new business strategy centred around decarbonisation and broader energy transition. The company is committed to directing its resources in identifying and exploring minerals which are critical for a cleaner energy future.
Refreshed team with skills and experience
Let's have an insight into the company's dynamic new team. The company has welcomed Ian Mulholland onboard as its new chairman, Jonathan Fisher as new CEO and Angelo Socio as new exploration manager.
Mr Mulholland holds a track record of commercial discovery with three decades of experience of working at different senior technical and executive positions. Previously, he served as the Technical Director of Conquest Mining, Chief Geologist of Summit Resources, and Exploration Manager at Anaconda Nickel.
Mr Fisher holds rich experience of over two decades in the nuclear, radioactive, energy transition, resources, and corporate industries. Over the years, he has worked as the Chief Financial Officer at TNG Ltd and Tellus Holdings Ltd, and as the General Manager Corporate Finance for Atlas Iron. He has completed his studies in Commerce, Finance and Law from the Macquarie University and University of Western Australia.
The newly hired Exploration Manager Angelo Socio is a great addition to the team as he owns years of experience and significant technical expertise across commodities.
The refreshed team will direct its efforts in exploring the opportunities arising from growing global focus on energy transition, establishing the new brand in the market as well as developing new projects such as the Melrose Project in the West Yilgarn region.
Exciting progress at Melrose Project
The project, covering an area of ~1,507km2, sits within the Dalwallinu region of Western Australia. Melrose is ~125km north of the Julimar project and ~15km immediately south of Chalice's Barrabarra Ni-Cu-PGE project.
Cauldron Energy recently received grants for two tenement applications. With the new tenements, the Melrose Project has become the largest contiguous Nickel-Copper-PGE prospective landholding in the Barrabarra Greenstone Belt portion of the West Yilgarn Craton.
It is to be noted that the West Yilgarn Craton has been witnessing increasing investors' interest amid growing activity from various minerals explorers, highlights CXU.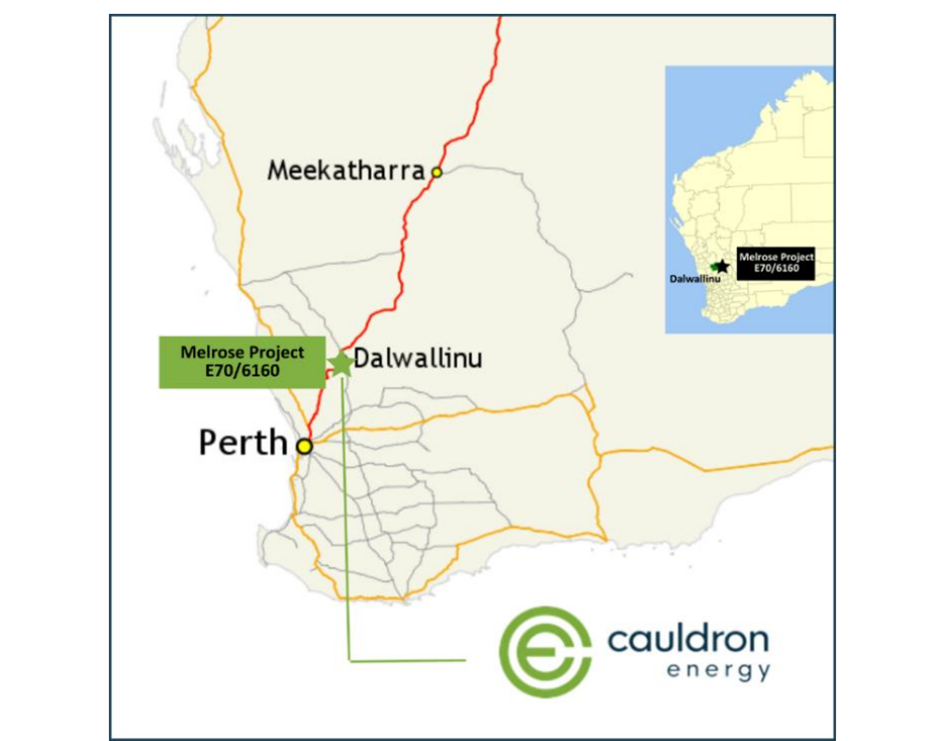 Location Map - Melrose Project, Image Source: Company Update
Cauldron Energy recently shared results from new geophysical modelling conducted for Target 04 at its Melrose Project. The results project a 3km long and up to 500m wide magnetic body coincident with shallow historical air-core drill holes which delivered elevated levels of copper and nickel.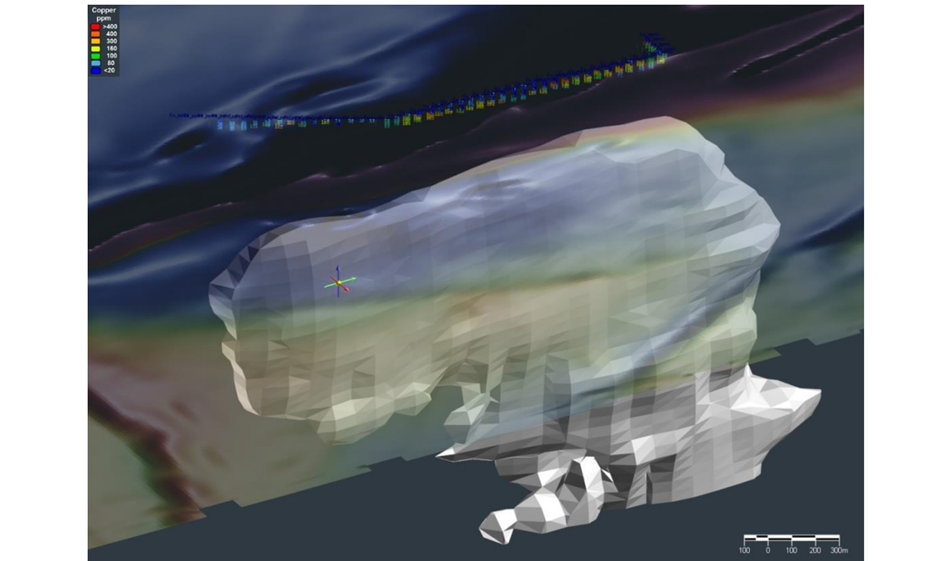 3D view of the inverted magnetic anomaly at Target 04, including the air-core drill holes and original magnetic survey image before inversion (shaded)
Image source: company update
The company has hired UTS Geophysics to conduct a helicopter electromagnetic (EM) survey over high-priority targets in the month of August. CXU would outline future drilling after receiving the EM survey results expected to better define existing targets and help identify new targets.
Here's what CEO Jonathan Fisher has to say about the latest development:
"The geophysical results received for Target 04 at Melrose Project are extremely exciting when taken with the historical shallow air core-drilling which returned elevated levels of nickel and copper and given that the depth of the interpreted magnetic body lies at a similar level to that of Target 01."
He added that "With each step forward our confidence grows that Melrose will be a source of significant near-term value for the Company."
Stock information: CXU's shares last traded at AU$0.007 on the Australian Securities Exchange (ASX) on 27 July 2023. The company has a market capitalisation of AU$6.5 million.