Highlights


A constant rise in steel prices has led BlueScope to improve its earnings guidance for H2 FY22.
BlueScope now expects to deliver at least AU$1.375 billion of EBIT in H2 FY22, compared to AU$1.2 billion stated in its previous earnings guidance.
The company started trading in green today, supported by this announcement.
The shares of BlueScope Steel Limited (ASX:BSL) were spotted trading 1.952% higher at AU$18.28 per share at 11:03 AM AEST on the ASX today (18 May).
The ASX-listed steel manufacturing company has come up with an updated earnings guidance for H2 FY22 on the ASX today.
The share price of BlueScope has fallen approximately 16% on the ASX over the past 12 months. On the other hand, BlueScope's year-to-date share price also fell almost by 15% at 11:03 AM AEST on the ASX today (18 May).
Why are BlueScope shares trading in green today?
BlueScope's earnings guidance for H2 FY22 is probably the primary reason behind its shares trading in green today. The company is anticipating to deliver underlying earnings before interest and tax (EBIT) worth AU$1.375 billion to AU$1.475 billion in H2 FY22.
The company began to expect improved earnings expectations for North Star, and North America coated business due to a more than expected realised steel prices and spreads in the United States. This is the only catalyst that is driving a strong earnings guidance of BlueScope. Meanwhile, BlueScope's other businesses continue to remain on track and consistent with the expectations of the company.
Previously, the company expected its EBIT to be in the range of AU$1.2 billion to AU$1.35 billion and was subjected to spread, foreign exchange and market conditions.
On the other hand, BlueScope also informed that the Australian Steel Products had seen softer domestic dispatch levels as a result of disruption in the supply chain due to several limitations such as the COVID-19 pandemic and flood on the East Coast, rail outages, etc. Therefore, the damage in the business was compensated through stronger realised steel spreads along with a higher contribution from the company's downstream businesses.
Furthermore, the company expects its net working capital to remain elevated during H2 FY22 with the current strength in raw material prices and continued supply chain disruptions.
Read more: BlueScope (ASX:BSL) to acquire Coil Coatings for US$500M
About BlueScope: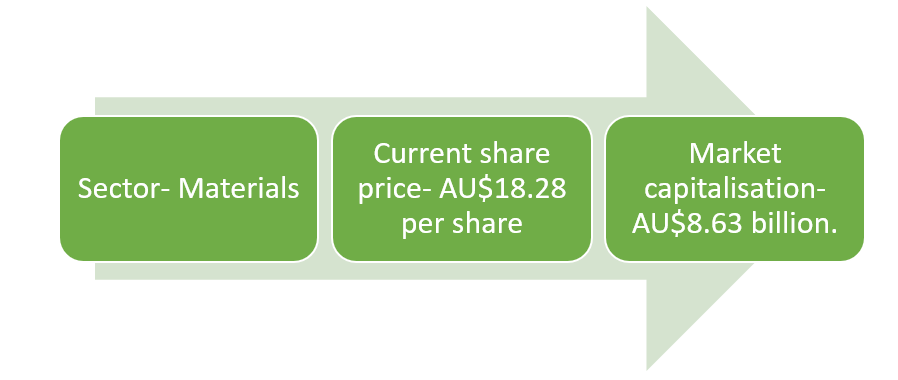 Image Source © 2022 Kalkine Media ®
What did the BlueScope management say?
Mark Vassella, the Managing Director and CEO of BlueScope, said that the company managed to reflect strength and resilience in its business performance through obstacles like the recent macroeconomic volatility and geopolitical conflicts. At present, when there is an increasing demand for commodities globally, the company is aiming to improve its services that have suffered due to supply chain disruptions and the COVID-19 pandemic.
Read more: Here's why Core Lithium (ASX:CXO) shares close over 8% strong today.