An Australian-headquartered clinical stage immuno-oncology company, Imugene Limited (ASX: IMU) has a robust pipeline of B cell vaccines aimed at treating a variety of cancers. The company's pipeline includes multiple product candidates that are used for the treatment of a range of cancers. These product candidates are used in combination with standard of care chemotherapy and other treatments.
Imugene's product pipeline comprises of the following B cell vaccines - PD1-Vaxx (anti-PD-1), HER-Vaxx (anti-HER-2) and B-Vaxx (anti-HER-2). The company is also undertaking pre-clinical trial with a combination of HER-Vaxx and PD1-Vaxx. These B-cell vaccine candidates are in various stages of development, as shown in the figure below:
Let us know more about these vaccines in detail:
HER-Vaxx (anti-HER-2)
The B-cell peptide cancer vaccine, HER-Vaxx was designed by Imugene for the treatment of tumors that over-express the Human Epidermal Growth Factor Receptor or HER-2/neu receptor. HER-Vaxx is a multi-epitope Vaccine for HER-2/neu-associated Cancers, developed by the leading scientists at the Medical University of Vienna.
HER-2 is a clinically and commercially validated target for cancer treatment that stimulates the growth of cancer cells. It has been found that around 10 to 30 per cent of breast, gastric, pancreatic and ovarian cancer patients have been tested HER-2 positive. The incidence of over expression i.e. increased HER-2 in the body is associated with a greater probability of cancer dispersal and recurrence.
Imugene's products have the potential to improve upon commercialised HER-2 treatments such as Perjeta® and Herceptin®. HER-Vaxx attacks the same target as the world's largest selling breast cancer drug Herceptin®.
The working of the HER-Vaxx is demonstrated in the figure below: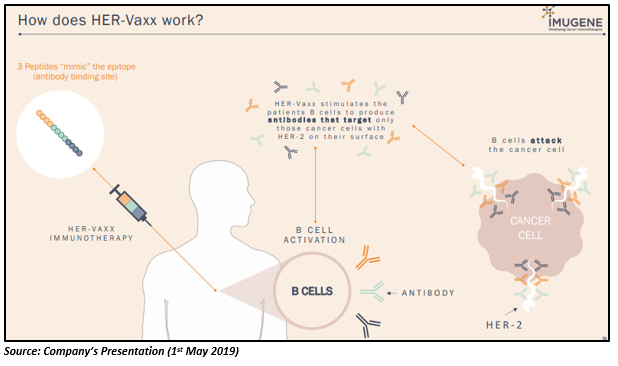 Progress of HER-Vaxx
Post completion of the Phase 1b clinical trial of its HER-Vaxx cancer vaccine in patients with metastatic breast cancer, Imugene conducted a clinical trial in HER-2 gastric cancer patients, testing 3 varied doses of HER-Vaxx (IMU-131) in combination with current standard of care chemotherapy Cisplatin and either Capecitabine or Fluorouracil.
Imugene successfully completed the HER-Vaxx Phase 1b trial in HER-2 gastric cancer patients, reporting strong trial results with no safety or toxicity issues. It was found that all patients under study had increased antibody response, and 11 out of 14 were evaluable for tumor response assessment and vaccine-specific immune responses. 1 patient saw a complete response, 5 had a partial response and 4 recorded a stabilisation of their disease. The trial indicated clear dose-dependence of a 'validated cancer target HER-2' specific antibody production.
At the prestigious annual meeting at the American Society of Clinical Oncology in June 2019, Imugene announced positive data from its ongoing Phase Ib HER-Vaxx cancer vaccine trial. The Phase 1b HER-Vaxx study, which finalized recruitment in 2018, met all its primary endpoints. The patients continue to obtain HER-Vaxx every three months to maintain substantial levels of cancer targeting antibodies. A Phase 2 study commenced in March 2019, dosing recruits at the highest Phase 1b dose.
The patients who received the highest dose of HER-Vaxx exhibited continued progress. By day 182 of the trial, the patient reported shrinking/stabilization of tomors; one experiencing shrinking of tumor by more than 70% since joining the study. All patients on the highest dose have already received their day 266 doses and these results will be presented in an oral presentation at ESMO GI in Barcelona on 3rd-6th of the next month.
Imugene advanced to the Phase 2 study of its HER-Vaxx cancer vaccine in gastric cancer patients post completion of the Phase 1b study. In the open-label, randomised multi-centre Phase 2 study, the first patient was dosed with HER-Vaxx cancer vaccine in March this year, for the treatment of gastric cancer patients that have been tested HER-2 positive. The Phase 2 study is designed to measure the immune response and safety in 68 patients with metastatic gastric cancer, overexpressing the HER-2 protein.
PD1-Vaxx (anti-PD-1)
PD1-Vaxx is a new entrant in the checkpoint inhibitor market, aiming to enable the body to produce polyclonal antibodies targeting PD-1. Professor Pravin Kaumaya at the OSU in Columbus OH developed the PD1-Vaxx from a single B cell epitope obtained from the extracellular PD-1 domain. This B-cell peptide cancer vaccine produces an anticancer effect similar to monoclonal antibodies, Keytruda and Opdivo.
The working of the PD1-Vaxx is demonstrated in the figure below:
Progress of PD1-Vaxx
PD1-Vaxx has shown an encouraging response in pre-clinical studies, demonstrating strong inhibition of tumor growth. In industry-recognised mouse cancer models (colon cancer), the PD-1 targeting B-cell vaccine was found to be more superior than the gold standard mouse PD-1 monoclonal antibody (used in pre-clinical model testing for Keytruda and Opdivo). The PD1-Vaxx is currently under the pre-clinical phase, and Phase 1 is expected to commence in Q4 2019.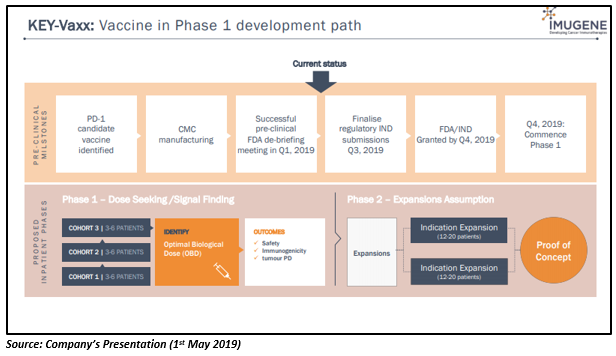 B-Vaxx (anti-HER-2)
Similar to HER-Vaxx, B-Vaxx was designed to treat tumors that over-express the Human Epidermal Growth Factor Receptor or HER-2 receptor, by binding to the same regions as Herceptin® and Perjeta®. Professor Pravin Kaumaya at the OSU in Columbus OH developed the B-Vaxx from two B cell epitopes obtained from the HER-2/neu extracellular domain.
Progress of B-Vaxx
B-Vaxx had shown positive Phase 1 results with 14 (out of 24) late stage patients indicating positive clinical response. The patients evaluated under study progressed after at least four lines of treatment. The Phase 1 study indicated that B-Vaxx produces an effective polyclonal antibody response to a validated HER-2/neu. The Phase-1 study results were published in the Clinical Cancer Research journal as a highlight of the 2019 June issue. The B-Vaxx is currently in the stage of Phase 2 clinical trials.
HER-2 & PD-1 Vaccine Combination
The pharmaceutical industry is looking for a novel combination of drugs for the better immuno-oncology outcome. A novel combination is the one that combines without increasing toxicity, with minimal cost increase and for better response rates and efficacy. Imugene's therapies have the potential to satisfy these conditions.
In pre-clinical studies, the company found that the combination of PD1-Vaxx and B-Vaxx is more effective (90% cancer growth inhibition) in reducing tumor growth than PD1-Vaxx alone in a colorectal cancer model. Also, the vaccine combination did not appear to exhibit autoimmunity or toxicity and was found to be safe. It potentially caters well to the industry problem of additive toxicity of combined checkpoint inhibitors provided the vaccines' safety is ensured in combination.
In the recently released Quarterly Cash Flow results for the quarter ending 31st March 2019, Imugene reported a strong financial position (cash balance of $21 million in the bank) and remained well-funded to support its clinical and commercial milestones. The company expects ~ $3.5 million expenditure in the next quarter as it would progress to navigate Phase II trials.
IMU is trading at AUD 0.014 as on 27 June 2019.
---
Disclaimer
This website is a service of Kalkine Media Pty. Ltd. A.C.N. 629 651 672. The website has been prepared for informational purposes only and is not intended to be used as a complete source of information on any particular company. The above article is sponsored but NOT a solicitation or recommendation to buy, sell or hold the stock of the company (or companies) under discussion. We are neither licensed nor qualified to provide investment advice through this platform.