Summary

Cann Group Limited continues robust commercial momentum in the June quarter of FY20.
During FY20 June quarter, AusCann delivered first products of its controlled-dose capsules.
Althea reported strong growth despite COVID-19 disruption and unaudited revenue for FY20 rose by 547%.
Ecofibre's NPAT for FY20 soared by 119% and has announced a strategic acquisition to speed-up commercialisation of Hemp Black.
While healthcare and biotech companies are fighting to find a cure for COVID-19 to put an end to the global misfortune caused by the novel coronavirus cannabis stocks are grabbing attention with their continuous development amid the turmoil.
The cannabis industry in Australia has gained traction amid the COVID-19 as Medicinal Cannabis Industry Australia (MCIS) had confirmed that the medicinal cannabis qualifies as an essential service as per the public health instructions issued by states and territories. Further, some research studies have indicated that cannabis could be a potential treatment for infectious disease, COVID-19.
DO READ: Is Cannabis Space Offering a Lucrative Investment Opportunity Amid Coronavirus Outbreak?
In this article, we are highlighting 5 ASX-listed pot stocks- CAN, AC8, CGB, AGH, EOF
Cann Group Continues Strong Commercial Momentum in June 2020 Quarter
Cann Group Limited (ASX:CAN) is engaged in building a world-class business focused on breeding, cultivation, manufacturing as well as the supply of medicinal cannabis for sale and use across Australia and for approved international export markets. Cann Group has established research & cultivation facilities in Melbourne and a state-of-the-art cultivation capacity under development near Mildura, Victoria.
On 17 July 2020, Cann Group updated the market with its quarterly activity report for the quarter ended on 30 June 2020.
During the quarter, the Company secured several crucial commercial supply agreements involving dried flower material and medicinal cannabis and for sale in Australia and to export international markets, including Europe, New Zealand, and the UK.
Also, the Company received A$1.975 million grant from the Victorian Government Regional Jobs Fund. After quarter-end, Cann announces Placement and SPP (Share Purchase Plan) to raise up to A$24.3 million for working capital and support of the growth plans of the Company.
Cann Group announced the completion of allotment and settlement of shares according to the Placement on 24 July.
Outlook
During the upcoming quarter, a key priority for management is to work closely with new offtake customers for finalising their specific product & volume requirements as well as to complete related regulatory approvals.
Moreover, Cann Group anticipates preliminary shipments for overseas-based supply customers to occur from September 2020. The Company is continuing operating within the COVID-19 restrictions, ensuring that the health and wellbeing of its employees are maintained.
AusCann Headway Clinical Evaluation & delivers 1st Products During June 2020 Quarter
An Australian-based pharmaceutical Company AusCann Group Holdings Limited (ASX:AC8) is into development, manufacturing along with distribution of cannabinoid-based therapies within Australia and at international level.
Highlights from the financial front-
The Company disclosed that it had a cash balance of A$19.2 million as of 30 June 2020 without any debt. This robust capital position supports AusCann's continued progress growth strategy.
Net cash outflows were ~A$5.5 million for the quarter due to the manufacturing of the products.
The operating costs were A$3.1 million for securing superior quality raw material for R&D and manufacturing of the Company products.
Highlights from the operational front-
The Company finalised recruitment and dosing of its first clinical evaluation at an independent clinical site- Nucleus Network. The study is to assess the pharmacokinetics of a single dose of two formulations of THC/CBD combination in healthy volunteers.
First orders of controlled-dose capsules of AusCann received during June quarter and supplied to Australian patients under SAS (Special Access Scheme).
ALSO READ: Unaffected by COVID-19, these cannabis stocks continue their clinical studies
Cann Global Ltd Announced Entitlement Offer
ASX-listed hemp and medical cannabis player Cann Global Limited (ASX:CGB) is working with the provision of legislation to make sure that the future in Medical Cannabis and Natural Foods would permit consumers, HCPs, and patients to obtain access to the most effective, sustainable as well as safest formulations.
On 28 July 2020, Cann Global confirmed that the one for four renounceable entitlement offer that was disclosed on 3 July 2020 closed on 23 July 2020.
Under the Entitlement Offer, approximately 847.5 million fully paid ordinary shares were offered to Eligible Shareholders at an issue price of A$0.005. According to CGB, under the Entitlement Offer, all the New Shares to be issued will rank similarly in all respects with the existing fully paid ordinary shares of CGB.
Participants in the Entitlement Offer will also receive one option exercisable at A$0.012 on or before 31 January 2022 for every two New Shares applied for and allotted.
Althea Reported Strong Growth Despite COVID-19 disruption
A global pharmaceutical player, Althea Group Holdings Ltd (ASX:AGH) offers various education and access & management services to assist qualified patients and healthcare professionals (HCP) in medicinal cannabis treatment pathways.
Highlights from financial front
In June 2020 quarter Althea achieved unaudited revenue of A$1.59 million, up by 5% on the March quarter, despite COVID-19 disruptions.
Unaudited revenue for FY20 totalled to A$4.97 million, up by 547% compared to FY19.
Following a COVID-19 affected April & May, sales in June rallied for a record revenue month.
DO READ: Two Cannabis Stocks on an Upswing Following Major Announcements: AGH, MXC
Highlights from operational front
In Australia, Althea ended June quarter with 7,295 patients, 583 of which were added in June.
In the UK, the Company is achieving robust month-on-month growth, signed an MOU with Drug Science and got approval for five new clinic sites.
In Canada, the wholly-owned subsidiary of Althea, Peak Processing Solutions formally submitted its evidence package to Health Canada for its Standard Processing Licence as well as signed a binding cannabis beverage production deal with Collective Project Limited.
In Germany, Althea executed a 3-year supply & distribution agreement with Nimbus Health GmbH.
Ecofibre's Reported Solid FY20 Results, NPAT Soared by 119%
Cannabis player Ecofibre Limited (ASX:EOF) is a provider of hemp products in Australia and the US through its three subsidiaries Ananda Food, Ananda Health and Hemp Black.
On 29 July 2020, the Company disclosed full-year financial results for the fiscal year 2020. The highlights are-
The revenue in the fiscal year 2020, increased by 42% from A$35.6 million to A$50.7 million.
Ecofibre reported that growth in sales across all businesses to contribute as part of the portfolio.
The Company has a strong balance sheet to support working capital growth requirements.
Net profit after tax of Ecofibre climbed by 119% to A$13.2 million.
Strategic acquisition to speed up the commercialisation of Hemp Black
On 29 July 2020, Ecofibre disclosed that the Company had entered into a conditional agreement for acquiring the portfolio of businesses & assets of its vital manufacturing partner in the US.
The portfolio comprises five businesses that have profound technical expertise across a comprehensive range of high-performance textile disciplines.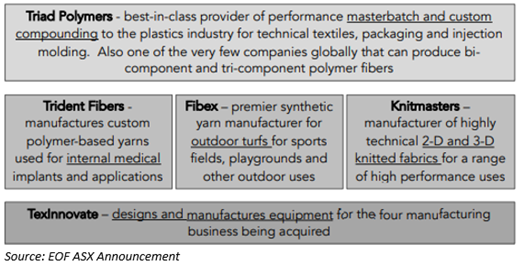 Stock Performance (as on 31 July 2020)

ALSO READ: Can Pot Stocks Survive Coronavirus?