Summary

Ora Banda Mining is a gold exploration and development company that has been engaged to advance various deposits at its Davyhurst Gold Project.
Recently concluded Definitive Feasibility Study had confirmed Davyhurst as a financially robust development project.
Probable Ore Reserves for the Davyhurst Gold Project have increased to 4.4 Mt @ 2.4 g/t Au for 330,000 gold ounces.
OBM is looking to take advantage of the significant existing infrastructure at the project that underpins near term production with low capital expenditure.
Distinctively placed gold explorer and developer, Ora Banda Mining Limited (ASX:OBM) believes that it is suitably positioned to become the next gold producer of Australia. OBM's 100% owned Davyhurst Gold Project, a host to multiple gold deposits, lies in the extremely productive Eastern Goldfields area of WA (Western Australia).
The Company has presented several highlights from the latest developments at its project portfolio. Let us look at some of the recent developments of OBM.
Previous Update: Ora Banda Completes Bookbuild for Capital Raising, Looks Forward to Collectively Raising $55 Million
DFS Concluded at Davyhurst Gold Project
OBM has recently concluded a Definitive Feasibility Study (DFS) at the project that has confirmed Davyhurst as a financially robust development project. In addition to this, the DFS shows:
Pre-tax, free cash flow of A$175M over a 5.2-year mine life using a A$2,100/oz gold price
Average annual gold production of 81kozpa with low C1 cost of A$1,427/oz and all-in sustaining costs of A$1,566/oz
Average annual free cash flow of A$68.8M at A$2,550/oz gold price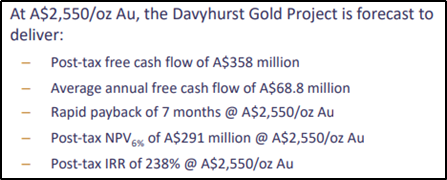 Compelling Financial Metrics of DFS (Source: Company's Report)
Moreover, the project has significant infrastructure in place which enables a rapid, low capital intensity path to production with the first gold pour targeted for January 2021. Moreover, Pre-production capital expenditure is a modest A$45 million with short 14-month payback period. Further, a final stage discussion regarding the plant refurbishment is taking place between Ora Banda and GR Engineering, likely to be concluded by the first quarter of FY2021.
For the previous update at Davyhurst project, follow: Ora Banda Finalises DFS at Davyhurst Project; Results Indicate Strong Economic Returns
Moreover, Davyhurst Gold Project Ore Reserves increased by 60%, and the project has a Probable Ore Reserve of 4.4 Mt @ 2.4 g/t Au for 330,000 gold ounces for four key ore deposits (Riverina, Missouri and Sand King open pits, and Golden Eagle underground), calculated at a gold price of A$2,100 / oz Au.
Based on Probable Reserve, a production target of 418koz is estimated over initial 5-year mine life with average annual gold production of 81 koz / year and a peak of 95 koz / year.
Annual Ore Tonnage & Ore Grade Mined By Pit (Source: Company's Report)
Further, following a three-month ramp-up period, average annual mine production of 1.2 Mt/a is expected to be achieved in April 2021. Moreover, upon recommissioning and ramping up to full capacity, OBM looks forward to implementing the next phase involving mining at Missouri and Sand King.
Related: Ora Banda Reports 46% Increase In The Underground Mineral Resource At Riverina Project
Underpinned by Infrastructure
The pre-existing infrastructure, along with a conventional CIP process plant, underpins the rapid and low-capital path to achieving sustainable gold production at Davyhurst, as confirmed by the DFS. The significant infrastructure present at the project facilitates near term production with low capex:
Refurbished 1.2Mtpa conventional process plant (replacement cost ~$100m)
172-person accommodation camp
Extensive haul road network and airstrip
Administration buildings
Tailings storage facility
Core shed and workshops
Bore fields (process water) and pipelines
Presently, optimisation investigations and trade-off studies are ongoing and shall continue the next several months with a view of refining OBM's plans. In addition to this, a financial model prepared for the level of accuracy of a Definitive Feasibility Study supports the Ore Reserve estimate.
Related: Ora Banda Mining Announces underground Mineral Resource at Callion, Updates Total Mineral Resource to 2.13M ounces
Economic inputs have been sourced from suppliers, contractors, or independent consultant databases after applying a discount rate of 6% pa and a positive Net Present Value (NPV) of the project was demonstrated at the assumed commodity price.
OBM stock ended the day, 16 July 2020, at a positive note, up by 7.547% to close at $0.285 per share.