Summary

Infant formula productsare perceived as an essential pantry item, especially in households with kids. Amid COVID-19 crisis, the products' demand witnessed a sharp increase across the world, particularly in China.
A2M demonstrated bolstered top-line growth driven by prodigious demand for its infant formula products in the Australian and Chinese market.
With strengthened market demand and fully integrated supply chain, BUB is well-positioned to execute strategic goals towards furnishing long-term sustainable and profitable growth.
The pandemic continues to take a heavy toll on the lives of people worldwide. Owing to the uncertainty created by COVID-19, numerous products were stockpiled by the individuals worldwide, which were deemed essential.
Infant formula or baby milk is one such product that garnered market's attention, and experienced sored demand from households with little babies to be fed. People indulged in panic buying to stock up their respective pantries amid looming uncertainty surrounding the supply of goods.
Infant formula players such as a2 Milk and Bubs have made investors hooked to them, as they have strong product portfolios well-positioned to leverage the burgeoning market.
Furthermore, dairy industry is globalising, and infant milk formula demand has enlarged swiftly, primarily in the Chinese region.
Did you read; Dairy Sector Players Resilient Amid COVID-19: SM1, A2M, KTD
Let us appraise ourselves with two of the following ASX-listed consumer staples sector players in Australia and their recent developments.
The a2 Milk Company Limited (ASX:A2M)
The a2 Milk Company Limited is a premium branded nutritional dairy entity offering products that are free of a protein called beta casein A1. A2M has distribution channels across Australia, China, New Zealand, Hong Kong, Singapore, the US, and the UK.
As per an announcement of last month, S&P Dow Jones Indices made a change in S&P/ASX indices, effective at the beginning of the trade on 22 June 2020, A2M was added in the illustrious S&P/ASX 50 Index.
A2M noted robust revenue growth in the quarter ending 31 March 2020 (Q3 FY20) in all addressable regions, specifically with respect to the infant nutrition products sold in Chinese, as well as Australian market.
Furthermore, solid growth in the top-line demonstrated the changing purchase behaviour of numerous consumers amid the pandemic, and an amplified pantry stocking of the Company's products primarily through reseller and online channels.
Although outlook for both revenue and earnings remained uncertain due to the potential impact of the pandemic on supply chains and consumer demand in A2M's core markets, the Company was expecting continuing revenue growth throughout its key regions, with aid from the enlarged marketing activity in the US and Chinese regions.
For FY20, the Group expects:
Revenue between $1,700 million and $1,750 million; and
EBITDA margin in the range of 31 per cent-32 per cent.
A2M's stock has appreciated by over 24 times in the past five years!
Source: ASX
Stock information
On 31 July 2020, A2M last traded at AU$19.290, down by 3.26 per cent from its last close. A2M has a market capitalisation of AU$14.75 billion and total outstanding shares of ~ 739.83 million.
A2M's 52-week low and high was noted at AU$11.80 and AU$20.050, respectively. The Company has generated a total return of 9.44 per cent, and 34.91 per cent in past three months and six months, respectively.
Did you read; 6 ASX Stocks creating a buzz!
Bubs Australia Limited (ASX:BUB)
Vertically combined producer of goat dairy products, with exclusive milk supply from Australia's biggest milking goat herds in the nation, BUB unveiled its boosted balance sheet with cash reserves of AU$26million for the period ended 30 June 2020.
On 27 July 2020, BUB disclosed Q4 FY20 quarterly activities report and highlighted the following:
Gross revenue noted a substantial y-o-y growth of 32 per cent and stood at AU$62 million in FY20. The growth in demand was attributed to the bolstered performance of Bub's infant formula products among all its retail channels and regions.
Group's gross revenue for Q4 FY20 fell by 5 per cent to AU$13 million, because of the previous quarter's pull-forward strong demand driven by stocking of the pantry in numerous markets and difficult worldwide logistics.
BUB's Infant formula during Q4 FY20 sales surged by 20 per cent (pcp), representing 71 per cent of the Company's quarterly gross revenue.
The Company's direct sales during the period in China were up by 26 per cent (pcp), which represents 22 per cent of the Company's gross revenue.
Emerging export market (excluding China) sales in Q4 FY20, witnessed an increase of 71 per cent (pcp) primarily driven by the successful launch of Bubs Infant Formula in Vietnam.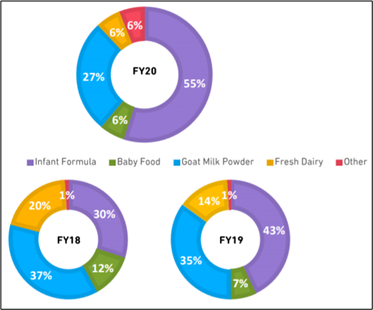 Contribution share of product performance in the gross revenue, Source: Company's Report
BUB anticipates continued strengthened growth in FY21 through enhanced revenue retailers; expects further enhancement in its gross margin by optimised product mix and improved value chain. It also aims at realising profitability at the normalised level of EBITDA in FY21.
Did you read; Few Buzzing ASX COVID Warriors: CSL, JBH, BUB, EVN, BINGO, ZNO
On 27 July 2020, former Miss Universe and Television celebrity Jennifer Hawkins was introduced as the Global Brand Ambassador of the Company.
Furthermore, BUB inked an agreement with Chemist Warehouse to enter the vitamin and mineral supplement category, with the launch of its Vita Bubs® infant and children's VMS range.
On 31 July 2020, BUB closed the day's trade at AU$0.900, falling by 1.099% compared to its last close. BUB's 52-week low and high was noted at AU$0.400 and AU$1.530, respectively. The Company has a market capitalisation of AU$521.11 million and total outstanding shares of ~ 572.65 million.
BUB has generated a total return of 1.11 per cent, and -2.15 per cent in last three months and six months, respectively.