COVID-19 pandemic is temporary, but future planning is permanent. In the current scenario, diversification and goal-oriented long-term investment can help investors to grow with time and sail through the current market conditions impacted by the COVID-19 pandemic. We have screened a few ASX-listed stocks which are showing some positive signs for the long run. Let us take a quick look at these stocks and their recent updates.
Altium Limited (ASX:ALU)
Altium Limited, an electronic design software company, recently confirmed its strong operational and market position within the COVID-19 environment and assured that it enjoys a strong balance sheet and is financially very strong with real earnings and profitability. However, due to the uncertainty around COVID-19 impacts, Altium Limited recently decided to withdraw its FY20 earnings guidance.
In the first half of FY20, the company reported strong revenue growth of 19 per cent, record EBITDA margin of 39.7 per cent and a healthy profit before tax growth of 23 per cent. During the period, the subscriber base increased by 16 per cent to 46,693. In the half-year, the company's core business segments delivered double-digit revenue growth.
Going forward, the company aims to focus on accelerating the rollout of its new cloud platform Altium 365 and accelerating the rollout of its online/high volume selling approach.
The ALU stock was trading at $33.430 on 04 May 2020 (at 12:06 PM AEST), an increase of 1.211 per cent over its previous close.
The A2 Milk Company Limited (ASX:A2M)
Premium branded dairy nutritional company, The A2 Milk Company Limited, recently provided a business update wherein it reported strong revenue growth across all key regions, mainly for infant nutrition products sold in China and Australia. For the three months to 31 March 2020, the company's revenue met the expectations, reflecting the impact of changes in consumer purchase behaviour arising from COVID-19.
Although the company has warned that there is significant uncertainty around the potential impact of COVID-19 on supply chains and consumer demand in A2M's core markets, for FY20, it expects its revenue to grow across key regions, supported by increased levels of marketing investment in China and the USA and development of the organisational capability to support the execution of strategy. Revenue for FY20 is anticipated in the range of NZ$1,700 million - NZ$1,750 million.
During the first half ended 31 December 2019, the company generated revenue amounting to NZ$806.7 million, up 31.6 per cent on the previous corresponding period (pcp). For the same period, the company NPAT stood at NZ$184.9 million, up 21.1 per cent on pcp.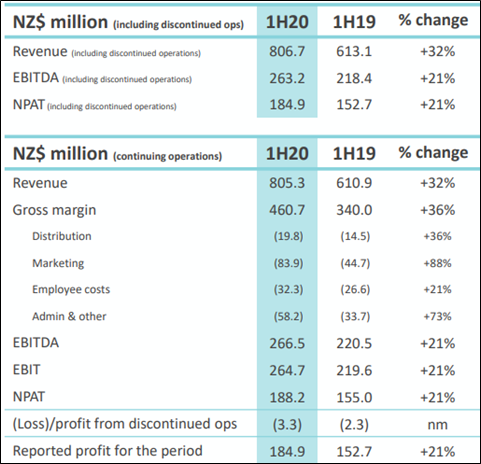 1HFY20 Results (Source: Company Reports)
The A2M stock was trading at $18.310 on 04 May 2020 (at 12:06 PM AEST), an increase of 2.006 per cent over its previous close.
Appen Limited (ASX:APX)
Appen Limited operates in the accelerating AI market, and it is involved in providing high-quality training data to improve machine learning. The company has been investing in new technology to reduce costs, improve margins and sharpen responsiveness to evolving customer requirements. The company helps in the training of machine learning and artificial intelligence (AI) applications by large proving large volumes of annotated data which includes speech, text, image and video.
The company recently provided an update on COVID-19 pandemic, wherein it informed that its staff is working safely and productively from home, with the exception of skeleton crews in its secure facilities and staff in China who have returned to their offices. Further, the company also reiterated that its full-year underlying EBITDA in FY20 is expected to be in the range of $125 million- $130 million.
The company has also mentioned considerations that may dampen 2020 performance, which include:
a slowdown in digital ad spending,
a reduction in IT/digital spending, reduction or cancellation of services from Appen's smallest customers,
interruptions to global hardware supply chains, and
suspension of face-to-face projects such as audio data collection.
The company currently enjoys a healthy balance sheet, with cash resources in excess of $100 million and is well-positioned to weather the pandemic as well as respond to opportunities as they may arise.
The APX stock was trading at $25.400 on 04 May 2020 (at 12:06 PM AEST), an increase of 0.197 per cent over its previous close.
National Australia Bank Limited (ASX:NAB)
One of Australia's leading banks, National Australia Bank Limited recently announced that Ann Caroline SHERRY had acquired 3,500 Ordinary Shares for a consideration of $56,594.98. NAB has a continued focus on cost and is positioning itself for return to growth post-COVID-19. NAB is maximising organic capital generation and is improving outcomes for customers, colleagues and shareholders, with substantial capital and liquidity.
NAB has recently completed an underwritten institutional placement of $3 billion wherein it issued 212 million new fully paid ordinary shares. This will help NAB to manage through a range of possible scenarios, including a prolonged and severe economic downturn and will provide enough capacity to continue supporting its customers through the challenging times ahead.
NAB has recently opened a Share Purchase Plan wherein the shareholders have the opportunity to subscribe for up to A$30,000 of new fully paid ordinary shares in NAB, free of any brokerage, commissions or other transaction costs.
NAB has recently released pillar III report for the quarter ended 31 March 2020 wherein it reported total risk weighted assets (RWA) of $432,666 million and a leverage ratio of 5.24 per cent. In the same period, Level 1 Common Equity Tier 1 capital ratio of the bank stood at 10.41 per cent on the total capital of $63,203 million.
The NAB stock was trading at $15.990 on 04 May 2020 (at 12:06 PM AEST), a decline of 0.929 per cent over its previous close.
Nearmap Ltd (ASX:NEA)
Aerial imagery provider, Nearmap Ltd recently provided an update on COVID-19, wherein it assured that till now it had not observed any material impact on trading conditions from the pandemic. However, the company is prudently deploying cost management initiatives to preserve cash and maintain a strong balance sheet for future operations. The company is likely to invest in growth initiatives such as commercialisation of Artificial Intelligence. The company is well-prepared to navigate the uncertain times because of its diverse customer base.
During 1H20, global subscriptions of the company witnessed an increase of 8 per cent to $10,081, with average group revenue per subscription increasing by 14 per cent to $9,580. In the same period, the company reported an increase of 31 per cent in statutory revenue to $46.3 million, which was mainly driven by an increase in ACV (Annual Contract Value) by 23 per cent to $96.6 million.
The NEA stock was trading at $1.440 on 04 May 2020 (at 12:06 PM AEST), a decline of 2.703 per cent over its previous close.