Highlights:

Imugene Limited (ASX:IMU) is progressing with the development of its flagship CF33 oncolytic virus product.
The Company expects the Phase 1 clinical trial of CHECKVacc and VAXINIA to run for 24 months.
In 2022, Imugene received a Japanese grant notice for the oncolytic virotherapy CF33 patent.
Australia-based Imugene Limited (ASX:IMU) is passionate about bringing effective novel treatments and options to patients who require them. The Company is developing a range of new immunotherapies that seek to activate the immune system of cancer patients to eradicate and treat tumours.
Imugene's product pipeline includes various immunotherapy B-cell vaccine candidates as well as an oncolytic virotherapy (CF33) aimed at treating several cancers in combination with standard of care drugs and emerging immunotherapies. Through the use of CF33, the Company hopes to boost the clinical benefits and quality of life for patients suffering from cancers that are difficult to treat using existing therapeutic approaches.
Do Not Miss: Imugene (ASX:IMU) makes great strides in its product pipeline in March 2022 quarter
The oncolytic virotherapy CF33 comes in two different forms: CHECKvacc and VAXINIA, which are in first phase of clinical trials. The start of these clinical trials represents a significant milestone for clinicians treating patients suffering from solid tumour cancers.
Let us quickly look at the current state of Imugene's CF33 family of oncolytic viruses:
CHECKvacc - Phase 1 trial underway
Last month, Imugene announced the dosing of the first cohort two patient in the Phase 1 clinical study of CHECKvacc. The clinical trial is recruiting patients with TNBC (triple-negative breast cancer) to assess CHECKvacc's safety and initial evidence of efficacy against this advanced cancer.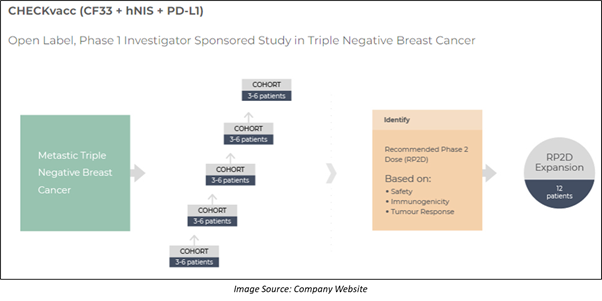 Currently, the trial design involves a dose escalation, followed by an expansion to twelve patients at the final dose, which will be the recommended Phase 2 dose. The Company is pleased with the results seen to date in cohort one, with no observed toxicity as well as early encouraging findings in oncolytic virus infection and replication in the TNBC tumours.
Related Read: Imugene shares welcome dosing of first cohort 2 patient in novel oncolytic virotherapy CHECKvacc's Phase I trial
VAXINIA – Green light to start Phase 1 trial
In March 2022, Imugene received a go-ahead from the Western Institutional Review Board (WIRB) to start a Phase 1 trial of VAXINIA in multiple solid tumours in patients. The Company will undertake the US component of the Phase 1 trial under the FDA (Food and Drug Administration) investigational new drug process.
City of Hope® is the first hospital in the USA to receive ethics approval, with additional clinical sites to be opened in 2022 across the US. The clinical trial will test the safety of administering VAXINIA to patients with advanced or metastatic solid tumours and tolerability of the treatment.
Good Read: Imugene wins ethics approval to start Phase I clinical trial of VAXINIA, shares shine
The clinical trial will involve a dose escalation before it expands to up to ten patients at the final monotherapy and combination dose. Led by Principal Investigator at City of Hope, Dr Daneng Li MD, the trial is expected to run for 24 months.
Patent granted in Japan
Early in 2022, Imugene received a notice of grant from the Japanese Patent Office for a patent that protects is oncolytic virotherapy CF33, including VAXINIA and CHECKVacc. The patent was one of the many expected patent grants from different countries.
Must Read: Imugene secures an oncolytic virotherapy CF33 patent in Japan
The patent protects the method of composition as well as the method of use of the Company's licensed oncolytic virotherapy CF33 to 2037. CF33 has shown robust anti-tumour responses in pre-clinical studies.
Through the use of VAXINIA and CHECKvacc, Imugene is addressing the unmet need of patients suffering from mixed advanced solid tumours and triple-negative breast cancer, respectively. The Company intends to achieve improved clinical response and survival in patients with the development of these oncolytic viruses.
Imugene shares are trading at A$0.165 as of 11:20 AM AEST, with a rise of over 3.1%.