Highlights

Raiden has recently completed an 11-hole diamond drilling program over its Vuzel Project in Bulgaria.
All 11 holes intersected significant gold mineralisation with a peak value of 5.27g/t.
RDN expects the nature of mineralisation on the project will allow for rapid and cost-effective follow-up drilling campaigns.
Shares of RDN surged 25% today on the back of encouraging gold intercept results.
Raiden Resources Limited (ASX:RDN|DAX:YM4) announced assay results from the maiden diamond drilling program at the Vuzel Gold Project in Bulgaria. A total of 11 holes were drilled under the campaign for a total depth of 1594.8m. The intercept results are encouraging as stated by the Company, which is planning a follow-up a drilling program at Vuzel.
Following today's update, shares of RDN jumped 25% to trade at AU$0.01 during the early hours of the trading session today. The Company has a market capitalisation of AU$11.33 million as of 6 July 2022.
It is important to note that all the 11 holes intersected significant gold over a 500m strike length. These indicate that gold lies within near-surface mineralisation with a shallow to sub-horizontal dip. The nature of the mineralisation is most likely to allow cost-effective and rapid follow-up drilling programs to test the full extent of the mineralised system.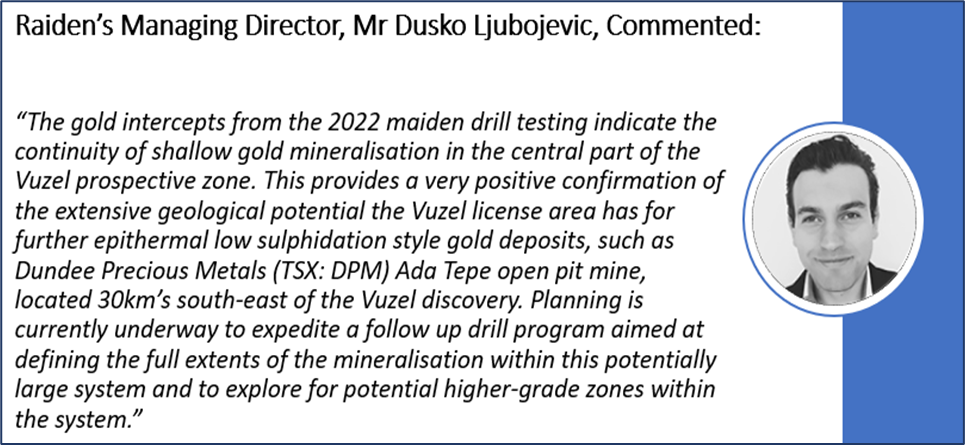 Data source: Company update, 6 July 2022
Maiden drilling program
The diamond drilling program targeted areas which were not drill tested and underexplored within the central section of the Vuzel Gold Project. The drilling program was the first of its kind in the target area. This target area extends over several kilometres and hosts broad gold mineralisation. Historical channel/rock chip sampling has already indicated the presence of high-grade sections.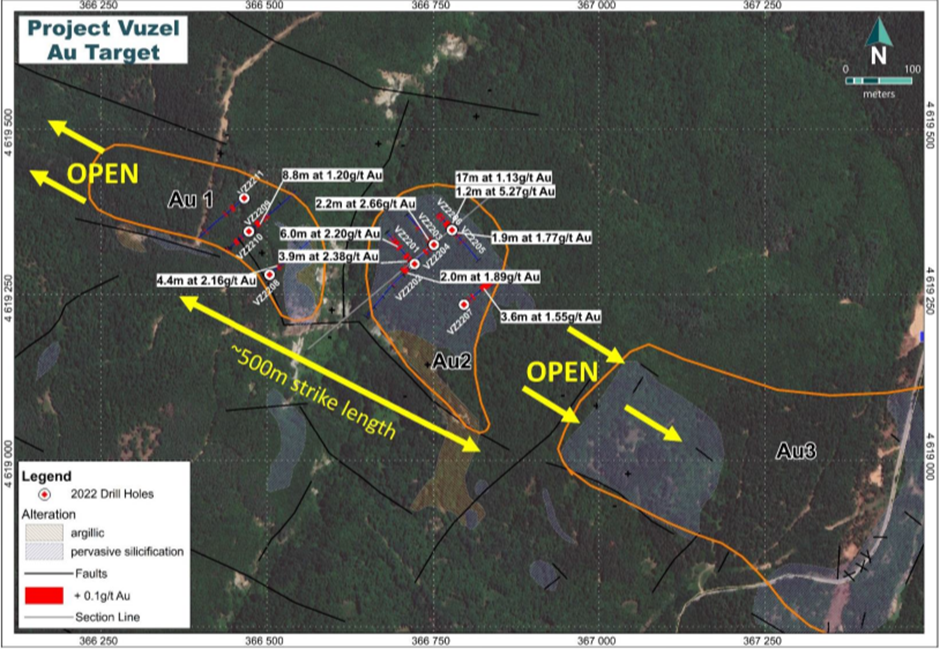 Drill targets and drill plans on Vuzel Project (Image source: Company update, 6 July 2022)
RDN's drilling campaign was the first which achieved permitted access, and the Company believes it to be the most prospective zones on the tenure.
Some significant drill intercept results are:
17m @ 1.13g/t Au from 1m, including 4.3m @ 2.19g/t Au and 1.2m @ 2.19g/t Au – Hole VZ2206
10m @ 1.18g/t Au from 7.7m, including 3.9m @ 2.38g/t Au – Hole VZ2201
8.8m @ 1.2g/t Au from 22.6m, including 1.3m @ 3.52g/t Au – Hole VZ2209
8.5m @ 1.10g/t Au from 7.5m, including 2.2m @ 2.66g/t Au – Hole VZ2206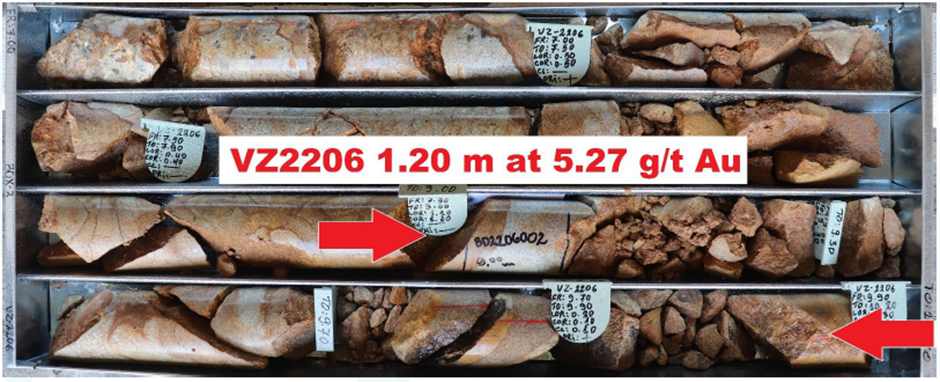 Drill intercept from Hole VZ2206 (Image source: Company update, 6 July 2022)
The drilling assay results along with historical channel/rock chip sampling indicate that gold mineralisation appears to extend to the east from the Au2 exploration area to Au3. A strike length of 500m between these two target areas, RDN believes there exists a potential for these two gold anomalies to connect for a total of 1km strike.
Further work is also required to the west of the Au1 prospect, where historical work has previously encountered significant alteration and outcropping gold mineralisation within a broader 4km long alteration zone, of which this most recent drill program in the central 500m strike length of that alteration zone has confirmed the potential for the project.
These findings support Vuzel's extensive potential for a significant epithermal low sulphidation gold deposit. It is similar to the Ada Tepe open-pit mine, located in close vicinity to Vuzel. Gold mineralisation has been hit in all drill holes, and preliminary indications point to an extensive, near-surface mineralised system.
Raiden will combine the knowledge gained from recent findings and will combine with historical data from the geological mapping, trenching, drilling, and geophysical surveys. These will aid in planning future exploration activities over the project.
What's next?
Raiden to undertake a magnetic survey over the tenement area to model the major ore controlling structures and the basement contact.
Follow-up drilling in the Vuzel Central zone targeting Au1 and Au2.
Drilling to test Au3 and Au4 and over the entire Vuzel Au prospective zone.