Highlights

Australasian Metals reported a super busy June quarter with major progress across lithium and gold projects.
Rock chip sampling returned 1.15% lithium oxide (Li2O) and 226ppm tantalum (Ta) at Mt Peake.
Strong LCT pegmatite signature presence was confirmed across the Barrow Creek Lithium Project.
The company completed 2,500m RC drilling over the Mt Clement and Capella gold projects.
At the quarter-end, A8G reported a strong cash reserve of AU$5.1 million.
Lithium and gold explorer Australasian Metals Limited (ASX:A8G) recently released its quarterly progress report for the period ended 30 June 2022.
The quarter saw A8G making major headway at its lithium portfolio in the Northern Territory. Moreover, the company completed a reverse circulation (RC) drilling campaign over two of its gold assets in Queensland.
What's more, the company ended the period in a healthy financial position with ~AU$5.1 million in cash reserves as at 30 June 2022.
Let us flick through its exploration activities across lithium and gold assets during the last quarter.
For more insights on A8G's projects, click here.
Major findings at lithium projects light up the quarter
Australasian has partnered with CSIRO for undertaking exploration activities on its two lithium projects under the latter's Kick-Start Program.
CSIRO has provided access to advanced optical, thermal and geophysical remote sensing data analysis and interpretation workflows. Besides that, CSIRO is also providing equipment for exploration that could help in identifying key features of Li-bearing pegmatites.
Under the Kick-Start Program, the Australian government agency will provide a financial assistance to a lithium exploration program valued at AU$50K across the two lithium projects.
At Mt Peake, the company received high-grade lithium and tantalum results from a follow-up rock chip sampling program, with one of the samples MP10127 returning 1.15% Li2O and 226ppm Ta.
Deploying a combination of detailed satellite imagery and ground-based surveying techniques CSIRO and A8G performed detailed mapping and targeting exercises to delineate potential lithium-bearing zones.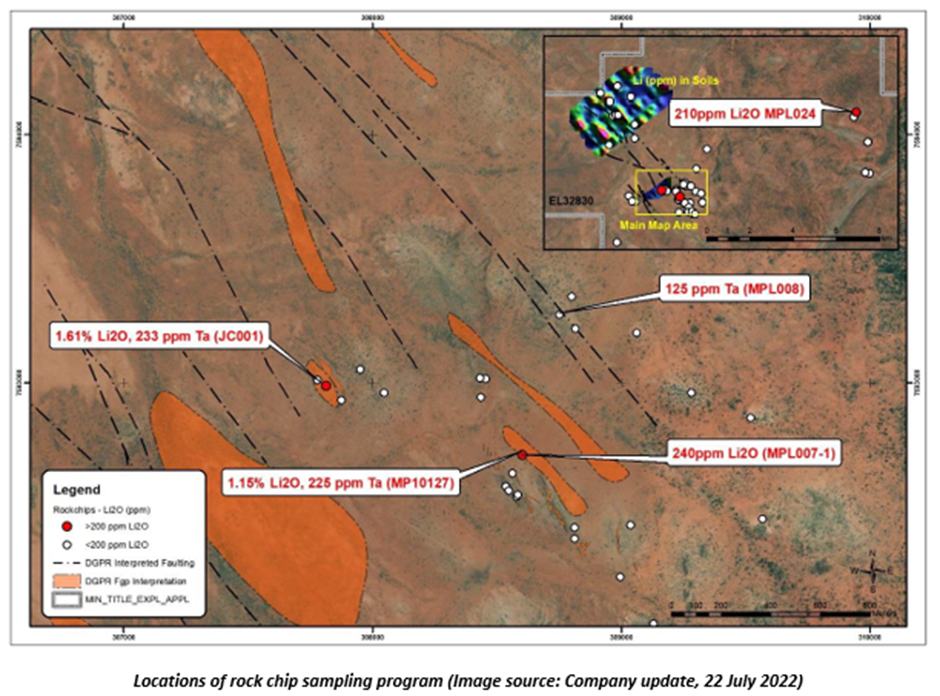 At Barrow Creek, A8G and CSIRO continued their collaboration to hunt for Li-Ta-Sn bearing pegmatites. The research program on Barrow Creek is focused on a better understanding of the occurrence of mafic rocks hosting LCT-pegmatites. The research program would also focus on how the maficity of the igneous country rocks and the lithium-content and/or lithium-host minerals are related.
CSIRO has suggested to develop the PRISMA-derived mineral maps to improve the mapping of mafic rocks on both the projects. the plan is to target mafic minerals and compare the findings with aeromagnetic and gravity data.
Subsequent to the quarter, A8G identified high-grade tantalum and tin mineralisation at Barrow Creek with highest grade of 1018ppm Ta.
Gold exploration advancing well
Australasian has three gold projects in the Queensland region- Mt Clermont, Capella and May Queen. During the reported period, the company undertook an RC drilling program on the Mt Clermont and Capella projects.
The drilling program was focused on the Ayres Rock prospect at Capella, while at Mt Clermont, Retro Extended prospect was the target.
The company operates the Fairview Gold Project, which has an exploration target structurally similar to the Mt Clement deposit. The project sits within the Pilbara Granite-Greenstone Complex in Western Australia.
A8G shares traded at AU$0.28 on 11 August 2022.