Highlights

Aguia is committed to advancing its copper assets along with ongoing work at its Três Estradas Phosphate Project (TEPP).
Andrade is the most developed copper target among the Company's copper assets.
The Company has secured a deal to supply Pampafos® natural phosphate fertiliser from the TEPP.
At the TEPP, the Company is advancing with agronomical trials and drying process optimisation with potential OPEX reduction.
Multi-commodity company Aguia Resources Limited (ASX:AGR) has continued to make impressive progress across its pre-production phosphate and metallic copper projects located in Rio Grande do Soul, the Southernmost state of Brazil.
Significant developments have been made across the Company's Andrade Copper Project and Três Estradas Phosphate Project (TEPP).
RELATED ARTICLE: Aguia Resources (ASX:AGR) in fine fettle with a prolific set of diverse projects
Giant strides at the Copper Project
Aguia holds 81,700 hectares within the Rio Grande Copper Belt, bolstered with highly developed infrastructure and in close proximity to one of the largest ports in South America.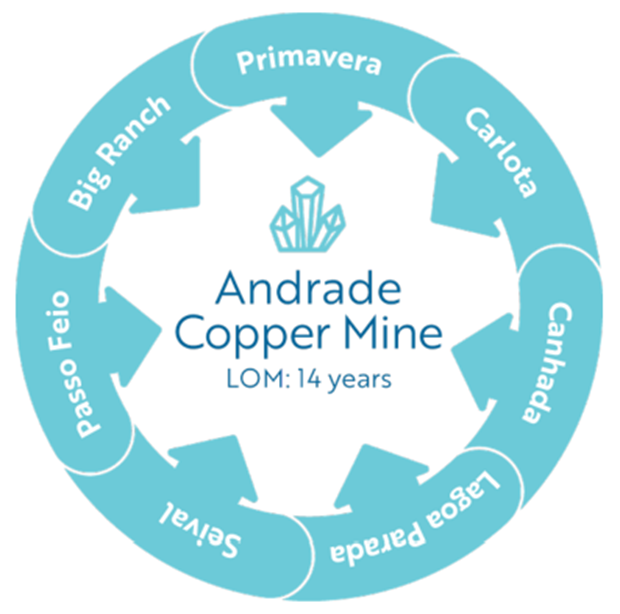 Source: AGR Presentation, dated 30 November 2021
INTERESTING READ: Aguia (ASX:AGR) in pursuit to secure net-zero energy, water & carbon certification
The Rio Grande Copper Belt includes several copper occurrences and one historical copper mine hosted in a variety of rock types and structural settings, usually occurring with silver and/or gold.
Initial geological reconnaissance and rock sampling along Aguia's new tenements in the Rio Grande Copper Belt have resulted in the identification of three new targets.
READ MORE: Aguia Resources identifies new copper & gold targets across Brazilian assets
Source: Copyright © 2021 Kalkine Media, Data Source: AGR Presentation, dated 30 November 2021
The Andrade Copper Scoping Study is a strategic step forward for Aguia that has a projected internal rate of return (IRR) of 43.5% and post-tax net present value (NPV) of over AU$108 million.
Moreover, the Company achieved several metallurgical improvements including bioleaching tests and sorting test using pre-concentration techniques.
ALSO READ: Aguia (ASX:AGR) receives encouraging mineralogical analysis results for Andrade Project
Aguia makes headway at the TEPP
Aguia Resources made significant headway at the Três Estradas Phosphate Project, accomplishing significant undertakings.
The application for the Installation License (LI) for the project was submitted to the Rio Grande do Sul State Environmental Agency. The granting of the LI will allow the Company to begin the construction of its phosphate mine and processing plant.
The Company was also granted the archaeological consent on the Preliminary Licence for the TEPP from the National Historical and Artistic Heritage Institute. The archaeology program was a significant step forward in the permitting process for the TEPP.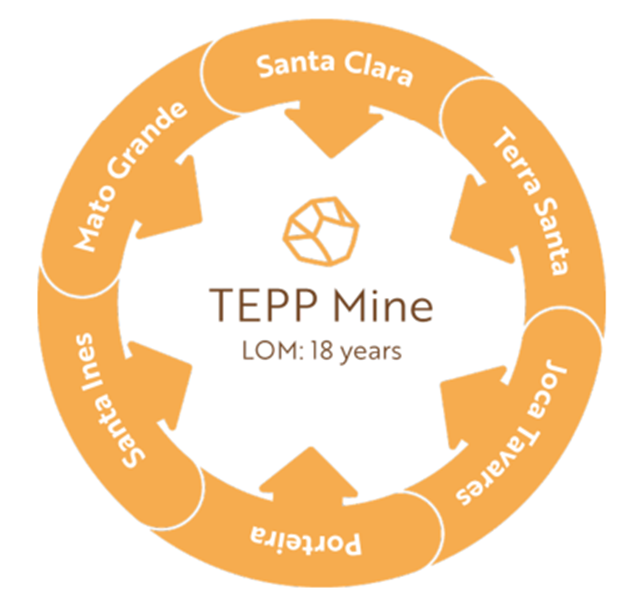 Source: AGR Presentation, dated 30 November 2021
The Company signed an MOU with Tuch Soluções Comerciais Ltda. for the sale of 30,000 tonnes of Pampafos® (a natural phosphate fertiliser from the TEPP) per year. It highlights the commercial potential of Pampafos® amongst agronomists in Brazil.
Aguia also recently entered into a strategic agreement with Farm Trade Australia to undertake testing of Pampafos®. The Company has also developed innovative engineering solutions for ore drying.
TO KNOW MORE, READ: Aguia Resources (ASX:AGR) develops innovative solutions for TEPP ore drying
Meanwhile, the Company received approval from the Development Bank of Southern Brazil for a loan for financing 50% CAPEX for the TEPP, subject to conditions precedent.
Way Forward
Aguia has recently undertaken a capital raising program, raising around AU$2.55 million in a private placement. The Company is also looking to raise up to AU$500,000 in additional capital through a share purchase plan. The proceeds raised would enable the Company to advance its projects.
Read More: Aguia Resources completes placement, eyes accelerated Andrade copper exploration
The Company has highlighted its forward plans for both the copper and phosphate projects.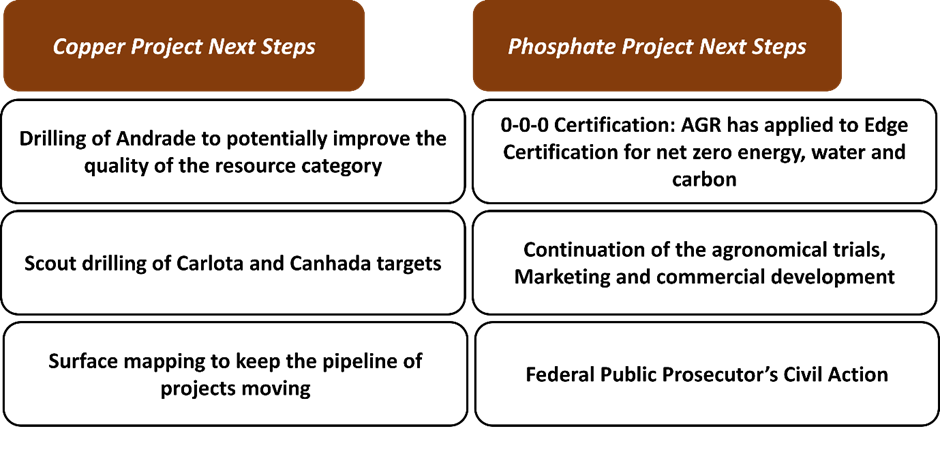 Source: Copyright © 2021 Kalkine Media, Data Source: AGR Presentation, dated 30 November 2021
AGR shares traded at AU$0.046 on 1 December 2021.