Highlights

Exploration endeavours by Aguia have indicated the potential for successfully developing a profitable copper mine in the Andrade project area.
The Company aims to undertake a drilling program at the Andrade copper deposit in early 2022.
All key attributes constituting the Andrade project enhance the Company's positioning to commence the infill drilling program.
The calendar year 2021 saw Aguia Resources Limited (ASX:AGR) aggressively pursuing the progress and development of its copper portfolio. The progress has indicated the potential for successfully developing a profitable copper mine in the project area.
AGR has proposed a drilling program at the Andrade deposit, which is slated to kick off in early 2022.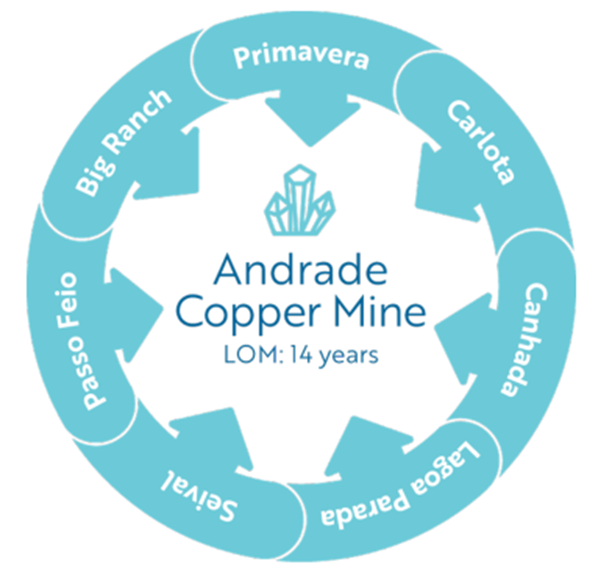 Image Source: ERL presentation 30/11/21
RELATED ARTICLE: Aguia Resources (ASX:AGR) makes major headway at Copper and Phosphate projects
Key attributes of Andrade project
AGR believes that its Andrade copper project has all the necessary attributes for cost-effectively developing a viable copper mine, such as
Proximity to quality infrastructure.
A deposit at surface that allows open-pit mining.
Metallurgical testing results supporting cost-effective production techniques.
Adequate tonnes and grades.
In March 2021, AGR stated its ability to meet the requirements in relation to tonnage and grade that allowed the Company to move from an inferred resource to a largely indicated resource.
The Company produced an economically viable mine production plan with the JORC-compliant Mineral Resource comprising 18.03 Mt of Indicated Resource grading 0.41% copper and 1.87 g/t Ag, and 3.98 Mt of Inferred Resource grading 0.53% copper and 2.06 g/t Ag.
AGR has also independently demonstrated an IRR of 43.5% on the estimated capital expenditure of AU$18.12 million.
Image Source: © Jhaz | Megapixl.com
RELATED ARTICLE: Aguia Resources (ASX:AGR) in fine fettle with a prolific set of diverse projects
Recent work at Andrade
AGR's asset portfolio is constituted by prime infrastructure along with mineral deposits close to the surface. The third attribute of metallurgical testing is less understood and has a key role in establishing an economically viable project.
The metallurgical testing was designed to understand the copper mineralogy and establish the likely liberation of the copper species from the ore. This acted as a key element in establishing the blueprint for the Andrade mine and the financial metrics which flowed from that, further determining the cost of processing the ore.
Metallurgical testing on selected samples from the Andrade deposit was initiated last year that lasted for several months. The results were important to develop the know-how about proceeding with efficient copper processing techniques, which is an area of ongoing work. The results indicate that 96% of the copper mineral could be liberated from the ore, and copper ore mineral was confirmed as chalcocite.
INTERESTING READ: Aguia (ASX:AGR) in pursuit to secure net-zero energy, water & carbon certification
Image Source: AGR website
AGR has selected tenements on the basis of the exhausted copper mine at nearby Camaqua. Moreover, the Company remains optimistic that a small project can be very lucrative as mineral deposits generally make small beginnings and expand as a function of consistent drilling and enhancement of the geological model.
READ MORE: Aguia Resources identifies new copper & gold targets across Brazilian assets
AGR in sweet spot
Having all the key attributes of a mine, AGR seems to be in a sweet spot to kick off a comprehensive infill drilling program at the Andrade project. Through this program, the Company aims to enhance the tonnes and grade of the deposit.
AGR also plans to undertake an independent review and resource update of the holes drilled. The Company has already completed an independently reviewed Copper Scoping Study for the Andrade project and believes to be in a unique position of being permitted to report the corresponding updated financial metrics.
"The groundwork for establishing a profitable copper mine at Andrade has already been achieved. It is now time for Aguia to undertake a copper drilling program at Andrade, which we expect will commence in early 2022. With our recently completed placement, we are very well-funded to add to our resource base and to further demonstrate Andrade's viability through infill drilling."
Dr Fernando Tallarico, Managing Director
ALSO READ: Aguia (ASX:AGR) receives encouraging mineralogical analysis results for Andrade Project
AGR shares were trading at AU$0.054 in the early hours of 13 January 2022.