Highlights

Australia and India have virtually signed the Australia-India Economic Cooperation and Trade Agreement (AI ECTA).
Both countries have been working on such an agreement for over a decade, which has now strengthened their economic partnership.
Wool and wine exports from Australia are set to receive a massive boost from the elimination of tariffs.
After toiling on the idea for years, Australia and India have finally signed the Australia-India Economic Cooperation and Trade Agreement (AI ECTA). The trade deal is set to strengthen the relationship between both countries while creating new opportunities for workers and businesses. In fact, the deal is a momentous event in the history of both Australia and India.
The majorly export-focused deal is set to make Australian exports to India cheaper with the reduction in export duties. This is especially significant for Australia, which has now opened the doors to a large market for its products. After its political and economic fallout with China, Australia's export revenues suffered immensely. However, the new deal, described as a "watershed moment" by India's PM Narendra Modi, is set to offset some of these losses for Australia.
ALSO READ: Will Australia's budget spending stoke inflation?
As the world grapples with the rising cost of living pressures caused by the Russia-Ukraine war, trade deals often seek to ease price-related pressures. With both countries eyeing this trade deal for over a decade, it is no surprise that the agreement would cement a solid trade foundation between them.
Know about India-Australia trade deal
Australian goods can now find their way into a market with a population of around 1.4 billion consumers. India, the world's largest democracy, has seen fast economic growth in the past decade, with high GDP growth projected for the coming years by economists.
The existing relationship between India and Australia has received a boost from the trade deal. As per the Australian government records, India was Australia's seventh-largest trading partner in 2020 and the sixth-largest goods and services export market, valued at AU$16.9 billion.
The deal is expected to bring India to the category of the top three export markets for Australia by 2035. At the same time, a significant boost would be received by Australian farmers, manufacturers, producers, and service providers with the latest agreement.
DO NOT MISS: Budget 2022-23: What's in it for Australia's digital space?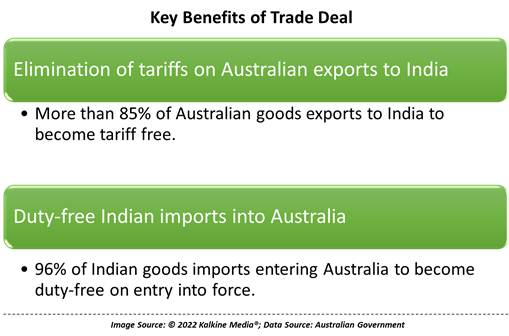 Benefits for Australia
Elimination of sheep meat tariffs of 30% on entry into force, which would improve Australian exports that make up nearly 20% of India's market.
Existing 2.5% tariffs eliminated on wool on entry into force.
Reduction of tariffs on wine bottles with a minimum import price of US$15 from 150% to 75% on entry into force.
Reduction of tariffs on wine bottles with a minimum import price of US$5 from 150% to 100% on entry into force.
Elimination of tariffs on various food items such as avocados, onions, kidney beans, macadamias, cherries and shelled pistachios over the next seven years.
Reduction in tariffs on almonds, lentils, oranges, mandarins, strawberries, pears and apricots, which would bolster opportunities for Australia's horticulture industry.
Elimination of tariffs on coal, alumina, and metallic ores, including manganese, copper, nickel and other critical minerals.
Bounding LNG tariffs at 0% at entry into force.
Elimination of tariffs on pharmaceutical products and some medical devices over five and seven years.
India-Australia Trade Deal ||All You Need To Know
Benefits for India
Duty-free access in the Australian market for over 6,000 broad sectors of India.
Boost to Indian exports of textiles, leather, furniture, jewellery, and machinery.
Post-study work visa of 2-4 years for Indian students, which would be made accessible on a reciprocal basis. This would provide opportunities to eligible Indian graduates and STEM (science, technology, engineering, and mathematics) specialists to work in Australia.
Resolution of the double taxation issue faced by Indian IT companies in Australia.
Canberra to amend its domestic tax law to stop the taxation of offshore income of Indian firms providing technical services to Australia.
Access given to young Indians to participate in working holidays in Australia.
Promotion of agricultural trade as a part of the agreement and intention to work towards the conclusion of an enhanced agricultural Memorandum of Understanding (MoU).
ALSO READ: How Australia's big four banks are preparing ahead of anticipated rate hikes?