The metals and mining sector is crucial to support the global economy due to which they remain in high demand during expansion phases. In Australia, the mining sector contributes around 10 per cent to the country's GDP and makes up more than half of its exports. China imported around A$127 billion worth of Australia's energy and resources.
In light of the above, let's take a look at some of the best mining stocks of 2020 listed on the ASX .
De Grey Mining
De Grey Mining (ASX:DEG) also explores precious and base metals, primarily in the Pilbara region of Australia. The company holds a 1,200 square km wholly-owned Mallina Gold Project (MGP) within the Pilbara region and possesses nearly 2.2Moz gold resources.
In 2020, the company announced that it had intersected high-grade gold mineralization at the Hemi prospect. The company also undertook a $22M capital raising in July/August 2019 for Hemi's exploration capital.
Interesting Read: Gold Prices Tepid, what is ailing the precious metal bulls?
The company acquired Indee Gold for A$15 million to become one of the most strategic and valuable gold explorers in WA. The miner is planning to test the extent of mineralisation at Hemi by RC, aircore and diamond drilling. DEG further raised a capital of A$31.2M in April and A$100M in September 2020.

Mallina Gold Project showing primary gold deposits and the Hemi Discover
(Source: De Grey 2020 Annual Report, dated 29 October 2020)
DEG's shares which closed at A$1.005 on 29 December, gave a YTD return of around 1910.0%.
The whopping rise in the stock price has been due to the higher demand for gold triggered by global lockdowns, contributing richly to the investors' wealth.
Fortescue Metals Group
Fortescue Metals Group Limited (ASX:FMG) is a well-known global miner leading the iron ore industry. Fortescue is an integrated company that deals with the entire value chain of the industry, ranging from mining to processing and selling iron ore from its world-class mining assets in Pilbara, WA.
The group owns an extensive tenement footprint of around 3,000 square km in NSW and 15,000 square km in SA. It also holds 450,000ha of tenements of copper-gold in Argentina and 135,000ha of tenements of Copper in Ecuador.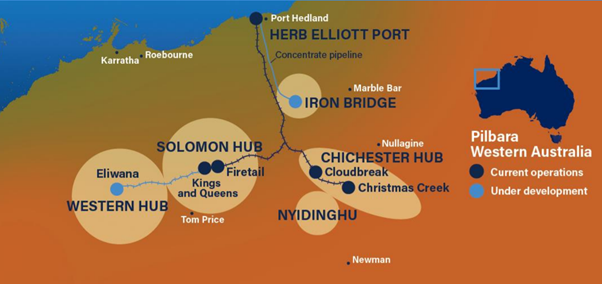 FMG's Integrated mine to market infrastructure
(Source: FMG FY20 Full Year Results Presentation, dated 24 August 2020)
FMG is amongst the leading supplier of iron ore to the Chinese steel mill industry and provides the most economical iron ore to China using its technically efficient extraction and automation techniques.
The robust demand from the Chinese steel industry and limited production from the Brazilian Vale mine have triggered the rally in iron ore prices, catapulting FMG to reach a lifetime high.
FMG's shares, which closed at A$23.980 on 29 December, gave a YTD return of around 122.45%.
Must See: Iron ore price rise : Ticker News, featuring Kunal Sawhney- CEO, Kalkine - Ticker TV
Chalice Mining Limited
Chalice Mining Limited (ASX:CHN) mainly deals with exploring precious and base metals primarily in Australia.
2020 was a very precious year for Chalice. It made an exceptional greenfield platinum group element (PGE)- nickel-copper-cobalt discovery at the 100%-owned Julimar Project in WA, which triggered the region's exploration boom. Julimar could become the first palladium discovery in Australia. It has got exceptional results from its first drilled well in March 2020 reporting 19m @ 8.4g/t Pd, 2.6% Ni, 1.0% Cu, 0.1% Co from 48m depth.
In addition, Chalice also has confirmed prospects at the Pyramid Hill Gold Project in Victoria with an area greater than 5,000 square km. Chalice's pipeline of greenfield projects in Australia is advanced with a primary focus on discovering large-scale, high-grade gold and nickel sulphide opportunities.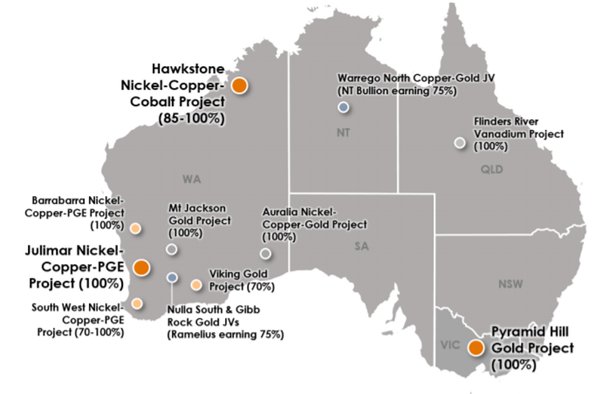 Chalice's portfolio
(Source: Annual Financial Report 2020, dated 29 September 2020)
Chalice had also completed a private placement to investors worth A$30 million in May 2020 to accelerate Julimar project rapidly.
Chalice has been one of the best performers on the ASX in 2020. Global shift towards green energy and consequently increased demand for EVs in European markets have driven the demand for metals such as nickel, and cobalt. The positive market scenario has been the driving force behind Chalice's decent performance.
CHN's shares, which closed at A$3.770 on 29 December, gave a YTD return of around 1539.13%.