Highlights
Australian stocks end the loss rally to close 1.9% higher today (13 May).
Top 50 Large-cap equities also end the week's trade about 2% higher.
Blue-chip stocks worth noticing before the weekend are Wesfarmers, Goodman Group, Woolworths and Transurban Group.
Australian equity benchmark ASX 200 rebounded strongly on Friday, recouping some of the losses made earlier in the week. The index closed 1.9% higher. All the elven constituent sectors settled in the green, with technology and healthcare leading the recovery. Even the top 50 large-cap shares on the ASX were almost 2% higher, aligning with the broader market trend. So, covered here are Wesfarmers Ltd (ASX:WES), Goodman Group Ltd (ASX:GMG), Woolworths Group Ltd (ASX:WOW) and Transurban Group (ASX:TCL).
Note- Share prices stated in the story are as of 13 May 2022, and comparisons are based on it.
Wesfarmers Ltd (ASX:WES)
Starting with Wesfarmers Ltd., a chemical and fertiliser retailing company. It has caught investors' attention recently because of the acquisition of Australian Pharmaceutical Industries Ltd (ASX:API).
While today the company did not issue any new announcements on the ASX, WES share price was up 2.4%, following the general market trend. On the ASX, Wesfarmers Ltd. holds a market capitalisation of AU$55.31 billion and its shares have been trading in the 52-week price range of AU$47.44 to AU$67.20 a share.
Woolworths Group Ltd (ASX: WOW)
From the retail sector comes yet another blue-chip share of Woolworths. The retail biggie mainly runs supermarket chains.
The company shared third quarter sales updates on 3 May 2022. Woolworths had reported a 9.7% growth alongside a 33.4% surge in the group's eCommerce sales. However, the shares were on a losing streak yesterday. WOW share price has only appreciated today, adding over 1% to its pricing.
Woolworths's market capitalisation is AU$45.16 billion, and its shares traded in a 52-week range of A$33.45 to AU$44.06 a share.
Goodman Group Ltd (ASX:GMG)
Next is Goodman Group Ltd. from the Australian property or real estate sector. The company owns, develops and manages properties.
Today, GMG shares closed higher by more than 4% over yesterday's close. The only announcement for Goodman Group, today on ASX, was of the appointment of Vanessa Liu as a director. Liu has joined Goodman Group with a leadership experience at top organisations from technology and other spaces.
On ASX, GMG shares trade in the 52-week price range of AU$18.22 to AU$26.96, a share with a market capitalisation of AU$35.32 billion.
Transurban Group (ASX:TCL)
Another noteworthy blue-chip stock from the ASX industrial sector is Transurban Group. The company owns and operates toll roads and transport systems.
While Transurban Group did not come up with any new announcement as of date, the share traded slightly higher in line with the broader markets.
With a market capitalisation of about AU$42.31 billion as of Friday, Transurban Group's shares are quoted in the 52-week price range of AU$12.03 to AU$14.93 apiece.
Share price performance as of date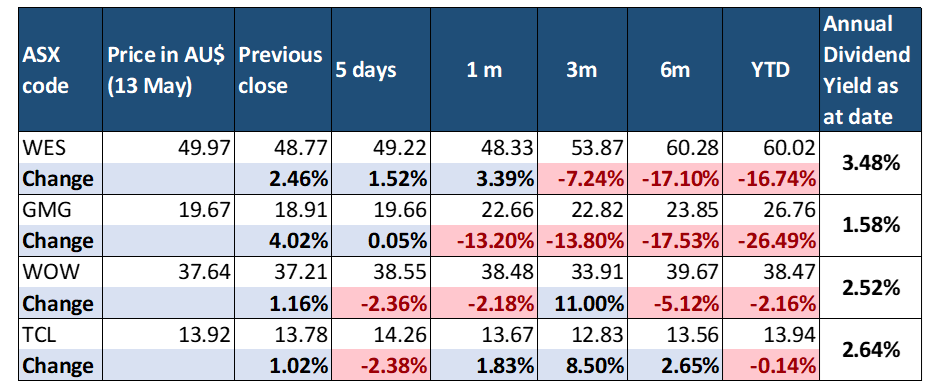 Image Source © 2022 Kalkine Media ®
Since all the above large-cap stocks belong to different sectors, one cannot make a direct comparison based on price performance.
More from ASX - NWS, URW, ORG, NST: How Are These ASX 50 Stocks Faring Today?