Transurban Group (ASX:TCL) has signed a deal to sell 50% stake in its Transurban Chesapeake assets. With this deal, Transurban Group would retain 50% of interest in the Transurban Chesapeake assets and remaining 50% will go to the AustralianSuper, Canada Pension Plan Investment Board (CPP Investments) and UniSuper.
Transurban Group is the owner, operator and the designer of electronic toll roads, plus intelligent transport systems. Through the sale of 50% interest in Transurban Chesapeake assets, the Company would raise gross sales proceeds of A$2.8 billion along with a potential earn-out up to A$93 million between FY2024 and FY2026.
Transurban Chesapeake includes the Greater Washington Area operational assets of the Company. It has:
95 Express Lanes;
495 Express Lanes;
395 Express Lanes;
It has 3 projects which are yet to be delivered. These are Fredericksburg Extension, Capital Beltway Accord, and 495 Express Lanes Northern Extension.
The Transurban Chesapeake partners hold exclusive development rights to invest along with Transurban on the future brownfield & greenfield growth prospects in the Commonwealth of Virginia, State of Maryland, plus Washington, D.C. They also have rights to improve the prevailing concessions.
What would be the advantage with this deal?
Transurban Group believes that this transaction would help to achieve significant value for its stakeholders. The Transurban Chesapeake net assets whose valuation as at 30 June 2020 was A$793 million improved to transaction equity value of A$5.5 billion.
There is a scope of additional investment with the strategic partners coming into the picture. These partners bring experience, relationships, and hunger for more investments.
The transaction would support enhanced growth in North America and Australia. It would also aid TCL's credit metrics.
Further, the Company would continue to operate the assets, leveraging the operating capability, experience, and relationship.
Above all, the transaction would bring huge growth opportunities.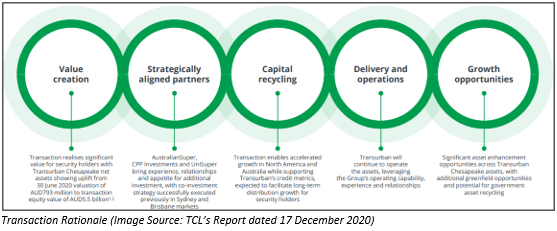 Ownership of three Strategically aligned partners:
The breakdown of 50% ownership in Transurban Chesapeake is as follows:
AustralianSuper would have 25% ownership.
CPP Investments has 15% ownership and
UniSuper has 10% ownership.
As per the master service agreement, Transurban Group will operate the Transurban Chesapeake asset. The structure of the Board and governance framework is stated in the pre-decided Operating Deal among all partners & Transurban Chesapeake.

At 11:53 AM AEDT, TCL shares are trading at A$14.010, 0.639% from the previous close.
INTERESTING READ: 6 ASX stocks for your portfolio after Federal Budget 2020-21 – APT, NXT, XRO, TCL, SKI, MGR