Summary

Federal Budget for FY2020-21 highlights the key challenges Australia faced due to droughts, floods, bushfires, and the COVID-19 pandemic.
The Government's Economic Recovery Plan for FY2020-21 focuses on restoring the economy, generating jobs as well as securing Australia's future.
The Government has announced investments across various sectors to generate jobs, boost economic strength, and build a more competitive and income-generating economy.
The budget stressed on providing economic security to women and announced a package of A$240.4 million.
On 06 October 2020, the Australian Government released its FY2020-21 budget where it discussed its economic recovery plan.
Like most countries across the globe, Australia also experienced a significant impact on its health system, community, and economy. On this front, the Government proactively and decisively took steps to tackle the situation. During this period, Australia achieved some of the best health and economic outcomes in the world. Despite this, the Government believes that the impact of COVID-19 would continue in the coming years. COVID-19 did not only disrupted Australian health, the effect was also evident on the lives of Australian citizens.
The Government's economic response was designed to aid Australian households and businesses through these tough times. It helped keep companies in business and citizens in the job via JobKeeper Payment and Boosting Cash Flow for Employers. The Government also supported Australians in need with the Coronavirus Supplement and A$750 payments to those on specific income support.
Government Plan Towards Recovery:
In FY2020-21, the Government's Economic Recovery Plan will aim to restore the economy, generate jobs as well as secure Australia's future.
The 2020-21 Budget commits additional response and recovery support. Thus, bringing the Government's overall financial support to A$507 billion. It includes A$257 billion in direct economic aid. The Government highlighted in the budget that the economic recovery plan for Australia aims at growing the economy so Australia can generate jobs, boost financial strength, and build a more competitive and income-generating economy.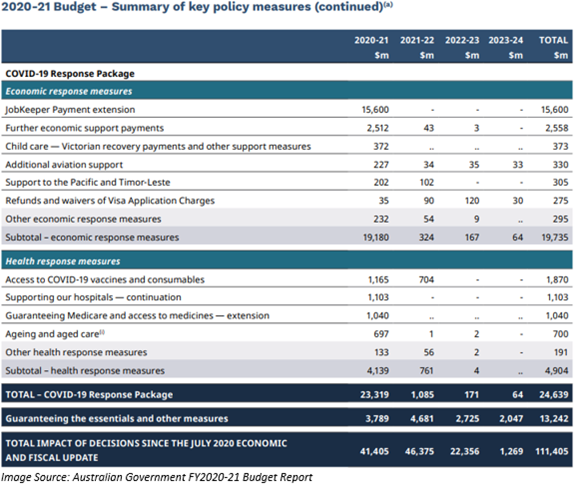 A Glance at Australian Government Infrastructure Investment:
Infrastructure investment to boost growth and jobs: Since the beginning of COVID-19 pandemic, the Government would invest a further A$14 billion in new and accelerated infrastructure projects over the next four years. This would result in additional 40,000 jobs during their construction.
Fast-tracking shovel-ready projects to create jobs: The Government is providing a further A$3 billion towards shovel-ready projects. These funds would support more job creation and economic recovery.
Government's Step towards supporting business and investment:
The Government is helping Australian companies to invest, grow and generate new jobs. On that front, the Government is giving a provisional tax incentive, which will be available to ~3.5 million businesses that employ nearly 11.5 million workers.
Other than this, the Government would also allow businesses whose turnover is up to A$5 billion to counterbalance losses against prior profits on which tax was paid, to generate a refund. Loss carry-back will be accessible to nearly 1 million firms that hire up to 8.8 million workers.
A Step Towards Digital Australia:
Amid the pandemic, there has been an increase in the adoption of digital technologies. The adoption has resulted in many companies modifying their operations and continuing to trade through the crisis.
The Government's Digital Business Plan will develop this impetus to boost an even better adoption of new technologies across the economy to both businesses and consumers.
It will support the country to become a top digital economy by 2030. The Government also announced about an additional A$4.5 billion investment in NBN Co that will bring ultrafast broadband to millions of families and businesses. Grant of A$29.2 million will also speed up the rollout of the 5G network.
INTERESTING READ: As NBN Spread its Tentacles Further, how would it Impact ASX200 Telecom Stocks?
The JobMaker Digital Business Plan will progress the country to become a leading digital economy by 2030.
Other Steps towards the Economic Recovery:
Cutting red tape is a key element of Australia's Economic Recovery Plan. The Government has already provided A$5.8 billion of red-tape savings via the 'Cutting Red Tape' initiative. This would enable businesses to invest, generate jobs, act rapidly to challenges and seize opportunities.
The Government has also plan to invest in education, skills, and apprenticeships. There would be 50,000 short courses to give people the skills they need to get a job. COVID-19 had also disrupted teaching and learning for school children. Hence to support these students, the Government announced an investment of A$146 million in various programs to enhance the educational results of needy students and school leavers. This funding is on top of record funding of A$21.8 billion for schools in 2020.
The Government also laid stress on providing economic security to women. A package of A$240.4 million was announced to provide employment opportunities, support parents and women at the workplace.
The Government also announced an investment of A$1.3 billion through the Modern Manufacturing Initiative. Another A$107 million would be invested through the Supply Chain Resilience Initiative to detect and report supply chain weaknesses for key products. A$52.8 million was announced to small and medium manufacturers to scale-up, invest in new technologies, generate, and maintain jobs and train their workers.
Steps would be taken to secure electricity supply and maintain lower prices.
As highlighted above, the Australian Government's focus is on the economy, generate jobs & secure Australia's future in FY2020-2021 for it has announced packages for different sectors. Keeping this in mind, let us know about a few companies listed on ASX, where there is a possibility of further growth in FY2021.
ALSO READ: Australian Economy: RBA toes the line, keep the rates unchanged at an all-time low
Sectors and the Companies Exciting to Look at in FY2021:
Earlier in 2020, the Government had shared its technology outlook and discussed four technologies- Artificial Intelligence, Quantum Computing, IoT and Blockchain. Amid COVID-19 pandemic, Cloud computing and financial technology had an important role to play in supporting the Australian businesses as well as personal usages.
Hence, from this sector, it would be exciting to see how companies like Afterpay Limited (ASX:APT), NextDC Limited (ASX:NXT) and Xero Limited (ASX:XRO) perform in FY2021.
As pointed above, the Government has laid stress on infrastructure investment to boost growth and jobs. Further, the Government consider Australian infrastructure sector to play a key role in Australia's recovery from drought, flood, bushfires, and COVID-19. Hence, it would be interesting to see some ASX listed infrastructure companies like Transurban Group (ASX:TCL), Spark Infrastructure Group (ASX:SKI) and Mirvac Group (ASX:MGR).
A Quick Look at Six Stocks:
Afterpay Limited: Afterpay delivered a strong performance in FY2020 and was able to expand into Europe with the acquisition of Pagantis. The Company also reached five million active customers in the US.
NextDC Limited: NextDC had an impressive FY2020 and also secured material customer contracts in NSW and Victoria.
Xero Limited: Xero recently completed the acquisition of invoice lending platform, Waddle. It performed well in FY2020. It took various steps during the period to support the small business in Australia and abroad.
Transurban Group: Although COVID-19 impacted the FY2020 performance, Transurban continues to be in action mode with West Gate Tunnel Project projected to complete by 2023. It completed three projects in FY2020. Further, the Company also stated that its performance is sensitive to future government responses and overall economic conditions.
Spark Infrastructure Group: Spark Infrastructure reported strong 1H FY2020 results with EBITDA up 3.6% at A$439 million. The Company reaffirmed its FY2020 distribution guidance.
Mirvac Group: Despite the challenging COVID-19 environment, the Company delivered solid FY2020 results, with operating profit of A$602 million and DPS of 9.1 cents.
The Company has a robust capital position which would support the business to lessen the impact of the pandemic on the business. Also, Mirvac's strategy and track record plus the careful approach for its development pipeline will provide a great deal of flexibility after the recovery.
Stock Information (as on 8 October 2020):