Summary

Of late, BNPL usage has been on the rise especially in the US and Australia, with increased popularity amongst younger consumers.
Openpay achieved record growth in active merchants, customers, and active plans in Q4FY20, while Splitit witnessed a rapid growth across leading indicators, with record revenue growth of $2.4 million in Q2FY20.
FlexiGroup business has also been growing, and it surpassed 2.1 million consumers mark, post an addition of 380k new users in 11 months to May 2020.
BNPL players have been outperforming the market in 2020, surging by record numbers from their low price in March and are at their all-time high price at present. The use of BNPL payments has risen and is growing in both the US and Australia, particularly amongst youngsters who are reluctant to use credit cards and other loans due to low incomes and fewer savings than Generation X (born between the mid-1960s and early 1980s).
Let's have a look at 3 BNPL stocks under discussion:
Openpay Group Ltd
On 15 July, Buy now, pay smarter company, Openpay Group Ltd (ASX:OPY) released its quarterly business update for Q4FY20 ended 30 June 2020. The Company achieved record growth across leading indicators propelled by OpenMay initiatives and a surge in the UK business, supported by further debt and equity funding secured during the quarter.
Some of the highlights from the period are as follows:
Total Transaction Value (TTV) grew to a record $192.8 million for the full year, up 98.2% compared to FY 2019 and up 119% for the quarter vs pcp.
Robust revenue growth of 45% on pcp to $4.5 million for Q4 FY20 and $18 million for FY20, up 64% relative to pcp.
Active customers grew by record 141% on pcp, with increased repeat usage, while active merchants, and active plans grew by 52% and 229% respectively, relative to pcp.
A significant shift to online with Openpay Australia online channel contributions rising to 39% of plan originations for Q4 FY20, versus 14% for Q4 FY19.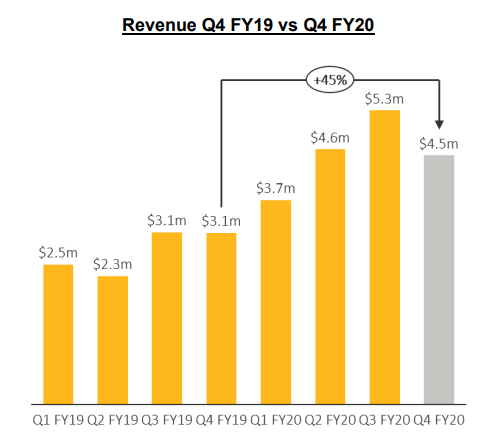 Source: ASX
Openpay kicked off in UK by implementing a major agreement with JD Sports in May, and its UK business surged with 109,000 active customers, up by 95% from March-end 2020, and 187,000 active plans, up 103% from March 2020.
Further, 'OpenMay', Openpay's flagship month of special promotions with Merchant partners led new record month in May 2020, with a TTV of $22.7 million and June 2020 TTV of $22.5 million.
On 1 June, Openpay secured a new debt facility to provide growth funding of £25 million for its UK BNPL business with specialist technology finance provider Global Growth Capital (GGC). The group also raised $33.77 million in equity in early June.
ALSO READ: BNPL strong run on ASX & changing stance on stimulus: Are stocks done with the run-up?
On 15 July, OPY announced a new revenue-sharing agreement and a 3-year strategic partnership with 1st Group Ltd, a digital health company.
As per the agreement, Openpay would market 1st Group's MyHealth1st platform to existing healthcare providers within its merchant network as part of a broader growth in BNPL payment options, and would involve a phased unveiling of its BNPL offering across the MyHealth1st network, with an initial rollout across roughly 60 sites in 1H FY21.
The share price of OPY was down by 11.818% and settled at $3.88 on 15 July.
FlexiGroup Limited
FlexiGroup Limited (ASX:FXL) is an innovative finance products and payment solutions provider to consumers and businesses. It provides a wide range of solutions that include BNPL products for larger expenses such as dental plans, home renovations and many more unlike other BNPL platforms like Splitit, Z1P, etc.
As per its June trading update, FlexiGroup exceeded the milestone of 2 million interest-free instalment customers using its payment solutions. The growth was led by the sustained development of humm, along with FXL's strategic partnership with Mastercard that controls its interest-free instalment products and allows customers to shop anywhere Mastercard is accepted.
Other highlights from the trading update are as follows:
FXL added over 380k new customers and assisted merchants in processing $2 billion across the retail platform for 11 months to May 2020.
Online sales volumes for humm improved by 282% for 5 months to May 2020.
Addition of new partners to the platform took total retailers to more than 55k.
Above 60k app downloads driving customer usage to 9 times a year on average.
Rebecca James, CEO of FXL stated that the Group's leadership in interest-free instalment transactions over $1,000 that is in excess of BNPL industry average, is a strong differentiator and its services are planned not just with explicit category features, but individually customisable payment options. It is this tactic that drives growth in high-value verticals such as health, home and home improvement and luxury goods.
ALSO READ: Is there a bubble around BNPL Space – A look at APT, SZL, Z1P, OPY
On 7 July, FXL confirmed the appointment of Jason Murray as the Chief Financial Officer of the group from 9 July, who will replace CFO Ross Aucutt.
FXL shares were trading at $1.205 on 15 July, marginally up by 0.417% from the previous close.
Splitit Payments Ltd
Splitit Payments Ltd (ASX:SPT) announced the Board's approval for the adoption of an Australian Sub-Plan under the Company's Share Incentive Plan (SIP) on 15 July.
The Company, upon the exercise of 875,993 unlisted options, has issued 1,313,454 fully paid ordinary shares. This includes the following:
747,044 Shares issued on exercising 871,993 Options in accordance with the cashless exercise facility under the SIP of Splitit.
566,410 Shares issued on exercising 566,410 Options upon receiving payment of the relevant exercise price in cash.
Splitit also issued 2,000,000 Shares upon exercising 875,993 Options to Shaked Partners Fund, L.P and 3,000,000 Options under the Company's SIP to key Australian, Israel, and US domiciled employees.
On 8 July, SPT released encouraging figures showing a substantial growth in MSV, gross revenue, and total unique shoppers in Q2FY20 results, ending 30 June.
Some highlights from the same are as follows:
Merchant Sales Volume (MSV) accelerated to US$65.4 million, rising by 260% on Q2 FY19, with a rise in MSV in North America and Europe by 261% and 240% on Q2FY19.
Gross Revenue (Non-GAAP) soared to US$2.4 million, up 246% on Q1 FY20.
Total merchants added up to 1,000 while unique shoppers totalled to 309,000, rising by 85% and 104% respectively on Q2FY19.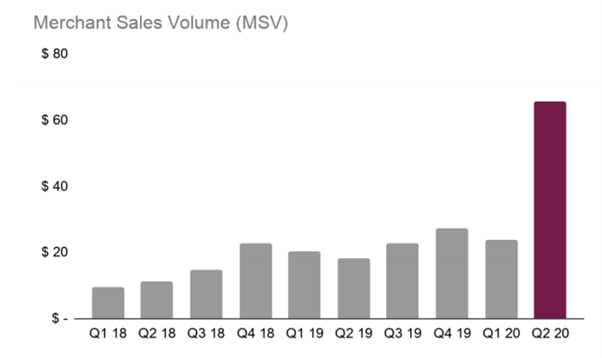 Source: ASX
During the Q2FY20 period, the firm also finalised an integration with Stripe Connect, with beta testing of new quicker merchant onboarding on track. SPT also struck new partnerships with Mastercard, Finance for Group and Blue Snap.
Shares of SPT last traded at $1.56 on 15 July, down by 1.266% compared to its previous close.