Highlights
Sectoral indices provide investors with benchmarks to track stocks against their specific sectors.
Eight out of eleven official sectors of ASX ended higher on Monday
Market sentiment seems to be getting better after the declaration by Shanghai to end its COVID-19 lockdown on 20 May.
An index comprises a set of stocks and helps in keeping track of a particular market or sector. A sectoral index provides investors with a benchmark to track a stock against a specific sector.
There are many companies listed on a stock exchange, out of which indices screen out a few ones based on market capitalisation, sector or any other parameter. Indices are a benchmark and a standard reference for the entire stock market.
This week, the S&P/ASX 200 index made a green start to the week by closing with a gain of 0.25% on Monday. Eight out of eleven sectors closed higher yesterday with industrials being the best performing sector with a rally of 2.42%.
Market sentiment might have received a boost with China's Shanghai announcing its decision to end COVID-19 lockdown on 20 May.
Related read: ASX 200 storms 1.9% higher in third-biggest daily gain of 2022
How is the ASX Healthcare Index performing?
The benchmark of the Australian healthcare sector, S&P/ASX 200 Health Care, seems to be trading on a lower note this week after making a green closing on Friday. The index closed off Monday with a loss of 0.60%. The index continued its downtrend on Tuesday, trading at a loss of1.24%, at midday.
The S&P/ASX 200 Healthcare provides investors with a sector benchmark for the companies included in the S&P/ASX 200 classified as members of the GICS® healthcare sector and sub-industries. The index was launched on 02 July, 2002, and it uses the float-adjusted market cap weighting method.
The index has a total of 14 constituents. Australia holds 92.2% weightage in the index regarding geographical breakdown, followed by the United States (6.3%) and New Zealand (1.5%).
Let us have a quick glance at trends in returns of the index for the past ten years.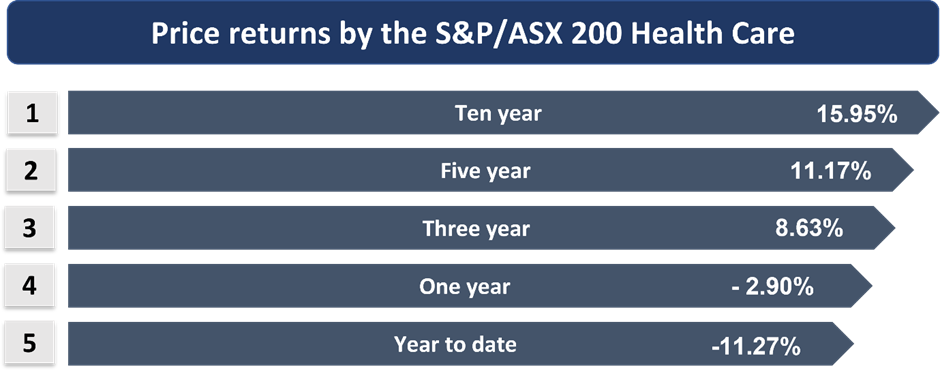 Image source: © 2022 Kalkine Media®
Also read: WES, GMG, WOW, TCL: How these ASX blue-chip stocks performed today?