Highlights

VRX Silica commenced a drilling program over its 100% owned Muchea Silica Sand Project.
The drilling is aimed at determining the type of mining and processing method required for the project.
The company is focused on offering high-grade silica product from its Muchea Project to the solar panel manufacturing industry.
Western Australia -based pure-play silica player VRX Silica Limited (ASX:VRX) has commenced a three-day vacuum drilling operation at its fully owned Muchea Silica Sand Project. VRX is targeting to drill up to 100 holes on the tenure to collect nearly five-tonne of sand for additional metallurgical test work.
Muchea Project comprises two granted exploration licences and one under the application phase. VRX has also managed to secure one granted mining lease, while one remains in the application phase of the project. The project boasts high-purity silica sand deemed fit for the ultra-clear glass manufacturing used in the solar panel industry.
The drilling operation on the project will be carried out by a tractor-mounted vacuum drilling rig. The main objective of the drilling program is to determine whether selective mining and processing of the sands from the differentiated layers could yield higher-purity product. The company believes if this could be achieved, then it can enhance the project economics significantly.
To read more about VRX, click here.
Vacuum drilling rig in action on Muchea (Image source: VRX update, 30 August 2022)
VRX has secured the approval for its Program of Work from the regulatory body Department of Mines, Industry Regulation and Safety for carrying out the drilling operation. The company also undertook a Heritage Survey over the tenement, and native people from Whadjuk community will accompany the drilling crew.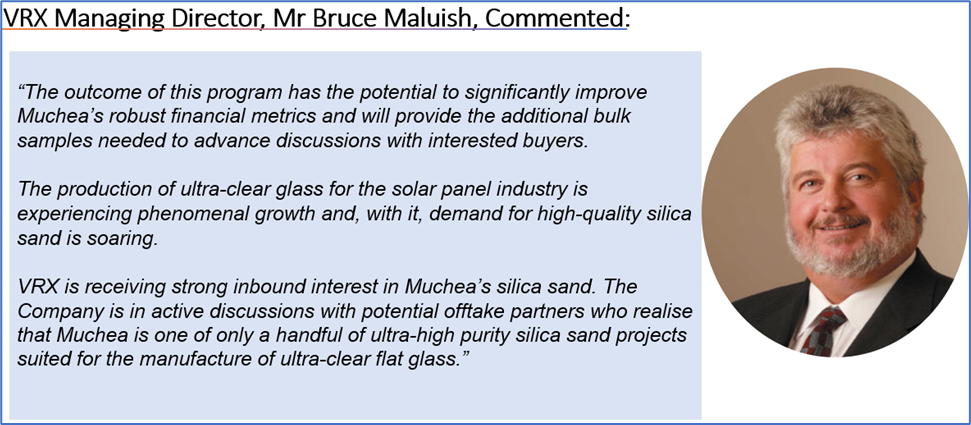 Data source: VRX update, 30 August 2022
Muchea Project holds a mineral resource of 208 Mt and a Probable Ore Reserve of 18.7 Mt. The resource estimates were drawn through an aircore drilling program conducted on the project tenement in 2019.
The drilling program also revealed that the ore at a depth of 5m had lower contaminants as compared to those at deeper depths. The current ongoing drilling program will delineate the variation in these layers.
VRX will conduct bulk metallurgical test work on the samples collected in the drilling campaign. The test work will determine if a higher purity product could be produced by selective mining and processing of the differentiated layers.
Since the near-surface ores are low in contaminants, they have the potential to produce high-quality sands, enhancing the overall project economics. VRX has planned to confine the drilling operation within the current Mineral Resource Estimate area.
Share price movement: Shares of VRX are trading at AU$0.155 apiece at around 12:00 PM (AEST) with a market capitalisation of AU$92.13 million.