Highlights

Aspire's wholly owned Ovoot Project is a premium fat metallurgical coal project with 281.1Mt of mineral resource estimate.
The company has deployed US$50 million in capital for advancing the project.
The PFS has already established robust financials for the project.
AKM expects to finalise a fully funded OCCP DFS by the first quarter of 2023.
ASX-listed Aspire Mining Limited (ASX:AKM) has been going full steam ahead to advance its wholly owned Ovoot Coking Coal Project (OCCP) in Mongolia. OCCP is a premium metallurgical coal project, which is expected to provide the steel industry with high-quality, washed fat coking coal.
High-quality coking coal is essential for steel producers. The productivity of blast furnace operations depends largely on the quality of coking coal. It takes around 770 kilograms of metallurgical coal to make the steel for a single, typical mid-sized car. Amid high demand, the metallurgical coal market is regularly in deficit.
Aspire is currently progressing with a Definitive Feasibility Study (DFS) on OCCP, expected to be delivered by Q1 of 2023. The company expects the DFS to confirm robust financial metrics for a high-quality, washed fat coking coal operation at the project.
To know more about the Ovoot project, click here.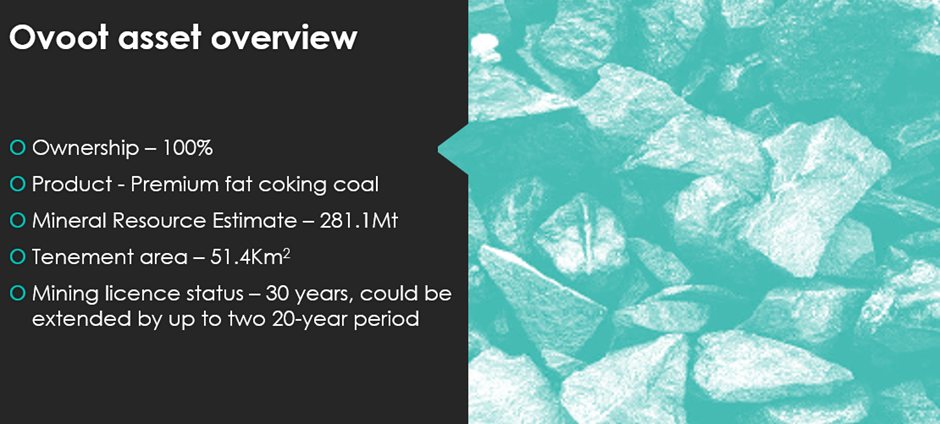 © 2022 Kalkine Media® (Image & Data source: AKM update, 31 August 2022)
Ovoot PFS results indicate strong project financials
The Pre-Feasibility Study (PFS) outlined sound financial metrics for the project. The study returned an IRR value of 49% with a net present value or NPV10% of US$878 million. The PFS also highlighted that the project could produce up to 4Mtpa of fat coking coal from a single mine with a low strip ratio at an attractive pre-production capital cost of US$262 million.
The PFS took into consideration the scope of renewable energy in the project and world-leading processing technology to reduce Scope 1 and 2 emissions. The quality of the washed fat coking coal from the project is expected to aid steelmakers to improve productivity and lower their Scope 3 emissions.
The key findings of the PFS are: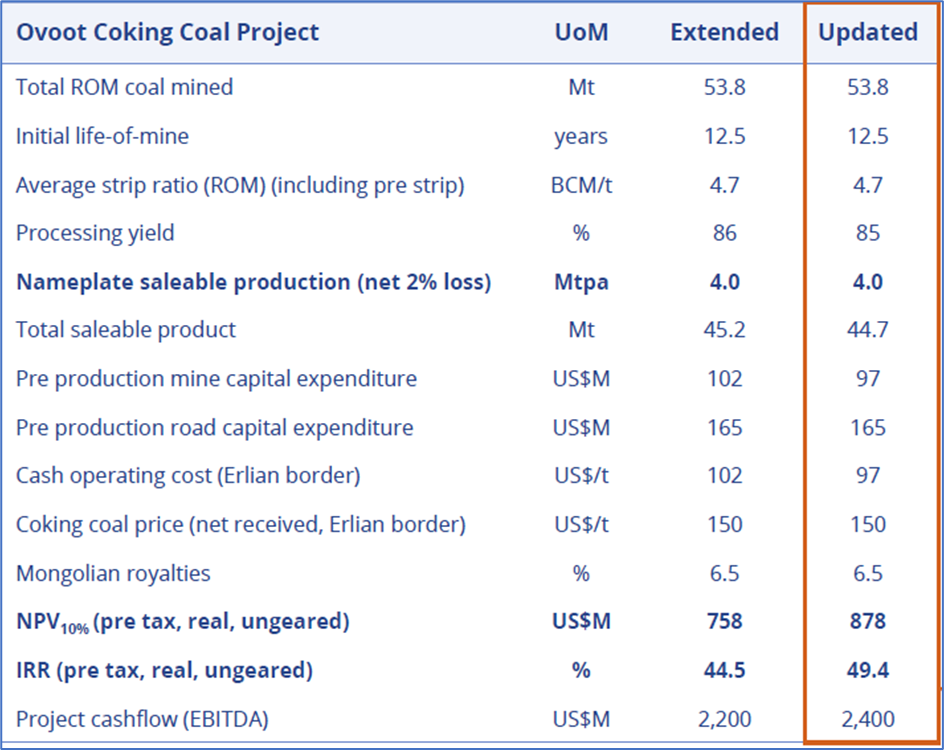 Image source: AKM update, 31 August 2022
Outstanding properties of Ovoot coal
There are certain properties of metallurgical coal that make them suitable for steelmaking, especially plasticity and fluidity.
Plasticity is the ability of coal to bond with other types of coals with narrow melting ranges. The higher the plasticity, the better is the coal for coal making. The OCCP coal has wide plastic range (>950C) and has the upper end of the Y index- a parameter to measure plasticity.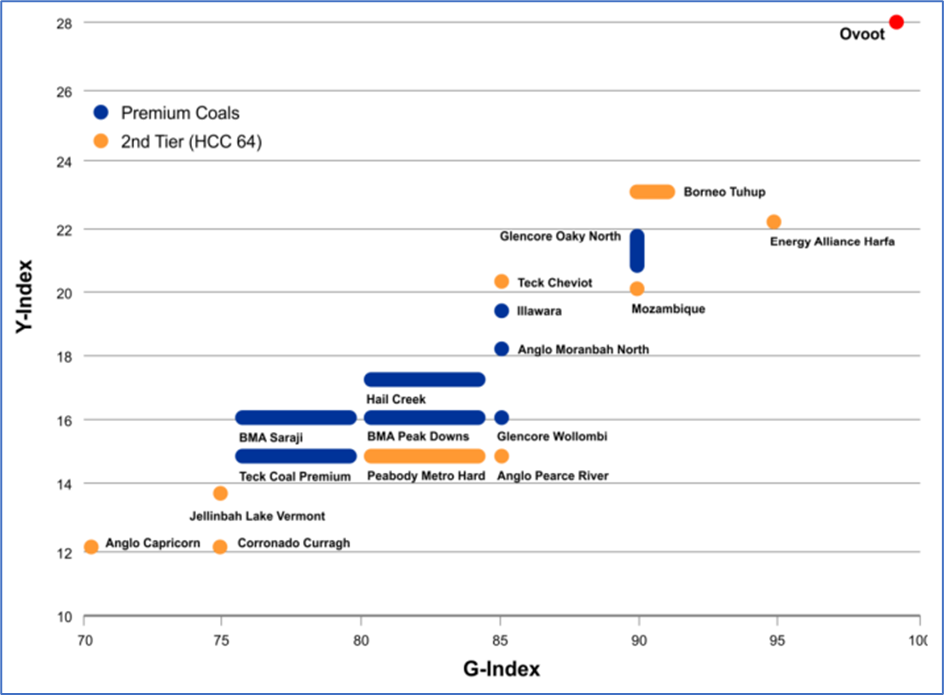 Image source: AKM AGM Presentation
The higher fluidity of the Ovoot coal allows good mixing with batch coals. Also, Ovoot coal has exceptional dilatation of +260%, a significant contributor to coke strength.
These properties are likely to allow the buyer to blend a 5%-10% batch ratio to support the carrying ability of hard coking coal. High-grade coking coals attract a high premium over the market price, which the market forecasts to remain well above the US$150/t PFS price for foreseeable future.
OCCP to contribute significantly to local economy
The Ovoot project is expected to generate up to 1,200 direct and indirect employment opportunities.
AKM anticipates contributing US$874 million in taxes and fees over the life of mine. Also, initiatives like the successful trial fodder scheme are expected to provide strong local community project support.
The company is also committed to reducing greenhouse emissions for a sustainable future. As part of this focus, AKM has committed to planting 10 million trees by 2030.
Way Forward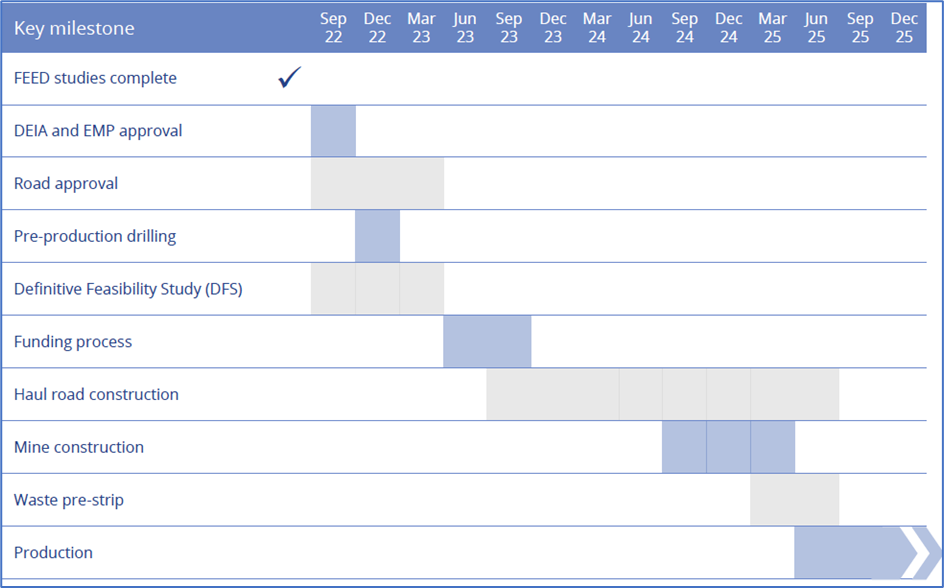 Image source: AKM update, 31 August 2022
AKM has completed all FEED study work. Approvals from the DEIA and Environmental Management Plan (EMP) are expected in September 2022 quarter, facilitating a pre-production drilling program.
The company believes that OCCP is well positioned to provide high-quality coking coal to the growing Chinese steel market, as well as tap growth opportunities in the markets of Russia and Europe.
AKM shares were trading at AU$0.096 on 2 September 2022, up more than 4% from the last close.