Highlights

Avada group closes IPO retail offer on ASX today.
Avada group shares will begin retail trade on ASX, from 16 December 2021.
The Company will feature AVD as its ticker to trade on the ASX.
Traffic management services provider Avada Group Ltd, Avada Group Ltd (to be listed as AVD), raised an AU$30 million from IPO of which retail offer closed today, 2 December 2021. It is expected to list by 16 December 2021. Shaw and Partners Limited, as IPO lead managers, expected to raise AU$30,000,000, offering shares at AU$1 per share.
So, let's take a closer look at the company.
What does Avada Group do?
AVADA Group Ltd (ASX:AVD) provides traffic management and control services, like traffic planning and permit, equipment hire, incidence response and others.
The Company is led by Vericraft group's Dan Crowley and former Aurizon boss Lance Hockridge.
AVADA's client portfolio includes local council and state government, federally and privately funded contractors and contractors from utilities, infrastructure, and other sectors.
Traffic management is essential to all civil services, and AVADA, after listing, will be the only traffic control service provider on ASX.
Avada intends to use the funding raised from ASX to acquire complementary businesses like Verifact traffic, D&D traffic management, Oasis traffic solutions, Traffic Marshal and Platinum traffic services.
How to invest in Avada Group shares?
Avada group shares will begin trading on ASX from 16 December 2021. Given below are key details of its IPO.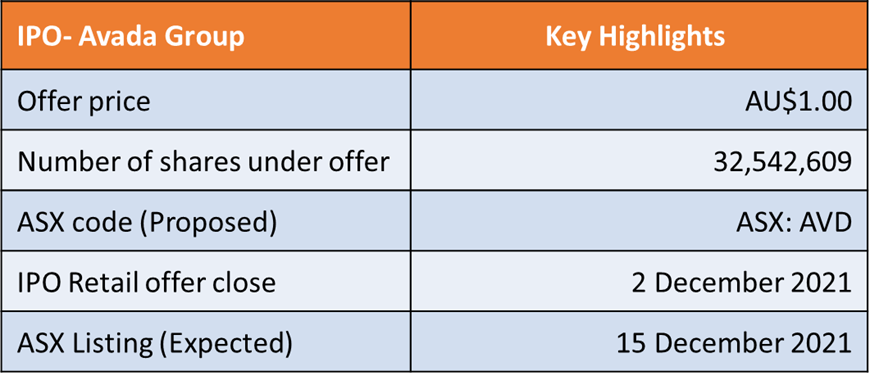 Image Source: © 2021 Kalkine Media
Before buying Avada shares from 15 December onwards, try to understand its business strategy, including its proposed acquisition agreements and aligned risks and returns.
Also Read- How are retail investors different from institutional investors?
Next, finalise the amount you want to invest in Avada shares and whether you want to buy on listing or wait for the proposed acquisitions to get over and buy in later.
Investors must always aim to diversify and balance their portfolio; AVD shares expose a niche service- traffic management.
Bottom line-
Avada group will be the only listed traffic management service company on ASX with no competitors. It is also planning to use funds for inorganic expansion. How well Avada can utilise the ASX funding, will be better known in future.
Trending on ASX - Australian Pharmaceuticals (ASX:API) soars with Woolworths (ASX:WOW) bid