Highlights

Viking Mines (ASX: VKA) has hit multiple and consistent thick zones of magnetite, which is the known host to vanadium mineralisation at the Canegrass Battery Minerals Project
These zones are situated in the Kinks South target area where VKA has so far drilled 13 holes covering 2,214m
The results relate to only one of the five target areas which are part of the ongoing ~6,000m drill program focused on extending MRE at the Fold Nose and Kinks deposits
ASX-listed company Viking Mines (ASX: VKA) -- which is presently undertaking a drill program at its Canegrass Battery Minerals Project (Western Australia) -- has informed that numerous thick zones of massive magnetite have been hit during drilling at the Kinks South target area. The company has drilled 13 holes (2,214m) at Kinks South along an over 1.1km trend of targeted Vanadiferous Titanomagnetite mineralisation.
VKA mentions that all the holes have encountered magnetic intervals. The main highlights of drilling include holes VCRC0012, VCRC0011, and VCRC0018 that have shown multiple zones of strongly magnetic horizons. The below picture has details.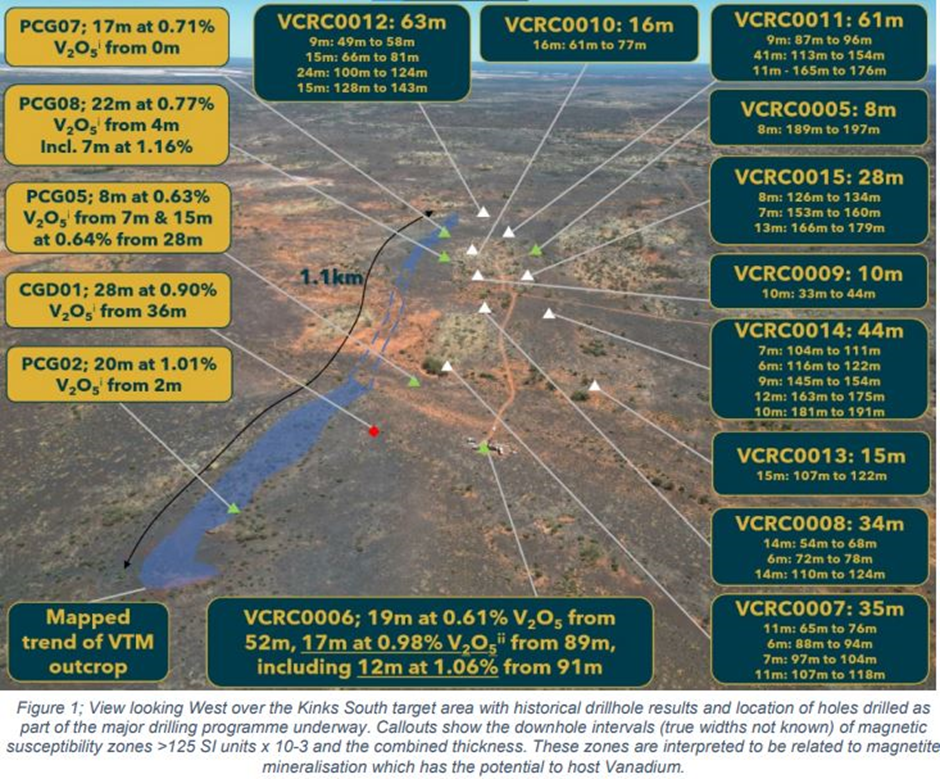 Source: Company update
Drill program overview
Viking Mines has informed that as of 28 June 2023, its 6,000m drill program - which has progressed well with high productivity attained by TopDrill contractors -- has reached 34 holes for 5,408m. Many holes have been extended, VKA notes, with the program to now estimate nearly 6,500m. It is expected that the program will be completed in early July.
Publicly listed Viking Mines, which is undertaking drilling with the aim of extending the already sizeable Mineral Resource Estimate (79Mt at 0.64% V2O5) at the Canegrass Project located Fold Nose and Kinks deposits, has hit numerous consistent thick zones of vanadium hosting magnetite. Notably, all the 13 holes drilled so far by VKA have encountered magnetic intervals.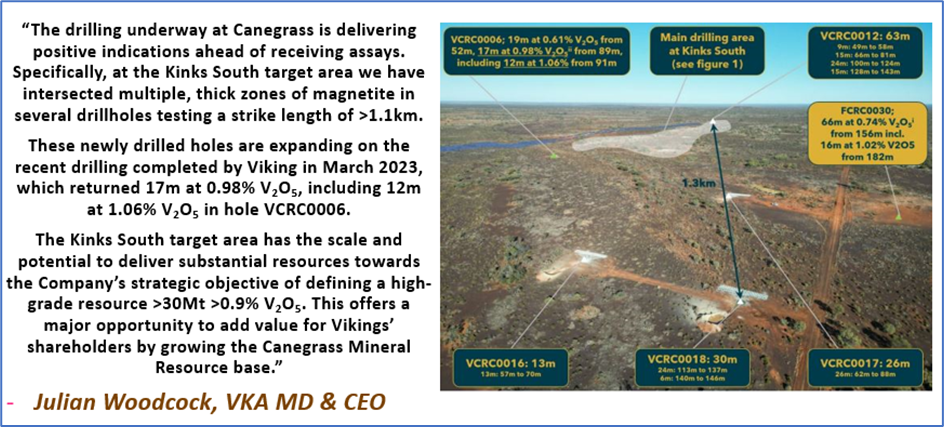 Image and data source: Company update
Holes VCRC0012 and VCRC0018, both of which have encountered multiple zones of strongly magnetic horizons, are at a distance of 1.3 km from one another. The two represent the most eastern and western holes drilled at the target area, VKA mentions, with mineralisation remaining open and untested.
Viking Mines states that drilling at Kinks South is targeting downdip and along strike continuity of mineralisation noticed in outcrop. This is backed by historical drilling in 1980s and VKA's March 2023 drillhole VCRC0006 (17m at 0.98% V2O5 including 12m at 1.06%). Geological logging and measurements of magnetic susceptibility have been used to identify intercepts.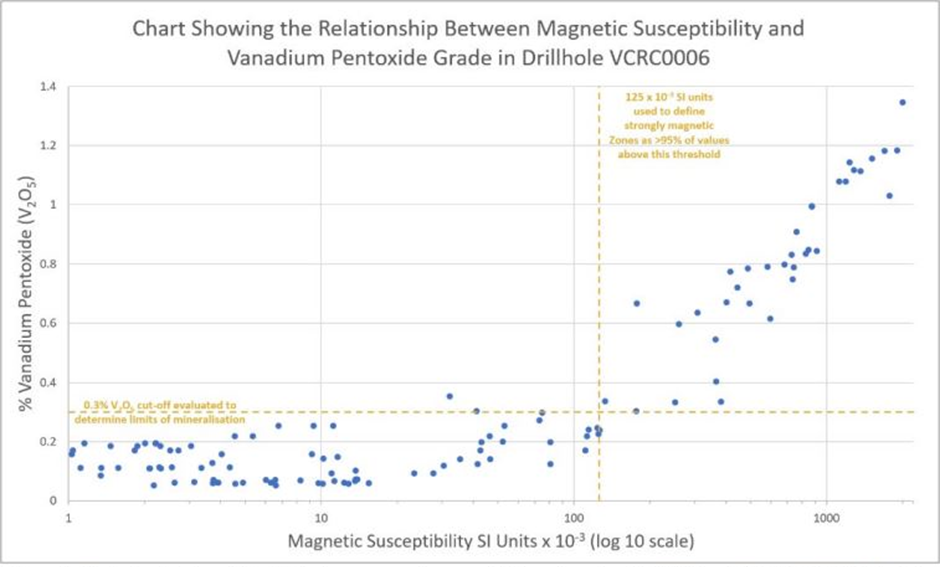 Source: Company update
Way forward
VKA is concurrently despatching samples to laboratory, with results expected throughout next month and into August.
Aside from completion of the drill program, the next steps for the project would include logging of drill chips and assessment of the target areas, evaluation of results from the preliminary sighter metallurgical testwork program and updating of the geological model.
VKA shares traded at AU$0.011 on ASX at the time of writing on 29 June 2023.