Highlights

Viking Mines has kicked off preliminary sighter metallurgical testwork at its Canegrass Battery Minerals Project.
ALS Metallurgy would undertake the testwork on 36 samples collected from hole VCRC0006, part of the recent drill campaign at the project.
The testwork is designed to determine the recovery of vanadium into a magnetic concentrate.
VKA intends to commence a 5,500m drill program by the end of this month.
Viking Mines Limited (ASX:VKA) has marked another major step to advance its flagship Canegrass Battery Minerals Project.
The ASX-listed minerals explorer has engaged ALS Metallurgy to undertake preliminary sighter metallurgical testwork focused on the recent drilling samples obtained from the project. The metallurgical testwork is aimed at determining the recovery of vanadium into a magnetic concentrate.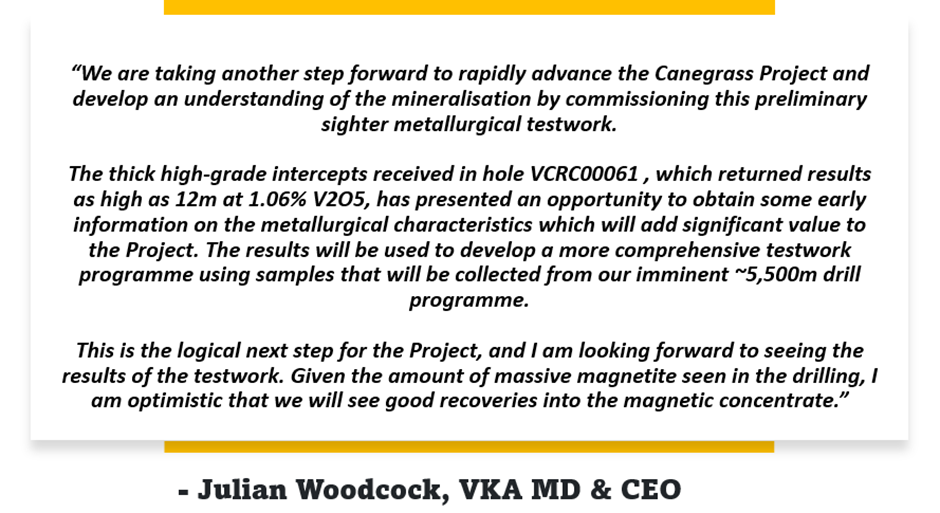 Metallurgical Testwork to determine vanadium recovery into concentrate
As part of Viking's March 2023 initial drill programme at Canegrass, the Company collected 36 samples from hole VCRC0006 above a 0.5% V2O5 cut-off. This included the zones of internal waste with less than a 0.5% V2O5 cut-off to find out how the lower grade mineralisation reacts to standard magnetic recovery.
The data obtained from this programme will be helpful in determining future Mineral Resource and Mineral Reserve Estimates needed for mining dilution calculations. The samples collected will be ground to a standard a minimum P80 -75-micron size and processed through a Davis Tube Wash (DTW) to generate a magnetic concentrate. Further, the magnetic concentrate will be studied to analyse its grade versus the feed (head) grade to determine the recovery of Vanadium into the concentrate.
Near-term project prospects
The Company will be running the preliminary metallurgical programme and the major drill programme simultaneously later this month.
It is expected that the metallurgical programme results will be received in the month of July. This may correspond with the initial set of results obtained from the drill campaign.
In order to progress the development activities at the project site, Viking aims to complete geophysical processing and magnetic inversion modelling to target magnetite horizons. It will also modify geology model on the basis of the drilling data and ground magnetics geophysical survey data. In the due course of time, the Company will also target completion of JORC exploration target assessment.
Also, the Company would plan a follow-up metallurgical programme.
Stock price information
Viking shares were last spotted trading at AU$0.009 on 19 May 2023. The Company has a market capitalisation of AU$9.22 million.