Highlights

Vertex Minerals (ASX:VTX) has discovered several unassayed pegmatite intersections via a review of drill logs at the Taylors Rock Project.
The Taylors Rock Nickel Gold Project has not been subjected to any previous exploration for lithium.
VTX plans to conduct a field trip this week to view and undertake sampling across E63/2058 and advance drilling at the project, subject to granting of any PoW.
Gold and nickel explorer Vertex Minerals Limited (ASX:VTX) has announced that a review of drill logs has revealed several unassayed pegmatite intersections. These drill logs were from the earlier tenement-holder Norilsk at E63/2058, Taylors Rock Nickel -Gold Project located in Western Australia.
Several holes have been found to have pegmatite intersections logged, and these pegmatites are prospective lithium-bearing pegmatites, given their location and style.
Historical drilling at Taylors Rock
Previous drilling at this project was focused on nickel exploration and not lithium targets. However, some of the nickel drillings were never assayed despite intersecting substantial intervals of pegmatites, possibly because they were not believed to be prospective for nickel sulphides.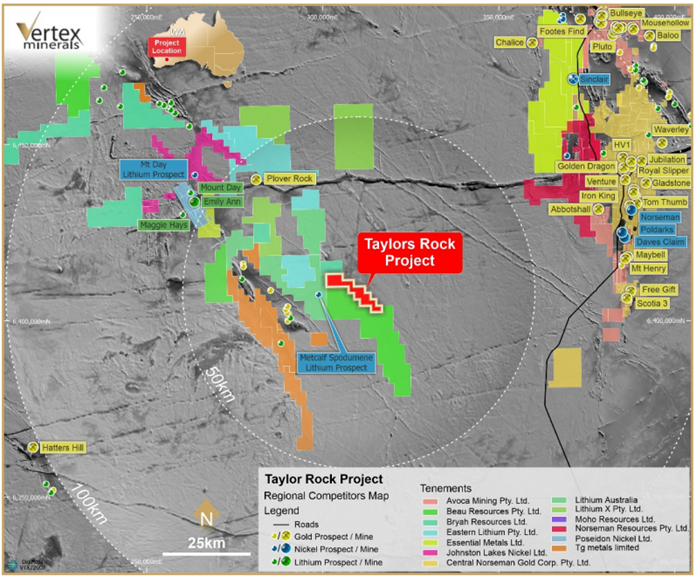 Source: VTX
Up to 33 logged intersections of pegmatite were found in a total of 7 RC drill holes and a diamond tail. The logged pegmatite intersections range from 1m up to 11m downhole, and the logged pegmatite swarms suggest a possibility for pegmatite swarm corridor of more than 4km.
Location of the Taylor Rock Project
The fully owned Taylors Rock project is located to the east of Lake Johnston, which is situated 450km east of Perth. VTX states that the lithium prospects appear in a 50 km long corridor along the southern and western margin of the Lake Johnston granite batholith.
Taylors Rock sits around 6km to the east of the Lake Johnston Project of Charger Metals NL (ASX:CHR). This project comprises the advancing Medcalf Lithium Prospect and much of the Mount Day Lithium-Caesium-Tantalum (LCT) pegmatite field.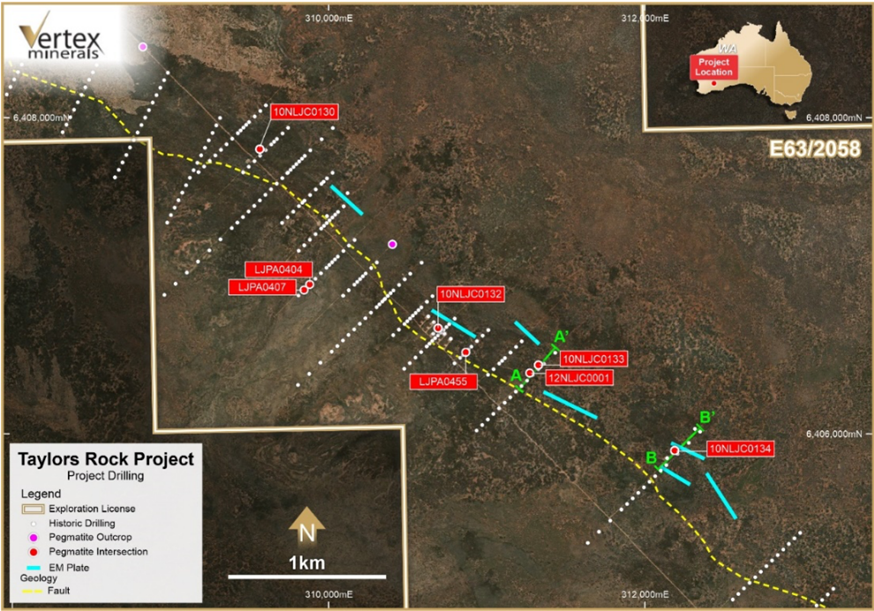 Source: VTX
The Taylors Rock Project also lies in proximity to the significant and advancing Mount Holland Lithium Project, situated around 70km west of the Lake Johnston Project.
Mt Holland is believed to be one of the biggest undeveloped hard-rock lithium projects in Australia, with Ore Reserves for the Earl Grey Deposit estimated at 94.2 Mt at 1.5% Li2O.
Source: © 2022 Kalkine Media®| Data Source: VTX | Image Source: VTX
VTX's plans ahead
The Taylors Rock Nickel Gold Project has not witnessed any previous exploration for lithium. The directors of VTX plan to undertake a field trip during this week to view and conduct sampling across E63/2058.
VTX further looks to advance the project through drilling as soon as possible, subsequent to granting any permit of work.
VTX stock was noted at AU$0.155 on 07 October 2022.