Highlights

A diamond drill rig is on site of Revolver Resources' Dianne Project.
During the next week, a 2,000m diamond drilling program is expected to start, targeting recently identified priority conductive targets.
The priority of the drill targets has been enhanced following surface mapping and overlying soils geochemistry.
Osprey drilling program is advancing well.
Revolver Resources Holdings Limited (ASX: RRR) plans to kick off a 2,000-metre diamond drilling program at its Queensland-based Dianne Project. The arrangements for track and drill pads are near complete, and the drilling campaign is anticipated to begin next week and completed by early September.
The diamond drill program will focus on testing three Heli-EM targets in the Larramore Volcanic Belt.
Source: Company update
Drilling of three Heli-EM targets in Larramore Volcanic Belt
A diamond drill rig is on site at the project in northern Queensland. The campaign is designed to test C5, C6, C16, three of the Heli-EM targets in the Larramore Volcanic Belt.
The company completed a field mapping program in May across select areas of the Larramore Volcanic Belt area of the Dianne Project. The program detected an 8km-long linear zone of outcropping chert with abundant gossan along the western margin of the Larramore belt, with encouraging surface rocks and extensive surface vegetation known to be indicative of high copper endowment in surface soils.
Considering surface geology and structure as well as geophysics, the company identified three targets within or on the margin of this gossanous outcropping zone.
During the 2,000m diamond drill campaign, three holes will be drilled into each anomaly. Most likely, drilling will begin within the next week, says the company.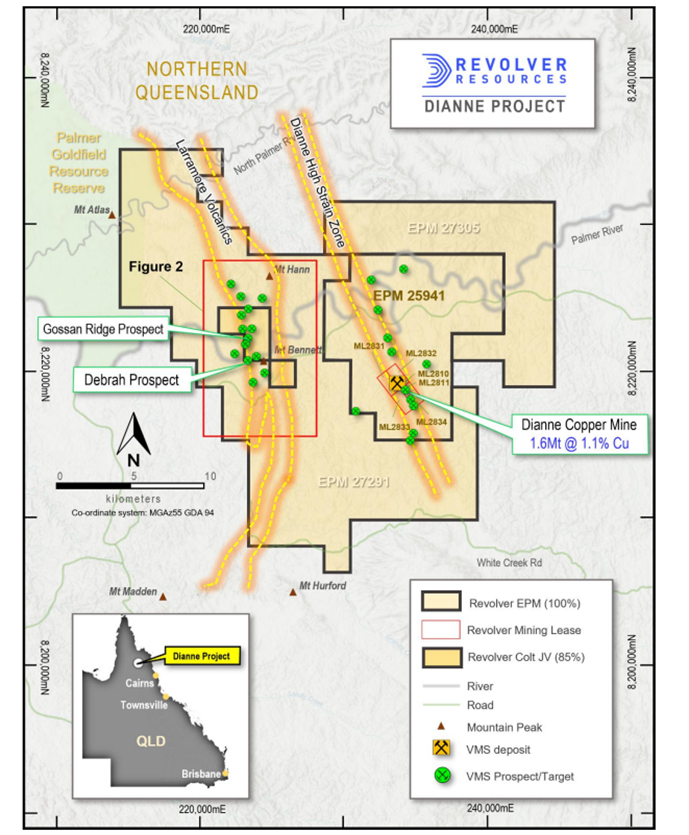 Dianne Project tenure, main geological trends and key targets/prospect
The company also highlighted that drilling at the Osprey Project is progressing well, with initial multi-element assay results expected to be received during August.
Share price soars
Triggered by the update, the company shares gained nearly 20% to trade at AU$0.150 at the time of writing on 11 July 2023.