Highlights

IOUpay Limited (ASX:IOU) is focused on product innovation to drive growth and scale for its business.
The Company has launched a revamped version of its flagship BNPL offering, and is developing myIOU Islamic and KA$Hplus offerings.
IOU remains in a sweet spot amid significant value drivers expected to lead to profitability.
IOUpay Limited (ASX:IOU) aims to evolve into one of the leading digital transaction processors in the booming cashless economies of South East Asia.
The Company has been engaging with its partners and merchant networks to leverage the rapid growth and adoption trends in the digital payment solutions space. The fintech services provider has been progressing various developments that reinforce its 'best-in-class' brand positioning on the basis of innovation and a secure, scalable technology platform.
To drive growth and scale, one of the key areas of focus for the Company is product innovation.
Enhancements to myIOU BNPL platform
IOU launched its flagship BNPL platform, myIOU, in June 2021. Since then, the Company has been focusing on bringing enhancements to the platform to drive growth.
In the first half of 2022, the Company introduced the revamped version of its BNPL platform, myIOU 2.0 with phase one technology improvements.
The phase two of the myIOU 2.0 technology upgrade includes the following enhancements to the app:
Source: © Blackboard373 | Megapixl.com | Data Source: IOU Announcement
Phase two development and testing have been incorporated, wherein IOU has been working on design, functionality and security enhancements on its app.
Game-changing KA$Hplus card initiative
The co-branded myIOU KA$Hplus prepaid VISA card is a game-changing development aimed at enabling myIOU BNPL transactions for purchases made anytime, anywhere.
IOU has partnered with Virtualflex Sdn Bhd to integrate the card to the myIOU BNPL platform. The partnership also allows IOU to access numerous products, features and collaborations that are available across Virtualflex's product portfolio.
Some of the features include prepaid loading, top-up & debit-card-style usage with recharge via bank & e-wallet transfers.
Through the myIOU KA$Hplus card, IOU aims to offer further value to myIOU consumers and drive growth in new consumers and enhance brand loyalty.
IOU also looks to deliver additional revenue streams through potential future product improvements and broaden the scope of myIOU product to a greater number of merchants.
myIOU Islamic offering opening access to new markets in Malaysia & SEA
One of the key advancements in IOU's product development initiatives has been the development of a Shariah-compliant BNPL offering.
The Company plans to market this product under the name myIOU Islamic, for which a Shariah compliance certification was completed in July 2022.
The development will facilitate access to new markets in Malaysia and SEA as well as position the company for increased access to the large and growing community of Muslims across the region.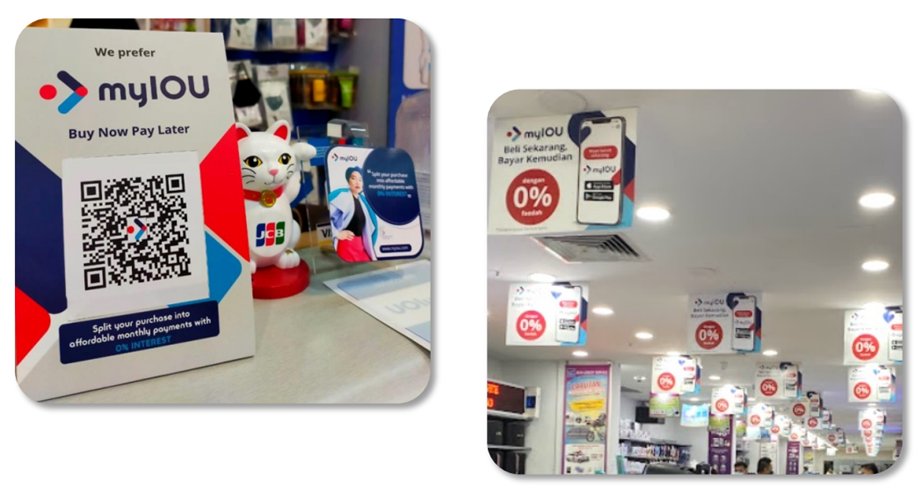 Source: IOU Presentation
IOU, which seeks to offer Islamic as well as conventional financing, has concluded an agreement with PayHalal (a Shariah-compliant payment gateway).
The Company has concluded integration works to support the onboarding of merchants and expects to start processing Shariah-compliant BNPL transactions during the December quarter.
Way forward
Besides these developments, IOU is also advancing to conclude its pivotal transaction with IDSB, while securing various certifications and platform integrations to broaden the horizon of its offerings. IOU says it is working with IDSB to develop a broader base of consumer finance offerings with recurring revenue streams for diversified growth.
Going forward, the focus remains on consistent performance with a clear plan that indicates a pathway to profitability. The rapid growth in the Malaysian BNPL market and the regional economic expansion in SEA, along with compelling market opportunities, indicate significant value drivers for IOU's business.
IOU shares were trading at AU$0.082 midday on 22 August 2022.