Highlights

Black Canyon (ASX:BCA) witnessed significant exploration success at its Flanagan Bore manganese project during FY22.
Drilling programs delivered thick, high-grade mineralisation at the project.
The period saw a major boost to the MRE at Flanagan Bore to 104Mt @ 10.5% Mn, including a high-grade component of 33Mt @ 12.8% Mn.
A scoping study has suggested a mine life of 20 years, strong cash flow and robust returns, with a low capital start up for production.
BCA is advancing well with metallurgical test work and related engineering design activities in relation to a detailed feasibility evaluation.
The company remains in a stable financial position to expedite its exploration efforts and advance work at Flanagan Bore.
Western Australia-focused Black Canyon Limited (ASX:BCA) has wrapped up an action-packed FY22 ended 30 June 2022, giving a substantial boost to its manganese exploration endeavours. During the period, the company remained actively engaged in the exploration of its large manganese project portfolio in the premiere mining jurisdiction of East Pilbara.
The major focus for the period has been on the Flanagan Bore Project, which is part of the Carawine Project, in which BCA has a farm-in, and joint venture agreement with Carawine Resources Ltd. The Carawine Project covers approximately 793km² of tenure located south of the operating Woodie-Woodie manganese mine, providing a large footprint in a proven and productive manganese belt.
Drilling success at Flanagan Bore
During the year, BCA received excellent drilling results from the initial drill program at Flanagan Bore. The drilling program resulted in thick, high-grade mineralisation being intersected, including:
Data source: BCA update
580% growth in MRE at Flanagan Bore
The Company saw significant expansion in the Mineral Resource Estimate MRE for the LR1 and FB3 deposits at the project.
The MRE now stands at 104Mt @ 10.5% Mn (Indicated), containing 11 Mt of manganese. This represents a substantial increase of 89Mt of total tonnage and 9Mt of contained manganese from the previous Mineral Resource or a 580% increase in Mineral Resource tonnes.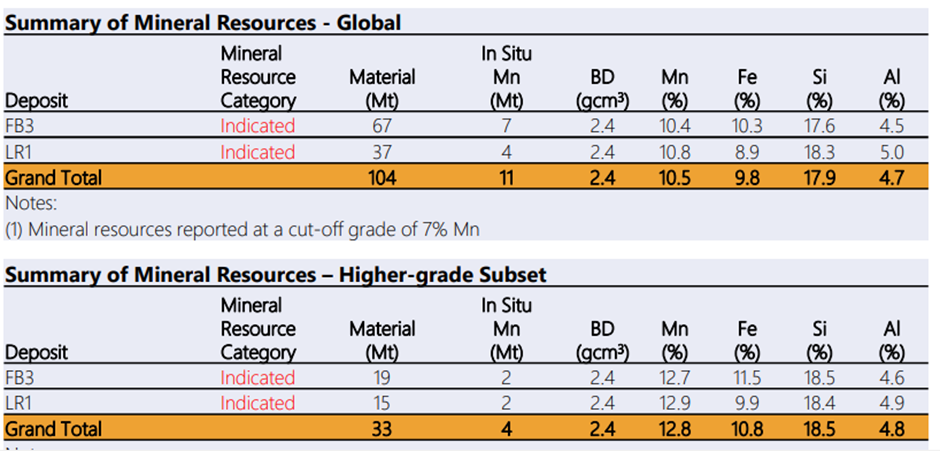 Mineral Resource Summary at LR1 and FB3 (Source: BCA update) © 2022 Kalkine Media®
Importantly, this resource is classified in the higher confidence Indicated category and encompasses a high-grade subset of mineralisation across LR1 and FB3 of 33Mt @ 12.8% Mn.
Scoping Study indicates strong financial and technical viability of Flanagan Bore
Subsequent to the reported period, the company released a scoping study, which further suggests that this higher-grade material is appropriate to support a prospective multi-decade mining operation at the Flanagan Bore project.
Read detailed report here
BCA has completed additional drilling to enhance the current MRE with an in-fill drilling program to boost the confidence level of the MRE to the level required to commence more detailed development studies for the Project.
Also Read: Latest assay results boost Black Canyon's (ASX:BCA) confidence in Flanagan Bore manganese project
Road ahead amid attractive fundamentals for manganese
BCA is progressing well with detailed metallurgical test work, and related engineering design activities are also continuing in relation to a detailed feasibility evaluation including baseline studies to support environmental approvals.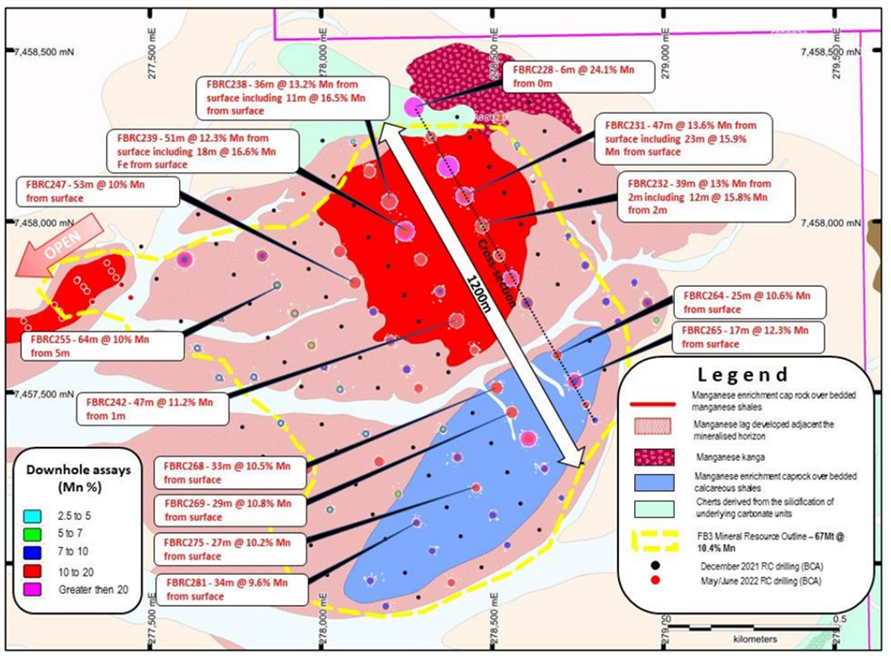 Source: BCA update
As a manganese explorer, BCA believes that manganese continues to have attractive fundamentals with increasing applications across the EV battery mineral sector. Given this backdrop, the company has initiated test work to evaluate the viability of delivering high-purity manganese sulphate.
BCA believes that this work will provide preliminary inputs for a dedicated Scoping Study examining the production of battery-grade manganese from the ores at Flanagan Bore or from other exploration projects.
Firm financial position to expedite exploration
The period saw the completion of a placement raising AU$3.2 million (before costs). The placement reflected strong support from Australian investment funds and sophisticated investors.
The company with cash and cash equivalents of over AU$4.7 million at June end remains in a stable financial position to expedite its exploration efforts and advance work at Flanagan Bore.
BCA shares were trading at AU$0.220 midday on 06 October 2022.