Highlights

Arcadia Minerals has announced assay results from the drilling campaign conducted at the Madube Pan in December 2022.
The central portion of the Madube Pan confirmed elevated lithium results similar to the Eden Pan.
At the Madube Pan, the average depth of the mineralised zone is 7.5m, while there is an average depth of 5.5m in the Eden Pan.
Metallurgical testwork with sulphuric acid and organic acids is about to conclude, with results likely to be released this month.
The company expects an updated mineral resource for Bitterwasser Clay Project from the Madube pan by Q2, expected to expand on the current 286,909t Li2CO3.
Diversified exploration player Arcadia Minerals Ltd (ASX:AM7 FRA: 8OH) today revealed the assay results for all the holes drilled at Madube Pan in December last year.
The results from the drilling campaign reflect that the central portion of the Madube Pan returned elevated lithium levels from green clay lithological units. They hold similarity to what has been discovered at Eden Pan, where a Lithium JORC resource has previously been defined at 286,909t Li2CO3 using a 500ppm Li cut-off.
Total 23 holes were drilled at the Bitterwasser Lithium Clay Project in the Madube Pan prospect. In applying a cut-off of 500ppm at the pan, eight holes intersected clays of over 500 ppm lithium content.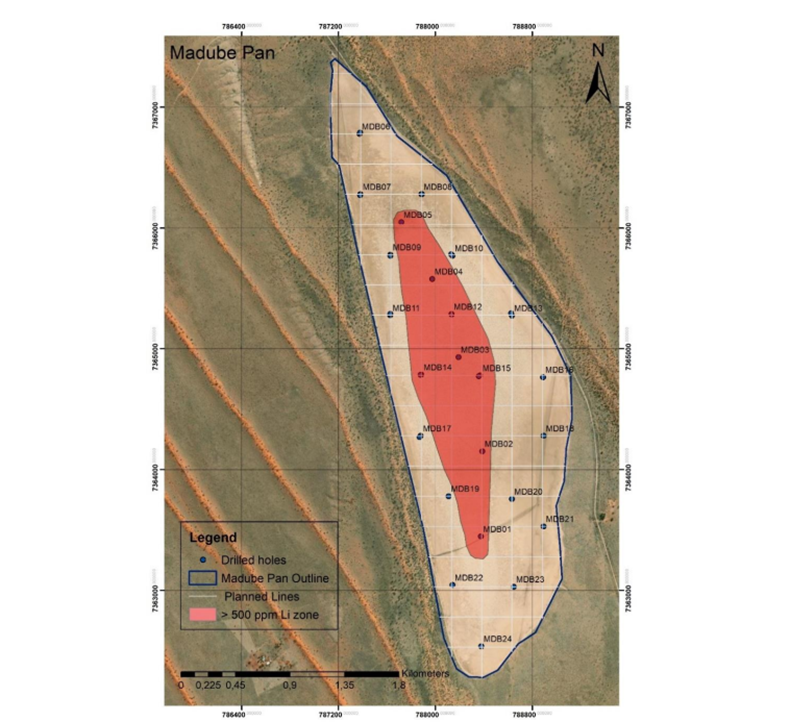 Map showing the location of the holes drilled and + 500 ppm Li mineralisation at the Madube pan (the red shaded zone indicates grades >500 Li mineralization)
Updated Madube Pan Mineral Resource statement likely by April
The second of 14 exposed pans drilled within the Bitterwasser Clay Project, the Madube Pan prospect stretches across 517 hectares.
Arcadia Minerals began drilling operations at the Pan in October last year. Samples were sent to Scientific Services in South Africa in December 2022 after completing the drilling for assessment.
The company expects that an independent JORC compliant Mineral Resource statement for the Madube Pan will be completed by April 2023. AM7 expects that the Mineral Resource at Madube Pan will expand the lithium in clays tonnage of the Bitterwasser Lithium Clay Project.

Data source: company update
Also, AM7 has been undertaking testwork at the University of Stellenbosch to extract the lithium from the clays using sulphuric as well as organic acid, for which the results are expected during this month. The Company is excited by the prospects of extracting lithium using organic acid, given this could result in a producing a carbon friendly lithium.
Management commentary

Data source: Company update; Image source: © 2023 Krish Capital Pty. Ltd.
AM7 shares were trading at AU$0.235 midday on 07 February 2023, with a market capitalisation of AU$18.38 million.