Altech Chemicals released findings of the PFS for the battery anode material plant in the June quarter.
The study returned excellent financial metrics for the facility, for which construction planning is in the final phase.
Altech signed a partnership agreement with Fraunhofer IKTS, a leading German battery research centre.
Altech signed the final construction contract for its battery material pilot plant with a German contractor.
The June quarter was full of action for Altech Chemicals Limited (ASX:ATC|FRA:A3Y) as the battery anode material manufacturer made significant developments at its proposed manufacturing unit in Germany.
Altech is in the process of setting up a 10,000 tpa battery anode material manufacturing facility in German automotive hub, Saxony. Altech plans to construct the plant to manufacture high-capacity silicon/graphite battery anode materials to target the high-growth European EV market space. The anode material will be manufactured under the registered product name of Silumina AnodesTM.
Image source: ATC update, 29 July 2022
Outstanding PFS results
Altech has announced results of the Prefeasibility Study (PFS) for its proposed German plant. The results indicate that a modest capital investment of US$95 million would be required for the construction. The project is estimated to have a net present value (NPV8) of US$507 million. It is estimated to generate net cash of US$63 million per annum with annual revenue of US$185 million at full-scale production.
The PFS indicates that the project would have an IRR of 40% with a payback period of approximately 3.1 years.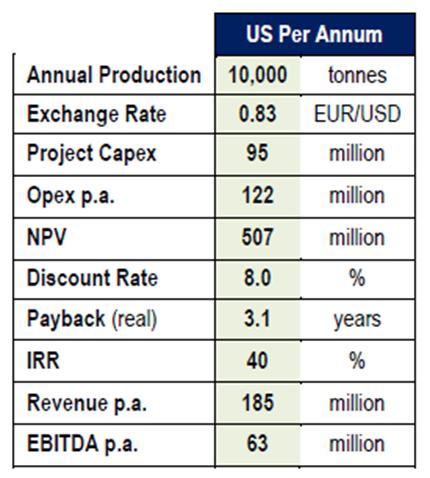 Summary of project financial model (Image source: ATC update, 29 July 2022)
Execution of the final contract for Silumina AnodesTM pilot plant construction
During the reporting period, Altech executed the final construction contract with Küttner GmbH & Co. KG. The contract was signed this week following a site visit by senior management of Altech. Altech is planning to set up a pilot plant in Dock3, a leased warehouse, next to its proposed plant location in Saxony, Germany. The pilot plant is designed to produce 120kg of battery material per day and will be sent to selected European battery manufacturers and automakers for product proving.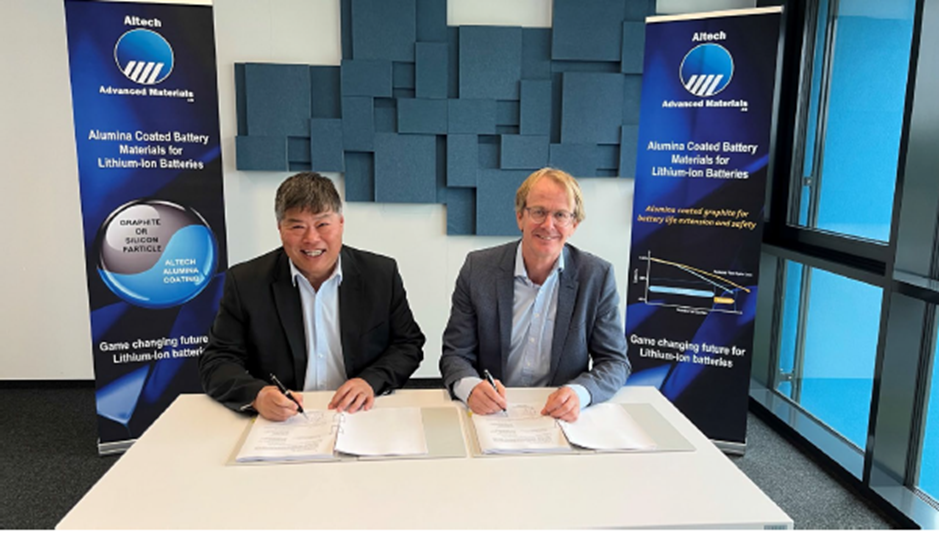 Final contract signing by Altech's MD Mr Iggy Tan and MD of Küttner (Image source: ATC update, 29 July 2022)
Küttner is a Germany-based engineering firm that has done the final plant engineering design and cost estimation. Following the execution of the final contract, Küttner will immediately commence the procurement process. The construction of the pilot plant will commence as soon as the equipment starts arriving at the location, which is expected by the end of 2022.
The pilot plant is estimated to cost around AU$7.2 million. Altech will contribute 75% of the capital, which is AU$5.4 million, and the remainder will be provided by Frankfurt stock exchange-listed Altech Advanced Materials AG (AAM). Altech is a 75% owner of the German operations while AAM holds the remaining 25%.
Pilot plant design and equipment (Image source: ATC update, 29 July 2022)
Strategic partnership with Fraunhofer IKTS
Altech signed a strategic partnership agreement with Fraunhofer IKTS, a leading German research centre for battery materials. The objective of the partnership is to expedite the testing and qualification process for Altech's trademark Silumina AnodesTM product.
The partnership came up at the perfect time when Altech recently executed the construction contract for the pilot plant for the manufacturing of its trademark product. Fraunhofer IKTS has world-class labs and technical centres with outstanding equipment all over Germany, including Saxony.
Corporate updates
During the quarter, ATC's largest shareholder, Deutsche Balaton Aktiengesellschaft, converted 15 million listed options at a price of AU$0.08, resulting in cash being received of AU$1.2 million. Another major shareholder, Delphi Unternehmensberatung Aktiengesellschaft, converted 11.52 million listed options for total cash of AU$921,543. Altech received total cash of AU$2.12 million from the transaction.
Shares of ATC are trading at AU$0.059 today. The Company has a market capitalisation of AU$81.32 million as of 1 August 2022.