Highlights
The Australian housing market is now facing the fear of overpaying amidst rising interest rates.

Buyers feel a house is much more expensive in a rising interest rate environment than during other times.

Dwindling property searches and a large drop in house sales suggest that fear of overpaying has overtaken fear of missing out.
The Australian housing market has been caught in a whirlwind of various factors over recent years, leading to a dynamic change in its workings. Once dominated by the fear of missing out (FOMO), the Australian property market is now facing another test in the form of a fear of overpaying (FOOP). This shift has resulted from a change in the market scenario after restrictions have eased and interest rates are on the rise.
The Reserve Bank of Australia (RBA) has been increasing interest rates at a rapid pace, with its latest interest rate hike measuring a massive 0.50%. This has triggered a downfall in property prices all across the country. At the same time, buyer demand has also dampened.
People have shifted their priorities to saving money rather than finding the best property at a low price. This comes amidst a backdrop of soaring inflation that has already strained households. The central bank's fight against inflation have been impacting consumer demand for goods and services while rising interest rates have been affecting the demand for property.
Let us understand more about the fear of overpaying and why it is dominating the Australian property market.
What is fear of overpaying?
Fear of overpaying reflects the buyers' reluctance to enter the property arena at a time of rising interest rates. In contrast, buying a property had seemed to be a relatively cheaper option during times of record-low interest rates. When low interest rates prevailed, buyers flocked the property market in search of their desired home, depicting a phenomenon known as fear of missing out.
GOOD READ: How Fed interest rate hikes impact Australia?
After surviving FOMO for about 18 months, the market is now seeing a decline in property sales. It appears the dust in the housing market has settled, and buyers no longer wish to participate in it. Earlier, securing a house in the market had seemed difficult for first-time buyers amidst booming demand and high prices.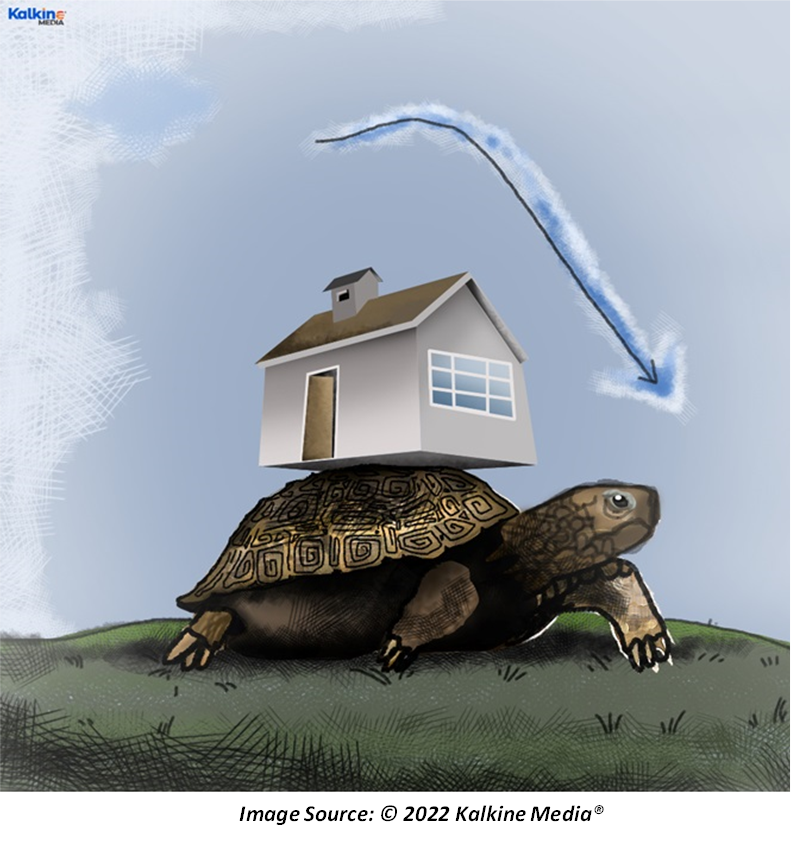 Now, rising interest rates are expected to remain the painful reality of the housing market for the next few months. Buying a house in the present climate seems nothing less than adopting a massive liability for potential buyers. Subsequent interest rate hikes could soon accumulate into large monthly repayments, which most buyers want to avoid.
Thus, buying a property now has become a more expensive affair than buying it at any other point in time. Even as house prices have fallen, most buyers have still not entered the housing market. Most of these buyers are hopeful that they will be able to purchase a property later at a lower price.
Fear of overpaying dominating property market
In recent times, there have been barely any auctions taking place. Property searches have also declined, leading to a downturn in property prices across Australia. Property searches have been hit the hardest in New South Wales and Victoria.
Stocks To Eye As Housing Market Is Expected To Cool Down
Meanwhile, property listings have increased, showing a sharp contrast to the low interest rate days. Houses are entering the market at a quicker rate than they are being purchased. This is especially significant in understanding the concept of FOOP because these houses are being listed even as property prices are shooting down.
However, sellers are likely to refrain from putting their houses up for sale when property prices are tipped for a decline. This suggests that most of these sellers are pessimistic about being able to sell the property at desired rates in the coming months. Further drops in property prices are being forecasted by the market, forcing sellers to put their properties up for sale right now.
In a way, FOMO has switched from buyers to sellers, who now want to get rid of their property before it loses value further. The situation is tougher for those who are now facing high mortgage repayments and forced to live in a house that is rapidly losing value.
While FOOP seems highly pronounced in Sydney and Melbourne markets, other capitals are yet to catch onto the trend. Thus, demand-supply dynamics vary across different regions, though the market, at large, remains volatile.