Highlights

Any particular asset of the crypto world can suddenly gain even when other assets are losing value
ArcBlock crypto is one such asset that has lately risen sharply in its trading volume
ArcBlock Network's ecosystem has a wallet service, which can be availed on a smartphone
How many cryptocurrencies exist today? There is arguably no exact count available with CoinMarketCap tracking the price data of close to 20,500 cryptoassets.
The abundance of assets in the crypto market calls for due diligence and extreme caution, no matter what a project claims in its whitepaper. That said, any cryptocurrency can defy the usual trend of the crypto market and can rise or fall sharply in a matter of just a few hours. As of now, the asset rising in value, more than Bitcoin or Ether, is ArcBlock crypto or the ABT token.
Let us explore ArcBlock's ecosystem and understand why it is rising.
ArcBlock cryptocurrency
The ecosystem relies heavily on the ABT Network, which the project claims, is an interoperable "super highway" for blockchain. It can support multiple crypto tokens and datasets, ArcBlock says. Both private and public chains can also be supported on ABT, and it can serve as a platform for the deployment of new blockchain-based applications (DApps).
One of the primary products of the ArcBlock ecosystem is the DID wallet, which can be downloaded on a smartphone to transact cryptocurrencies.
ABT token
ABT crypto is native to ArcBlock's ecosystem just like the Ether token is native to Ethereum's.
The market cap of the ABT token is over US$20 million as of writing. There is a big jump in both the price and the trading volume as compared to the past day. The price is up almost 75%, and the trading volume has gained nearly 1,000% in just 24 hours. The price of one ABT token is over US$0.2.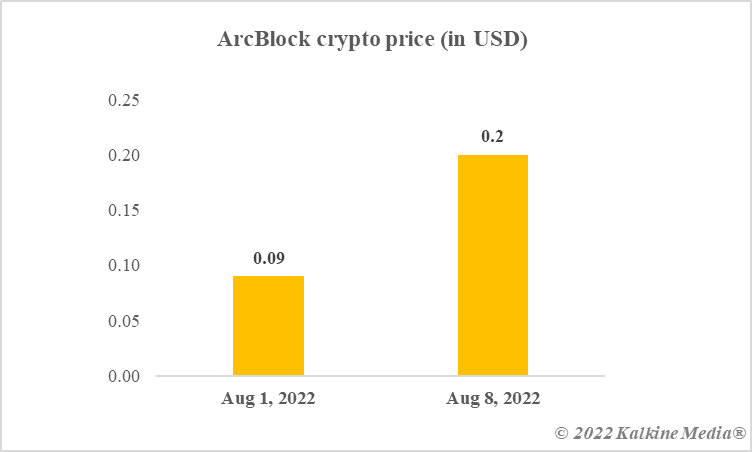 Data provided by CoinMarketCap.com
Why is ABT crypto rising?
The most probable reason can be the integration of Coinbase Pay in the DID wallet. ArcBlock says that users can now use Coinbase Pay to make crypto transactions within the DID wallet. It is notable that the Coinbase exchange added ABT crypto on its platform in July 2022.
Also read: What is Instagram NFT integration & how to use it?
Bottom line
ArcBlock is not a top 500 cryptoasset by market cap at the moment. The ongoing rally in the price of the ABT token is likely due to the integration of Coinbase Pay within ArcBlock's wallet services. How long will this rally last and how ABT's blockchain services will perform in the long term cannot be predicted as of now.
Also read: Who is Ishan Wahi and what is crypto insider trading?
Risk Disclosure: Trading in cryptocurrencies involves high risks including the risk of losing some, or all, of your investment amount, and may not be suitable for all investors. Prices of cryptocurrencies are extremely volatile and may be affected by external factors such as financial, regulatory, or political events. The laws that apply to crypto products (and how a particular crypto product is regulated) may change. Before deciding to trade in financial instrument or cryptocurrencies you should be fully informed of the risks and costs associated with trading in the financial markets, carefully consider your investment objectives, level of experience, and risk appetite, and seek professional advice where needed. Kalkine Media cannot and does not represent or guarantee that any of the information/data available here is accurate, reliable, current, complete or appropriate for your needs. Kalkine Media will not accept liability for any loss or damage as a result of your trading or your reliance on the information shared on this website.