Highlights

The big question crops up -- is it the fault of the Solana blockchain or that of DApp/s built on it?
A new finding, also endorsed by Solana, suggests that a wallet built on Solana was hacked
Solana's own protocol and cryptography, it is being said, were never compromised
Two separate news have dominated the cryptoverse over some time. The first is the change of leadership at the biggest corporate investor in Bitcoin, MicroStrategy. Here, a big-time Bitcoin advocate Michael Saylor has quit the office of MicroStrategy's CEO.
The second set of news is about the 'Solana hack'. The term is almost everywhere in the mainstream media. A new revelation, however, about the hack and resulting crypto losses seems to have dramatically changed the entire scene. Let us explore.
Was Solana's blockchain hacked?
The initial set of news reports is concentrated on the hack of some of the wallets built on the Solana blockchain. Names like Phantom and Trust Wallet were in news. This somehow sent a message within the cryptoverse about vulnerabilities of Solana's blockchain network. The SOL token of Solana, which was trading comfortably above US$40, lost value in the aftermath. As of writing, it is still trading at under US$40.
But Solana's latest tweets give a different picture. One of the tweets in a long thread confirms that "there is no evidence" about any issue with the blockchain's protocol or cryptography. This could now let Solana backers breathe a sigh of relief. More so after, there were murmurs about why Solana has yet to become as big and robust as Ethereum.
What was the hack all about?
Now, Solana has endorsed a finding that the so-called Solana hack was limited to one wallet alone -- Slope. It is also being said that hardware wallets of Slope were unaffected.
With this, the story around thousands of wallets being hacked and millions of dollars in cryptocurrencies, including SOL, and USDC, being stolen could take a twist. The focus could now be all on decentralised applications or DApps built on blockchain networks of Ethereum, Solana and others.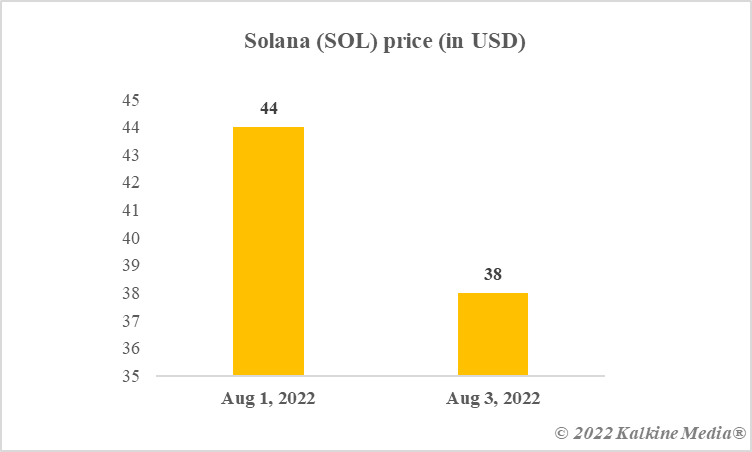 Data provided by CoinMarketCap.com
What is a Slope wallet?
Slope projects itself as a Web 3.0 player with wallet services that can be accessed via a smartphone app or as an extension to the web browser. Built using Solana, it claims support for token swaps, non-fungible tokens (NFTs), and other services. Slope had issued a statement after the hacking of wallets and "empathised" with the affected users.
Viewpoint
That it was a single wallet Slope which was affected during the 'Solana hack' could change the entire narrative. Although the episode is still under investigation and new findings can reveal anything, at least, backers of Solana's blockchain and native token can take a sigh of relief for now.
Also read: Is Bitcoin to blame for Saylor quitting MicroStrategy's CEO office?
Risk Disclosure: Trading in cryptocurrencies involves high risks including the risk of losing some, or all, of your investment amount, and may not be suitable for all investors. Prices of cryptocurrencies are extremely volatile and may be affected by external factors such as financial, regulatory, or political events. The laws that apply to crypto products (and how a particular crypto product is regulated) may change. Before deciding to trade in financial instrument or cryptocurrencies you should be fully informed of the risks and costs associated with trading in the financial markets, carefully consider your investment objectives, level of experience, and risk appetite, and seek professional advice where needed. Kalkine Media cannot and does not represent or guarantee that any of the information/data available here is accurate, reliable, current, complete or appropriate for your needs. Kalkine Media will not accept liability for any loss or damage as a result of your trading or your reliance on the information shared on this website.