Highlights

Bitcoin, Ether, and large cap meme tokens are trading in the red at the moment
The Kryll crypto has defied the trend to record an extraordinary spike and double its market cap
Kryll promises automated trading strategy that can benefit crypto enthusiasts
At a time when the wider crypto market is largely going through a gloomy phase, one crypto, Kryll (KRL), has doubled its market cap, just within a few hours of trading.
Before we delve into what exactly the Kryll project does, and what is boosting its value, let's know how major cryptos are faring right now. Both Bitcoin and Ether are down, extending their year-to-date (YTD) losses. Dogecoin and Shiba Inu, the so-called meme tokens, have lost even more value over the past one day.
Now, let's explore a crypto that is gaining right now.
What is Kryll crypto?
Kryll describes itself as a marketplace that comes with "automated" investment strategies. Using the platform, enthusiasts can trade in cryptoassets by picking the best investment strategy, it is claimed.
The platform provides users a "drag n drop" editor. With this, a user that might have no coding skills can pick a strategy of some other user/s for his/her own portfolio. The user-interface of Kryll presents data in a manner that highlights technical indicators and price movements using candlestick pattern. On its official website, Kryll claims to have integrated TradingView in its interface for the analysis of trades.
One of the major highlights of the Kryll platform is automated trades, where the user can trigger a trade by relying on the strategy of others. Kryll also claims that over US$4 billion have been traded on its platform using its automated trading strategy services. A user can pick from hundreds of strategies, it is stated.
Kryll crypto price
Kryll uses the KRL token as its native medium of exchange. The KRL token is paid as a fee to use the services of Kryll marketplace.
Also referred to as Kryll crypto, KRL is yet to become a top 100 cryptocurrency. As of writing, the KRL token has doubled its price over the past few hours, with its 24-hour trading volume up by 4,000%. The price is US$0.7 per token. Kryll crypto is listed on Crypto.com and other exchanges, according to CoinMarketCap.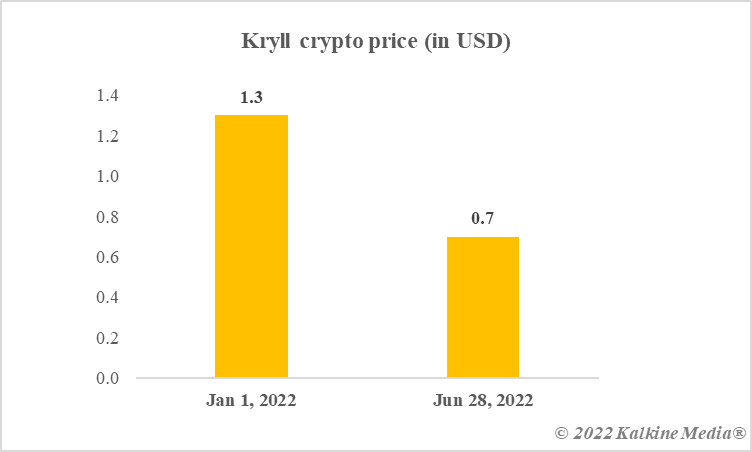 Data provided by CoinMarketCap.com
Why is Kryll crypto gaining?
One possible reason behind the spike in the crypto can be the recent launch of its new version, Marketplace 2.0. It was launched nearly a week back. Another factor could be the platform's participation in the European Blockchain Convention (EBC), of which Kryll is also a sponsor.
Bottom line
Kryll is one of the cryptoassets defying the bearish period, at least for now. The token has gained sharply, maybe because of the launch and showcasing of its Marketplace 2.0. Notably, the Kryll crypto is trading at a loss on a YTD basis, and it is yet to become a large-cap altcoin like Ether and Dogecoin.
Risk Disclosure: Trading in cryptocurrencies involves high risks including the risk of losing some, or all, of your investment amount, and may not be suitable for all investors. Prices of cryptocurrencies are extremely volatile and may be affected by external factors such as financial, regulatory, or political events. The laws that apply to crypto products (and how a particular crypto product is regulated) may change. Before deciding to trade in financial instrument or cryptocurrencies you should be fully informed of the risks and costs associated with trading in the financial markets, carefully consider your investment objectives, level of experience, and risk appetite, and seek professional advice where needed. Kalkine Media cannot and does not represent or guarantee that any of the information/data available here is accurate, reliable, current, complete or appropriate for your needs. Kalkine Media will not accept liability for any loss or damage as a result of your trading or your reliance on the information shared on this website.