Highlights

Bitcoin and Ether are up, but the rally in the price of Jupiter crypto is the talk of the town
Jupiter crypto or the JUP token is up approximately 100%, with a stunning rise in trading volume
Jupiter's recent listing on a major crypto exchange could be fueling this bull run
The crypto market is full of price swings. Assets in the cryptoverse have the ability to skyrocket in value in literally no time. At times, the asset may also lose heavily. As of now, however, cryptos are in the green.
Bitcoin has breached US$21,000, with a 5% jump in 24 hours, to revive at least some hopes. Ether too has gained substantially over the past one day. But one cryptocurrency gaining today and drawing even more interest is Jupiter's JUP token. Why is Jupiter crypto rising and what are its fundamentals, let's explore.
What does Jupiter crypto do?
Jupiter is essentially a participant in the space where blockchain networks like Ethereum and Solana lead. It is a public blockchain, using which, developers can deploy decentralised products like DApps.
The project provides some add-on services, including its messaging app, which is decentralised and encrypted. Jupiter claims that this messaging DApp does not serve ads to users, nor does it mine data. Another primary product of Jupiter's ecosystem is Gravity, the platform to build DApps. A file uploading service is also provided, which helps save files on the blockchain. Jupiter is likening this to Google Drive.
For now, Jupiter's blockchain is not as widely adopted by developers as Ethereum's or Solana's.
Jupiter (JUP) crypto
Not much information is provided by Jupiter on the utility of its native JUP token. But it can find use like ETH in Ethereum's blockchain. JUP might enable payment of the fee for using Jupiter's blockchain.
The JUP token trades on exchanges like KuCoin and Uniswap. CoinMarketCap suggests that the total supply can be one billion JUP tokens.
As of writing, Jupiter crypto has nearly doubled its value over the past 24 hours, with trading volume surging more than 500%. The price is nearly US$0.018 per token. With a market cap of over US$18 million, Jupiter crypto is one of those few cryptos which are trading in the green on a year-to-date (YTD) basis.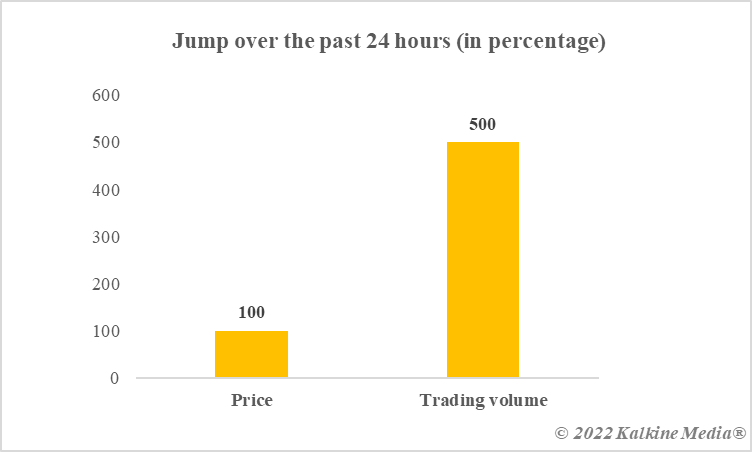 Data provided by CoinMarketCap.com
Also read: NFT Corner: Coach's NFT drop; Keanu Reeves to help NFT artists
Why is Jupiter crypto rising?
One reason could be the new listing of the JUP token on the Coinbase exchange. Another factor could be the release of new NFTs on Jupiter-based NFT platform, Leda.
Bottom line
Jupiter crypto has made it to the Coinbase exchange, which could be pushing its price higher. Though Bitcoin and Ether are also up at the moment, the JUP token has almost doubled its value. Jupiter provides blockchain services to NFT marketplaces and DApps.
Also read: What is the link between KnownOrigin, NFT marketplace and eBay?
Risk Disclosure: Trading in cryptocurrencies involves high risks including the risk of losing some, or all, of your investment amount, and may not be suitable for all investors. Prices of cryptocurrencies are extremely volatile and may be affected by external factors such as financial, regulatory, or political events. The laws that apply to crypto products (and how a particular crypto product is regulated) may change. Before deciding to trade in financial instrument or cryptocurrencies you should be fully informed of the risks and costs associated with trading in the financial markets, carefully consider your investment objectives, level of experience, and risk appetite, and seek professional advice where needed. Kalkine Media cannot and does not represent or guarantee that any of the information/data available here is accurate, reliable, current, complete or appropriate for your needs. Kalkine Media will not accept liability for any loss or damage as a result of your trading or your reliance on the information shared on this website.