Highlights

Ruja Ignatova was introduced to the wider world by "The Missing Cryptoqueen" podcast
She is now on the list of Ten Most Wanted fugitives for her Ponzi fraud involving the OneCoin cryptocurrency scam
This news might come as a severe blow to sentiments within the cryptoverse
As if things weren't bad enough already for the cryptoverse, crypto sentiments have been dealt another major blow, courtesy Dr. Ruja Ignatova, the so-called 'Cryptoqueen'. Ignatova is at the centre of a Ponzi scheme, namely the OneCoin cryptocurrency scam, and has now been named on the list of FBI's Ten Most Wanted fugitives.
Even though she is quite (in)famous in the crypto circle, let us briefly discuss who is Ruja Ignatova.
Who is Ruja Ignatova?
Ignatova, a Bulgarian, pulled off one of the biggest scams in the crypto world with her OneCoin project. She touted the cryptocurrency, OneCoin, as an emerging store of value, which she claimed would topple Bitcoin in the coming days. OneCoin was started in 2014, the year when the crypto space was not as inundated with assets as it is today. Today, CoinMarketCap tracks tens of thousands of cryptoassets.
Ignatova is said to have defrauded her backers of over US$4 billion, a figure that would have ranked OneCoin as one of the top cryptoassets today in terms of market cap, had it not been busted. Ignatova is said to be out of the radar of investigating agencies since 2017.
At the height of her project, she once addressed a roaring crowd at the Wembley Arena in 2016. Ignatova's modus operandi resembled other Ponzi schemes, including lavish parties, tall claims, and little transparency on the status of investment funds.
"The Missing Cryptoqueen", a podcast on BBC Radio, made Ignatova a household name in the West and beyond.
Ruja Ignatova as Most Wanted
The FBI has been chasing Ignatova for long, and now she has been included in the Ten Most Wanted fugitives' list. This significantly adds to Ignatova's pains since the list includes dreaded terrorists, and drug cartel leaders, among other top criminals.
Before being included in the FBI's list, Ruja Ignatova was already on Europol's most wanted list. Ignatova's brother was arrested in 2019 by the FBI. According to the investigators, he played an important role in the OneCoin scam.
Ruja Ignatova and cryptocurrencies
The cryptoverse is perhaps reeling from a slew of negative forces. Bitcoin plunged below US$19,000 for a brief time on the first day of July 2022. The total market cap of cryptos, according to CoinMarketCap, has also dropped below US$1 trillion.
Ruja Ignatova's news can trigger further negative sentiments as she executed OneCoin as a pure Ponzi scheme, with little utility or long-term sustainability. This can stir a lot of negativity in enthusiasts that are already recovering from TerraUSD's collapse and the recent halt on withdrawals by multiple platforms including Celsius Network.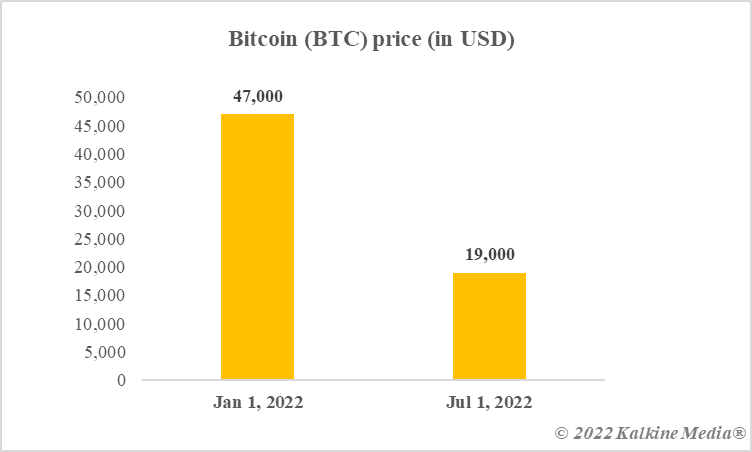 Data provided by CoinMarketCap.com
Also read: Top 3 meme coins by market cap
Risk Disclosure: Trading in cryptocurrencies involves high risks including the risk of losing some, or all, of your investment amount, and may not be suitable for all investors. Prices of cryptocurrencies are extremely volatile and may be affected by external factors such as financial, regulatory, or political events. The laws that apply to crypto products (and how a particular crypto product is regulated) may change. Before deciding to trade in financial instrument or cryptocurrencies you should be fully informed of the risks and costs associated with trading in the financial markets, carefully consider your investment objectives, level of experience, and risk appetite, and seek professional advice where needed. Kalkine Media cannot and does not represent or guarantee that any of the information/data available here is accurate, reliable, current, complete or appropriate for your needs. Kalkine Media will not accept liability for any loss or damage as a result of your trading or your reliance on the information shared on this website.