Highlights

The release date of Grand Theft Auto (GTA) 6 is a thing of speculation, with some saying it might include cryptocurrencies
GTA V was released a few years after Bitcoin's launch and featured an in-game stock market, but no cryptocurrencies.
The inclusion of crypto in one of the bestselling games ever might add to the glamour of cryptos
The combination of blockchain, cryptos, and gaming has been making waves for quite some time. The latter half of 2021 belonged to gaming tokens like Decentraland (MANA) and Axie Infinity (AXS). Even though the current year has not been rewarding for cryptos, including gaming tokens, a bunch of exciting developments are keeping negative forces from dealing any major blow.
At the start of the year, when Microsoft announced the acquisition of Activision Blizzard, many viewed this as the tech giant's move into the metaverse, where Mark Zuckerberg was already making strides. And now, multiple reports suggest that the lucrative video games franchise Grand Theft Auto will include cryptocurrencies in its yet-to-release GTA 6.
Will GTA 6 involve cryptocurrency?
One of the bestselling games ever, GTA V was always considered ahead of its time. It was released in 2013, with a gaming verse where the playable character could engage in quests, own luxury cars and bikes, and even run businesses like a casino.
GTA V also allowed the main character of the game to earn money, which could be accumulated by participating in missions. The last released version of GTA also included the provision of stock market. BASWAQ and LCN Exchange are the exchanges that one can find and access on GTA V.
Bitcoin, the earliest cryptocurrency, was launched in 2009, but it could not make its way into the fictional world of GTA V. Even though there is no official confirmation yet from the games developer Rockstar North; however, there are rumours that GTA 6 might include cryptocurrencies. For now, even the release date of GTA 6 is a matter of speculation, with some citing it as 2023 and some expecting it in 2024.
Also read: CoinFLEX stops withdrawals: All you must know now
What will GTA crypto be like?
Speculations are rife that GTA will introduce a crypto token in the upcoming version. But no one knows if this crypto will be exactly identical to real-world cryptocurrencies like Bitcoin and Dogecoin, which come as tradable assets on exchanges like Binance.
Notably, GTA uses many things in games, including luxury cars. However, these in-game cars do not carry the same name as their real counterparts in the physical market. By this measure, it is quite possible that GTA 6 might have a digital currency, but different from any existing crypto.
Bitcoin price
Bitcoin's price swings are questioning the prudence of many who have adopted the digital currency over the past few years. El Salvador, for example, became the first country to legitimise Bitcoin as legal tender. However, the country hasn't been able to launch the planned Bitcoin bonds, which have been halted probably due to a huge dip in Bitcoin price in 2022.
Bitcoin started the year at over US$47,000, against its all-time high of US$68,000 reached in November 2021. But the price has mostly stayed in the red over the past six months. As of writing, the cryptocurrency is trading at nearly US$21,000.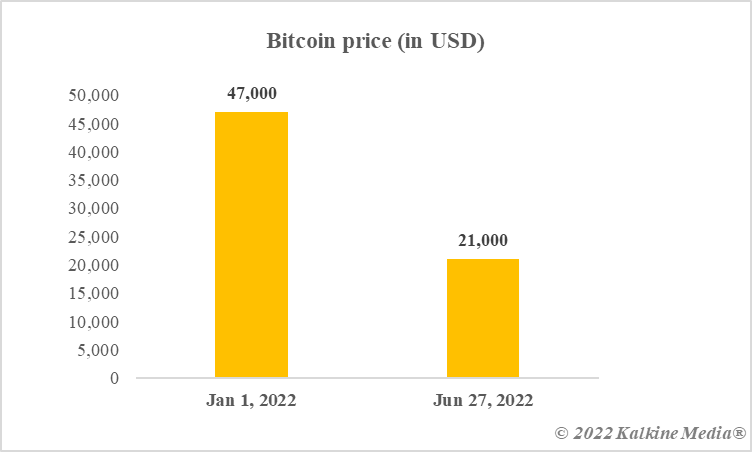 Data provided by CoinMarketCap.com
Also read: 2 NFT cryptos to keep a tab on as eBay acquires KnownOrigin
Bottom line
No official statement is out on whether the new version of GTA will have cryptocurrency. If it does include one, it might be GTA's own token, maybe Bitcoin-like but not exactly like any existing cryptocurrency.
Risk Disclosure: Trading in cryptocurrencies involves high risks including the risk of losing some, or all, of your investment amount, and may not be suitable for all investors. Prices of cryptocurrencies are extremely volatile and may be affected by external factors such as financial, regulatory, or political events. The laws that apply to crypto products (and how a particular crypto product is regulated) may change. Before deciding to trade in financial instrument or cryptocurrencies you should be fully informed of the risks and costs associated with trading in the financial markets, carefully consider your investment objectives, level of experience, and risk appetite, and seek professional advice where needed. Kalkine Media cannot and does not represent or guarantee that any of the information/data available here is accurate, reliable, current, complete or appropriate for your needs. Kalkine Media will not accept liability for any loss or damage as a result of your trading or your reliance on the information shared on this website.