Crowd Media Holdings Limited (ASX: CM8), formerly known as Crowd Mobile Limited, is a global media and marketing company. Born out of 10 years of in-house digital experience, the company has successfully established itself as a pioneer in influencer and social media marketing.
Through its mobile and digital marketing divisions, the company provides various services to its clients, which includes influencer marketing, digital marketing, performance and affiliate marketing, micro jobs platform, mobile billing and payments, creative agency, lead generation, etc.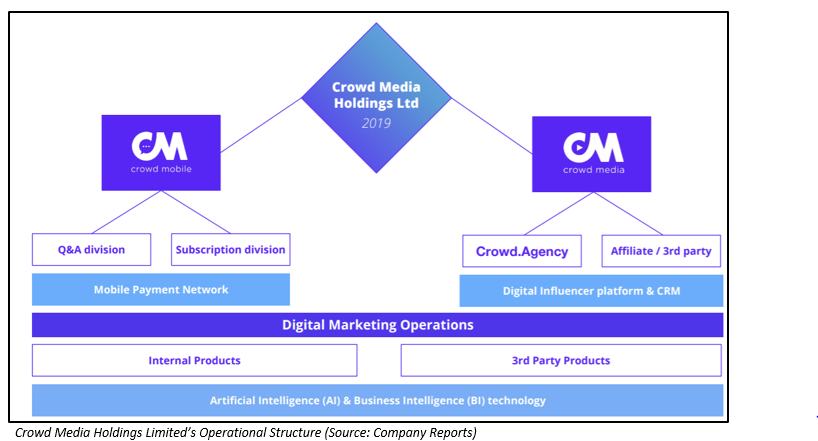 Crowd Mobile was founded by Domenic Carosa, the current CEO and Executive Director of the company. The business was set up on a unique model, where in the users would ask experts to answer their questions, and each question was charged a certain amount to the users.
Reinstated to the official list of the ASX: In the year 2015, Crowd Mobile businesses achieved a listing on the ASX as Crowd Mobile Limited. The company's Founders and its investors embarked upon a journey to build a substantial m-payments and m-commerce business to capitalise on the global mega trend towards the mobile economy.
On 13rd January 2015, the original shareholders of the Crowd Mobile Operating Entities (CMOE) obtained a majority share interest in Q Limited, acquiring the net assets of the company. The company was reinstated to the official list of the ASX with a name change to Crowd Mobile Limited to reflect the operations of the business and the new direction of the listed entity.
Journey from 2015: In the year 2015, the company completed the acquisition of Track Holdings B.V., which was a significant milestone in the company's expansion objectives and a game changer for the Crowd Mobile business, as Track Holdings added meaningful revenue and earnings to the Group in addition to greater content distribution and a large subscription base.
The financial year 2016 was Crowd Mobile's first full year as an ASX-listed business. In that year, the company reported maiden net profit, growth in its Question and Answer business, and expansion of its international m-payments network to 160 mobile carriers in 54 countries. The achievements of 2016 provided the infrastructure and paved the way for the company to continue building a substantial mobile entertainment and mobile content business. During the year, major growth in revenue was generated from the newly integrated mobile subscription division via the acquisition of Track.
In the year 2017, which was the second full year on the ASX, the company again achieved great success. During 2017, the company delivered record results, impressive growth across key metrics, paid down a significant amount of debt and launched Crowd Media, an exciting new division.
The reason why the company decided to invest in Crowd Mobile space was because the millennials were no longer consuming media in traditional ways, so brands need to be agile and design new methods to reach them and gain their confidence, hence Crowd Media division was formed.
Later in 2018, the Crowd Media division witnessed a significant growth while the Q&A division held steady and the subscription division witnessed a drop-in revenue. In FY18, Crowd Media division attracted blue chip partners, including Nestle, L'Oréal, Apple Music, Bunq, Coty, Happn, Oasis, Moroccan Oil and Mandarine Napoleon. And along with that, the company also made a significant technology investment into its digital influencer CRM software, which made up approximately 50% of the investment. During the year, the company made substantial progress in transitioning into a platform company focused on rapidly growing digital media influencer sector.
In 2018, the company reported revenues of $38.6 million and underlying EBITDA of 3.6 million.
Corporate Snapshot (Source: Company Reports)
In December 2018, the company changed its name from Crowd Mobile Limited to Crowd Media Holdings Limited, reinforcing its focus on digital media space. This new name accurately encompasses the current and future operations of the company.
In 2019, the company is uniquely positioned due to its global footprint, deep social media expertise and strong digital marketing experience. The four growth strategies for the company in FY19 include:
Accelerate Crowd agency growth by leveraging the global social media platform of Q&A;
Continue to grow Q&A business through product pivots;
Diversify Crowd Media revenues with minimal investment by selling third party (affiliate) products through existing platform;
Leverage technology to optimise margins to further invest in growth.
Recently, in May 2019, the company executed a new 3rd party agreements for digital marketing services including digital influencer marketing for multiple international brands, showcasing Crowd Media's ability to service brands in continental Europe across multiple languages and across digital media platforms.
In mid-April 2019, Crowd Media Board, Senior Management Team and an External Advisor initiated a strategic review of all aspects of the business, as a result of which, the company has implemented a range of aggressive cost-cutting measures, which is expected to save the company over $1.4 million in annualised costs effective 1st July 2019, with a total of $3.5 million annualised cost savings in FY19.
The company has come a long way since 2015 with growth in its divisions. The growth in the Q&A Billed Messages can be seen in the figure below.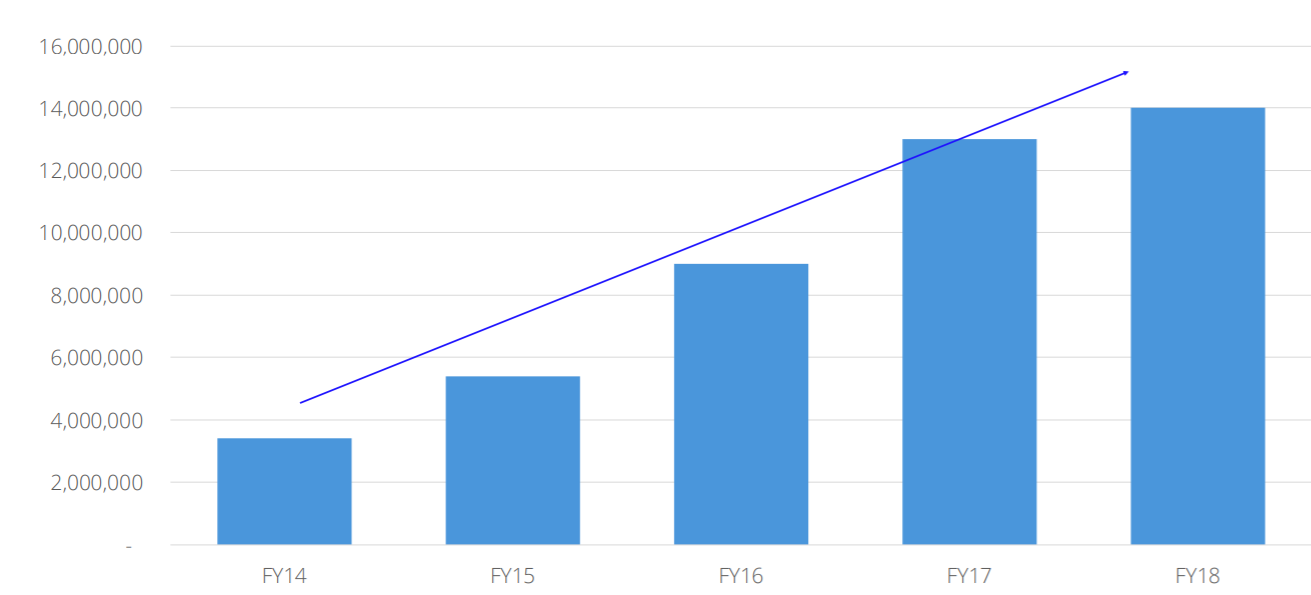 Q&A Billed Messages (Source: Company Reports)
The Growth in number of Digital Influencer Campaigns across Crowd can be seen in the figure below.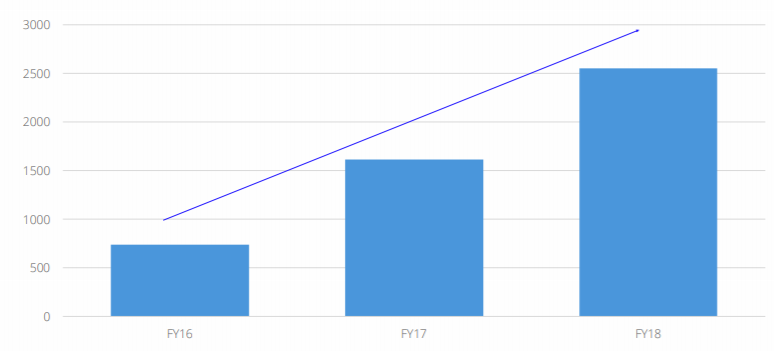 Digital Influencer Campaigns across Crowd (Source: Company Reports)
Outlook: In FY2019, the company is expecting revenues of $24.6 million. From its mobile division alone, the company expects to earn revenues of $1.7 million which is 240% higher on last year. From its mobile division, the company expects to earn revenue of $23 million.
In the financial year 2020, the company intends to focus on following areas:
Crowd Mobile: Stabilising and growing revenues and profits again across the Q&A and Subscription mobile businesses
Crowd Media: Continuing to deliver globally competitive social media and digital influencer campaigns to clients and generating material revenues with strong year on year growth
Focus on reducing debt
Expecting positive EBITDA and positive operating cashflow.
At the time of writing i.e., 9th July 2019 (AEST 2:45 PM), CM8's stock was trading at $0.019, up 18.75%, with a market capitalisation of circa $3.86 million.
---
Disclaimer
This website is a service of Kalkine Media Pty. Ltd. A.C.N. 629 651 672. The website has been prepared for informational purposes only and is not intended to be used as a complete source of information on any particular company. The above article is sponsored but NOT a solicitation or recommendation to buy, sell or hold the stock of the company (or companies) under discussion. We are neither licensed nor qualified to provide investment advice through this platform.