Graphite exploration and development company, BlackEarth Minerals NL (ASX: BEM), based in West Perth, had a momentous year to date. The company has made several significant achievements over the year, with focus on fast-tracking its flagship property, Maniry Graphite Project (100 per cent owned) located in a highly favourable location, Madagascar, which is a major graphite supplier to China, India, United States and other global consumers.
Marking a sound start to 2019, January saw BEM announcing positive scoping study results for the Maniry Graphite Project. The company transitioned from graphite explorer to developer with the study completion.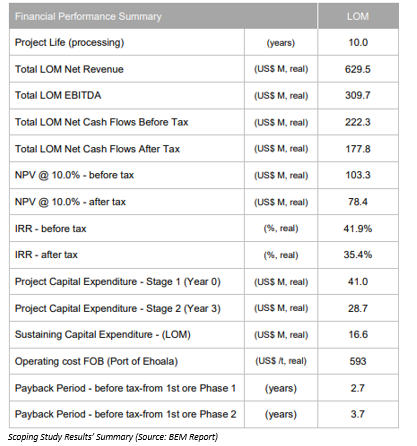 In February 2019, BlackEarth Minerals received high-grade assay results from trenching programs at the Maniry Graphite Project. The company believed that the significant discovery had the potential for conversion into an estimated mineral resource adding high-grade resource tonnes to its mineral inventory.
Ianapera is the second project of BEM in Madagascar, for which the company received broad, high-grade results from the initial trenching program in March 2019, highlighting the significant potential of the project. The company had also updated the market with an exploration target for the Ianapera project of 20-30MT at 10-20% TGC. This project is located within 10 kilometres of the world-class Molo Graphite project and 75 kilometres north of the Maniry Graphite project.
During the month, the company appointed Mr Simon Storm as the CFO and Company Secretary of BEM. Additionally, BEM closed the share purchase plan announced in February 2019, raising $1.08 million.
The fifth month of the year saw BlackEarth appointing Australia Minerals & Resources (AustMin) as the strategic offtake advisor in relation to offtake discussions/agreements, funding, product development and general collaboration for natural graphite, in relation to the Maniry project.
June turned out to be extremely crucial for the company, as it received test report results on concentrate from the Maniry project, indicating that the BEM flake graphite is suitable for the application in the refractory industry and for many other applications. Additionally, the results highlighted that the flake graphite is well suited to produce high demand expandable graphite, and relatively simple purification of the concentrate could yield even higher expansion volumes.
During June 2019, BEM held strategic discussions with Madagascan Minister of Mines and Strategic Resources, Mr Fidiniavo Ravokatra, securing the support of the department of mines towards fast tracking its flagship Maniry Graphite project.
And, for the remaining year, BlackEarth Minerals continued delivering encouraging and highly favourable results.
Maniry Project Produces Spherical Graphite Market Specifications (August 2019) - Spherical graphite from the Maniry project met specifications consistent with those required by lithium-ion anode material manufacturers, with spherical graphite production yields of up to 52% achieved vs industry average 40%. Additionally, encouraging response was secured from spherical graphite producers and anode material manufacturers in China.
BEM also completed a bookbuild and secured commitments from investors in Australia during August 2019, raising approximately $1.68 million.
Maniry Project Meeting Anode Market Purification Specification - Independent testwork results, released in September 2019, confirmed that Maniry graphite concentrate delivers high purity graphite anode material, with initial test results achieving 99.97 per cent purity and surpassing the specifications required for marketable battery grade graphite (99.95 wt.- per cent final carbon content).
Management Commentary on Meeting Specifications:

BGRIMM or Beijing General Research Institute of Mining and Metallurgy is a globally recognised technical leader in graphite processing and engineering, which was appointed by BEM in October 2019 to conduct final testing - a 2-stage 60-70 tonne large scale pilot metallurgical test program - on Maniry graphite ore. The company, in October only, dispatched graphite concentrate samples from the Maniry Graphite Project to potential Chinese offtake partners.
Do Read: BlackEarth Minerals Appoints BGRIMM for Finalising Maniry Graphite Ore Testing
December – The Feather in the Cap of 2019
Positive results from graphite concentrate samples from the Maniry project have enabled BEM to aggressively progress offtake discussions for the Maniry Graphite Project.
Recently, the largest expanded graphite products producer on the global level reported excellent quality and expansion rates from testing on the coarse flake graphite samples of BEM. Moreover, the producer expressed willingness to work with the company, targeted towards meeting high-end specification needs on a long-term basis.
Additionally, a major player in the refractories market requested BEM to produce special "tailor-made" natural graphite concentrate product, which the refractories market player intends to use as a raw material in its premium / high value quality refractories.
On 5 December 2019, the stock of BlackEarth Minerals inched upward by 12%, after the company released an update on testwork and offtake partner agreements.
To know more about the encouraging feedback shared by potential offtake partners, read here.
2019 has been a busy and extraordinary year for BEM, as the Madagascar bred and Australian born company achieved several significant milestones, getting closer towards its target of completing Maniry Project feasibility study during 2020 and starting project commissioning in 2021.
On 13 December 2019, BEM with a market cap of $ 5.42 million last traded at $ 0.052.
---
Disclaimer
This website is a service of Kalkine Media Pty. Ltd. A.C.N. 629 651 672. The website has been prepared for informational purposes only and is not intended to be used as a complete source of information on any particular company. The above article is sponsored but NOT a solicitation or recommendation to buy, sell or hold the stock of the company (or companies) under discussion. We are neither licensed nor qualified to provide investment advice through this platform.