5 December 2019 emerged out as a new dawn for BlackEarth Minerals NL (ASX: BEM), which is focused primarily on the development of its 100 per cent owned Maniry and Ianapera graphite projects in southern Madagascar.
The stock price of the company spiked by 12 per cent to $ 0.056 on the day, the market participants welcomed the Maniry project update on testwork and offtake partner agreements.
BlackEarth Minerals has a market cap of $ 6.33 million with approximately 113 million outstanding shares. The last five-day return of the BEM stock stands at over 20 per cent.
BEM Inching Towards Formalising Offtake Partnership Discussions
At present, BEM is completely focused on fast-tracking its flagship property, Maniry Graphite Project and as part of this strategy, the company has targeted Tier 1 Chinese and global players that are commercial as well as technical industry leaders in the global graphite market. The company has established good business relationships with these players through the consultancy agreement with Australia Minerals & Resources.
BEM is in discussions with global leaders in the production of refractories and expandable graphite products with the discussions focused on high value coarse flakes and these players testing graphite concentrate samples from the Maniry graphite project. As the company is continuing to receive highly positive feedback from the testing of Maniry graphite concentrate samples, it is aggressively inching towards formalising offtake partnership agreements.
Though high-end refractory and expandable applications are the predominant targets of the company, it has also performed testing on fine graphite materials used in the production of spherical graphite for lithium-ion batteries. BEM is also in discussions with leading manufacturers of lithium-ion battery anode materials.
World's Leading Expandable Graphite Products' Producer to Work with BEM
The world's largest producer of expandable graphite products has provided encouraging feedback from testing on BEM's coarse flake graphite samples. Following are the test results and observations shared:
Excellent expansion rates and quality were achieved from the sample testing, further validating the suitability of BEM's graphite for sale as a high value product to the rapidly growing expandable graphite market.
Levels of impurity content such as mica found in the natural graphite concentrate were significantly lower than other natural graphite concentrate imported from overseas suppliers.

The impurity content level would be further reduced after some additional process optimisation work.

BEM's coarse flake graphite is highly suitable for use as a raw material to produce superior quality fire retardants, high quality graphite foil and sealing materials.
The coarse flake graphite also meets all quality specifications, required to produce expandable graphite.
The world's largest producer of expandable graphite products has also agreed to work with BlackEarth Minerals, ensuring its ability to consistently meet high-end specification requirements on a long-term basis.
The highly positive feedback and support from such a major player in the global graphite market is further confirmation of the financial viability of the Maniry graphite project. The price difference between fine graphite concentrate and high value expandable graphite can be more than USD 1,000 a tonne.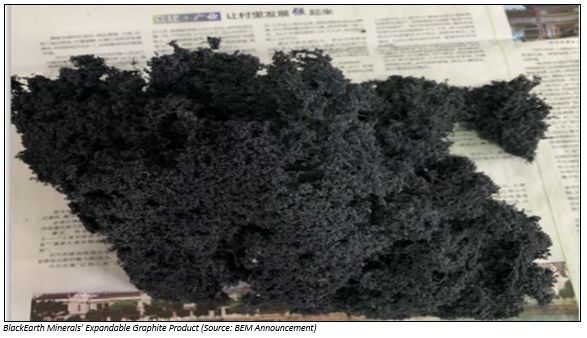 A Global Leading Refractories Player Demonstrates Strong Interest in BEM Coarse Flakes
BlackEarth Minerals also reported that one of the world's leader in refractories expressed strong interest in the company's coarse flakes, after undertaking the test and confirming that the Maniry concentrate samples meet all quality specifications and requirements for high-quality refractory products.
The global leading refractories player has also requested BEM to produce special "tailor-made" natural graphite concentrate product, as it intends to use the product as a raw material in its premium / high value quality refractories.
Additional Testing on Maniry Graphite Product
Apart from refractories and expandable graphite product producers, a world leading anode producer and China-based Beijing General Research Institute of Mining and Metallurgy (BGRIMM) are also performing testing on BEM's fine product (-100 mesh and 95%C). The testing is primarily targeted towards upgrading densities and particle size distribution to enable BEM to maximise production yield and energy density for the lithium-ion battery anode materials market.
With recent beneficiation test works on the Maniry natural graphite ore, BGRIMM unveiled excellent technical results, which demonstrated the high quality of the ore, in addition to the superior beneficiation properties of the ore when compared with other African natural graphite projects. More than 95 per cent fixed carbon- achieved on all grain size of the Maniry concentrate, and the yield of more than 150 microns has achieved nearly 50 per cent as part of the stage 1 test program.
BGRIMM is working on the first stage test program involving 250kg of Maniry one, which is likely to be completed in January 2020. The large-scale pilot program is anticipated to start following the first stage program completion.
To Know More, Do Read BlackEarth Minerals Appoints BGRIMM for Finalising Maniry Graphite Ore Testing
The ongoing testing is being carried out in parallel with works being undertaken at Dorfner ANZAPLAN in Germany, from which results are expected shortly.
BlackEarth Minerals is planning to continue to fast track the Maniry graphite project over the coming month and into 2020, as the company intends to commence project commissioning in 2021.
---
Disclaimer
This website is a service of Kalkine Media Pty. Ltd. A.C.N. 629 651 672. The website has been prepared for informational purposes only and is not intended to be used as a complete source of information on any particular company. The above article is sponsored but NOT a solicitation or recommendation to buy, sell or hold the stock of the company (or companies) under discussion. We are neither licensed nor qualified to provide investment advice through this platform.