On 24th January 2020, Cassini Resources Limited (ASX: CZI) announced its December 2019 quarterly update, highlighting that the pre-feasibility study of the flagship West Musgrave Project (WMP) is nearing completion and is due in the first quarter of 2020.
Moreover, the planning for exploration at Mount Squires Gold Project is underway with further analysis of RC drilling results scheduled in 2020. A maiden drill program commenced at Yarawindah Brook Project during the quarter, with promising early results from new "Brassica Prospect".
New Board Member with 20 Years' Experience in Resources Industry
Also, it is worth mentioning that during the quarter, CZI appointed Ms Sze Man (Simone) Suen as a Non-Executive Director to the company's Board. Holding a degree in Bachelor of Business, Simone has over 20 years of regional as well as international experience in the resources industry.
She has shown tremendous growth during her tenure in Alliance Mineral Assets Limited (ASX: A40) as Executive Director (2010-2018). Her work includes listing of the company on the Singapore Exchange (SGX) and commercialisation of Bald Hill Tantalum/Lithium Project, ranging from procurement, mobilising and organising staff and resources for the project development, commissioning and operations.
Hence, onboard of Simone has brought expertise in handling early-stage projects to commercialisation along with a wealth of experience in financing, marketing and business development, particularly in Asian markets.
Consequently, Mr Greg Miles was reappointed to Chief Operating Officer after resignation as an Executive Director of the company to maintain the size of the board. Mr Miles' roles and responsibilities remain the same and continue to oversee Cassini's technical and operations team while closely working with Joint Venture (JV) partner OZ Minerals Limited (ASX: OZL) on the West Musgrave Project.
The proper management of the company resources is a good sign of further growth with the incorporation of addon experience toward the business side. And, the company believes that the broadened skills and capabilities of the Board would define a promising year for Cassini.
Let us now lens through the quarterly activities to gauge the company vis-à-vis mines.
West Musgrave Nickel-Copper Project – PFS On Track
The project is a JV between Cassini and OZ Minerals in the ratio of 30:70. The pre-feasibility study (PFS) was extended during the September quarter due to the evaluation of additional recognised value-add opportunities. Since then, it is on track with the delivery scheduled in Q1 2020.
The JV partners have significantly expanded the project footprint through a deal to acquire rights in the neighbouring tenements owned by Traka Resources Limited (ASX: TKL) and several new tenement applications, which are considered prospective for magmatic nickel-copper sulphide mineralisation as well as Sediment-hosted (Zambian-style) copper sulphide mineralisation.
Exploration Results for WMP One Tree Hill Prospect and Succoth Deposit
One Tree Hill Prospect: Here, two RC drill holes were completed for a total of 1,002m, stepping 200m east along strike from CZD0099. The drilling program resulted in several mineralised intercepts, i.e. 9m @ 2.56% Cu, 0.37% Ni, 0.06% Co & 1.32g/t PGE from 344m within a broader disseminated zone of 40m @ 1.16% Cu from 343m. With the best result obtained at 52m downhole in CZC0696, i.e. 18m @ 0.35% Cu, 0.05% Ni & 0.38g/t PGE, closer to the previous intercepts.

Succoth Deposit: The company has now completed a further four diamond drill holes on two infill sections situated 200m and 400m west for 1,793m. Also, the company reported a new geological interpretation following infill drilling completion on a single geological section in the central part. The interpretation has significant positive repercussions for potential resource increment and thus the mining economics with additional drilling to validate the analysis beyond single section line.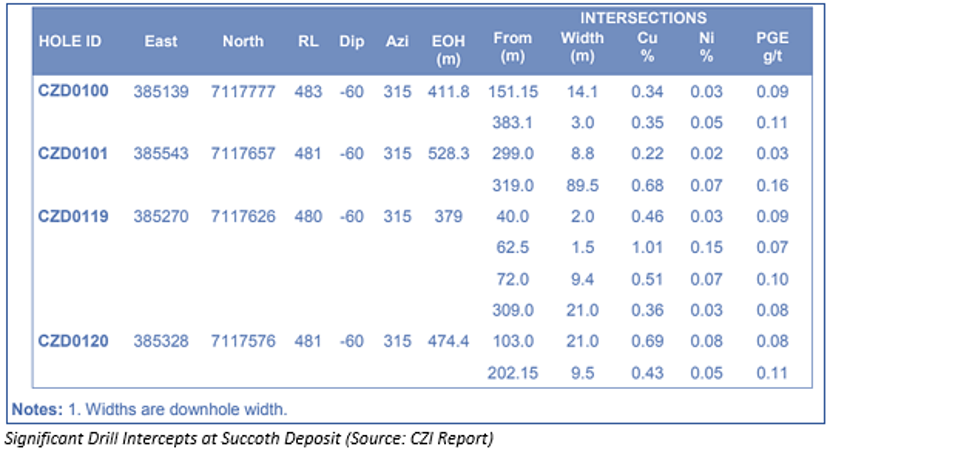 Mount Squires Gold Project - Potential for Economic Mineralisation
The results from RC drilling at the Handpump Prospect of the project have validated the potential for surface level economic mineralisation, reaching shallow depths.
Best results from the program are:
20m @ 1.27g/t Au, including 7m @ 2.54g/t Au from 23m in MSC0003
27m @ 1.00g/t Au from 31m, including 3m @ 2.59g/t Au from 38m in MSC0004
19m @ 0.68g/t Au including 6m @ 1.26g/t Au from 38m in MSC0005
A hyperspectral assessment has been completed for drill chips to recognise the potential alteration patterns (associated with mineralisation) and the findings are yet to be clarified.
Also, at the project, the possible addition of the magmatic nickel-copper mineralised trend is to be evaluated for nickel and copper potential.
Interesting Read: Equity Charmer, Gold's 2020 Outlook
Yarawindah Brook Ni-Cu-Co-PGE Project - Maiden Drilling Program Underway
The company commenced its maiden diamond drilling program of approximately 1,000m, targeting multiple electromagnetic conductors, detected after airborne and ground electromagnetic survey in 2018.
The first two drill holes resulted predominantly in pyrrhotite-rich massive sulphides and chalcopyrite-rich veinlets mineralisation. The identified mineralisation so far is not economic; however, CZI deemed the result to be promising to move the focus on a new target area, which is at a very early stage of exploration. Now the third hole at Brassica is underway.
The assay results from the first two holes crossing over 50m thick sequences of metagabbros, including trace to minor pentlandite and chalcopyrite are: -
To know more, please click: Cassini Resources Reported Encouraging Early Results from Drilling at the Yarawindah Project
The upcoming pre-feasibility report of West Musgrave Project is expected to be a turning point for Cassini Resources and might lead to possible cash flow. The continuing source of funds from the West Musgrave Project would aid CZI in developing the other two assets.
Stock Information – The stock of CZI last traded at $0.097 on 24th January 2020, up 1.042% from its previous close with a market cap of $41.06 million. The year to date return of the stock stands at 12.94%.
---
Disclaimer
This website is a service of Kalkine Media Pty. Ltd. A.C.N. 629 651 672. The website has been prepared for informational purposes only and is not intended to be used as a complete source of information on any particular company. The above article is sponsored but NOT a solicitation or recommendation to buy, sell or hold the stock of the company (or companies) under discussion. We are neither licensed nor qualified to provide investment advice through this platform.