Technology company K2fly Limited (ASX: K2F) provides software solutions and consulting services to asset intensive industries. It provides people, products and strategic alliances based on solving problems for clients.
K2fly recently announced a strong Q3 FY20 with invoices of AUD 1.61m, increased by 92 per cent over the corresponding prior period in FY19.
Source: Company's Report
The Company's performance remains robust during such turbulent times. Q2 invoicing was higher than the AUD 1.6m. The Company has also managed to deliver the same performance by raising invoices for ~AUD 1.6m in Q3 FY20 as well. So, total invoicing till now for this financial year sums at around AUD 4.73m, which is already more than previous full year's (FY 19) invoicing, that was AUD 4.15m. Furthermore, Q4 typically gets the maximum invoicing. Everything seems to be going right for the company, and if the usual trend continues, the company is confident that the FY20 financial results will see significant growth over FY19.
K2fly achieved the excellent Q3 performance against a normally quiet January and Q3 included March when the global economies were going topsy-turvy. The favourable financial results combined with agreement extensions with the existing clients and recent announcements of onboarding of new clients point to an outstanding performance by K2fly.
SaaS ARR and TCV grew significantly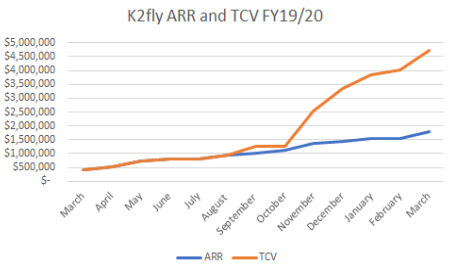 Source: Company's Report
K2fly displays a strong balance sheet. On 31 March 2020, cash at bank was approximately AUD 0.82m. Also, there was approximately AUD 1.26m in receivables from Tier 1 customers and more than AUD 0.50m of contracted implementation work with existing clients to be invoiced on delivery of relevant milestones.
In connection with K2fly's SaaS contracts (for company's software, Infoscope and RCubed):
Annual Recurring Revenue (ARR) at the end of Q3 was AUD 1.8m, grew by 25 per cent. New contracts win after the end of the quarter is more than AUD 2m, an increase of 16 per cent in April.
ARR compounded annual growth rate (CAGR) stood at 247 per cent at the end of Q3. TCV (Total Contract Value) increased by 41 per cent in Q3 to more than AUD 4.7m, which is a CAGR of 793 per cent.
TCV is now more than AUD 6m, grew by 27 per cent in April.
K2fly gets new contracts with Golds Fields Australia, Newmont, South 32 and Vale
K2F won significant contracts in Q3 FY20:
After the Q3 FY20 ended, the company announced additional contract wins in April 2020. These new contracts included:
On 20 April 2020, K2F announced a new 3-year deal with SCR-Sibelco N.V. (Sibelco) to deploy RCubed Resource Governance solution across its 60 sites worldwide.
On 21 April 2020, the company inked a new 5-year deal with Kinross Gold Corporation (Kinross Gold) for the use of K2F's RCubed Resource Governance solution by Kinross Gold's eight operating mines, globally.
Operations and cost management during COVID-19
Now, when most of the businesses are struggling due to COVID-19 related work from home scenario, K2F could function smoothly as remote working is a normal part of the company's operating model. So, relatively it was easy for K2fly to shift entirely to a work from home state.
The software development teams in Australia and South Africa started work from home when the early news surfaced regarding the virus outbreak.
K2F's RCubed Resource Governance solution can be entirely implemented remotely, so the business did not get impacted by travel restrictions. However, due to the uncertain times and turbulent capital market, thanks to the corona crisis, the company has implemented prudent cost management measures and cost reductions that include:
Approximately 10 FTEs reduced from staff/personnel in March.
All remuneration deferred by the Board.
Company's CEO voluntarily deferred 50 per cent of his remuneration.
Few senior executives have voluntarily deferred part of their remuneration.
K2F has significantly reduced marketing, travel, promotional and non-essential expenses.
K2F is going strong in an unfavourable business environment and showing robust financial results. The company's Software as a Service (SaaS) offerings, RCubed and Infoscope, are hugely in demand. By the end of the quarter, these SaaS offerings were deployed in 54 countries with over 460 sites in 45 commodities. Furthermore, the world's top gold companies and iron ore miners are using K2fly's SaaS solutions.
On 4 May 2020, K2F was trading at $0.192 (as at AEST: 12:47 PM), with a market capitalisation of $16.22 million.