Mineral Explorer, Element 25 Limited (ASX: E25), advancing its wholly-owned world-class Butcherbird Manganese Project in Western Australia's south Pilbara Region, a Tier-1 mining jurisdiction, has released a Pre-Feasibility Study (PFS) contemplating the export and sale of manganese concentrate from the Project over a long mine life. Besides, the PFS has confirmed some outstanding economic metrics for the Project to be Australia's next significant manganese mine.
Managing Director Justin Brown commented, "The opportunity for a low capital and operating cost, rapid start-up will transform Element 25 into producer status much earlier than previously anticipated. The robust cashflows will be transformational in growing the company and generating long term shareholder value."
Butcherbird Project PFS– Key Highlights
Under the PFS, Element 25 has developed a start-up manganese concentrate export scenario for the Butcherbird Manganese Project as part of a staged development strategy, which would help in achieving early cashflow for a stronger balance sheet and funds to develop the larger-scale high purity manganese production hub. The project comprises two granted exploration licences E52/2350 and E52/3606.
Resource Estimate & Mineral Reserve: The current 2019 JORC Measured, Indicated and Inferred Mineral Resource Estimate completed by IHC Robbins following a major infill drilling programme in 2018 and stands at 263Mt at 10% Mn2.

Table 1. 2019 Butcherbird Manganese Project Mineral Resource Estimate
Based on the PFS, Element 25 has published a Maiden Proved and Probable Ore Reserve of 50.55Mt at 10.3% Mn containing 5.22Mt Mn (4.28Mt Recoverable Mn).
Bulk Sampling & Beneficiation Test-work: In December 2019, a bulk sampling programme was undertaken to mine ~40 tonnes of ore predominantly from the measured area of the resource and subsequently in Q1 2020, a beneficiation circuit was optimised to target maximum hydrometallurgical feed grade which would minimise the capital and operating costs. The test results exceeded E25's expectations and the new data is planned to be incorporated into the EMM Pre-Feasibility Study (PFSEMM).
Process Plant Design: The beneficiation process plant and other infrastructure have been designed in accordance with normal industry practice and the proposed processing facility would include unit operations, throughput and operating assumptions like 1.2 Mtpa mining rate, crushing, screening, scrubbing, sizing and ore sorting, shown schematically in the figure below: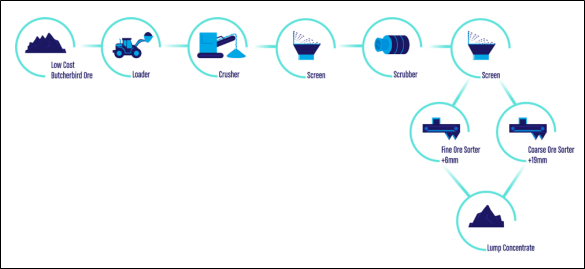 Butcherbird Schematic Flowsheet
Logistics and Ore Transport: Around 270,000 to 370,000 tonnes of Mn Ore per annum would be produced and the manganese lump product would be trucked from the Butcherbird mine site to the Utah Point at Port Hedland where it will be loaded on to ships for export. The proposed site's location is directly off the Great Northern Highway, which will allow for quick turnaround times and the use of largest super quad road trains permissible under the Main Road PBS system. It is also worth noting that the Manganese ore is neither classified as a dangerous or as hazardous good in transit.
Economic Analysis: Element 25 has developed a financial model for its proposed Butcherbird Manganese Concentrate business comprising:
42 years mine life based on Measured and Indicated Resources.
Pre-tax Net Present Value8 (NPV8) of Nominal AU$ 441M (Real AU$ 283M) and IRR of Nominal 255% (Real 223%).
Modest start-up capital investment of AU$ 14.5M plus AU$ 9.2M working capital.
Average annual operating cashflow of AU$ 32.1M for 1-5 years and an annualised cash flow of $24.4M over the life of mine.
Simple payback period of 6 months from start of operations.
Full beneficial production scheduled for next financial year.
The mine plan is designed to utilise the tabular geometry of the mineralisation at Yanneri Ridge to provide a simple and low-cost mining operation. Besides, the base case assumes annual production and sale of 312,000tpa of medium grade lump manganese concentrate grading 30-35% Mn. It complements and enhances the plan to develop and Electrolytic Manganese Metal (EMM) plant.
Development Timeline: Element 25 has provided a project development timeline with key milestone and activities as well as the first production targeted for early 2021.
Project Development Timeline
Project Finance: Element 25 currently has cash at bank and ASX listed investments of $ 5 million before creditor payments as of 31 March 2020. The budget estimates of $ 2 million have been factored in for the remaining three quarters of 2020, including prepayments for long lead time items and the Board has engaged Burnvoir Corporate Finance to assist with project financing and engage with potential lenders.
Marketing Strategy: The Project enjoys a number of advantages over competitors including a low-cost base, high quality and proximity to market. Currently, the medium grade manganese market is the fastest growing section and Element 25 believes it is an exciting opportunity to place the manganese concentrate from the Butcherbird Project strategically into a growing market. Furthermore, a new manganese producer in a stable well-regulated jurisdiction like Western Australia is sure to be welcomed by existing consumers.
Element 25 is planning to leverage the relationships established through EMM marketing discussions with consumers in Japan, Korea and elsewhere to facilitate off-take arrangements for its manganese concentrate while various requests for manganese ore are being received from throughout East and Southeast Asia and the Indian sub-continent.
The Company has also highlighted that the recent Covid-19 outbreak has confirmed the risks associated for manganese consumers with a single country sourcing strategy, which demonstrates that Element 25 is well placed geographically to be a strategic alternative supplier to the industry.
The E25 stock closed the trading on 19 May 2020 at AU$ 0.400, a 100% increase over the last day, with a market capitalisation of ~ 18.41 million. E25 has generated 1-month return of 33.33%, 3-month return of 25% and 17.65% YTD.