Summary

Crowd Media Holdings Limited has held a strong operational and financial position amid COVID 19 crisis
The stock traded up by 4% on 27 May 2020 and has delivered a YTD return of over 30%
The Company has been leveraging its core strengths of digital social media / influencer marketing / conversational commerce- KINN Living Agreement, London Labs' and I Am Kamu plans progressing well
CM8 is on track to achieve the goal of at least a breakeven operational position for FY20
So far, 2020 has delivered challenges that none of us have ever witnessed before. The ongoing spread of the COVID-19 virus has been a turbulent period for businesses across the world. Some of the strongest companies on the planet are on their knees and most business professionals are of the view that it will get worse before it gets better.
Amid the crisis, global media and marketing company, Crowd Media Holdings Limited (ASX:CM8) has held a strong position, both operationally and financially to weather the novel coronavirus storm and remains on track to achieve its goal of at least a breakeven operational position for the full year ending June 30, 2020.
Its stock has been successful in building onto investor sentiment positively on the ASX and has delivered a year-to-date (YTD) return of 31.58 % (as on May 26, 2020). The stock quoted $ 0.025 a share at market close on 27 May 2020, up by 4 %, with over 1.4 million shares traded.
Crowd Media's Ideology Amid COVID-19
As it is difficult to draw attention to new branded consumer goods, particularly in the luxury beauty space, the Company has opted to temporarily put its direct-to-consumer (DTC) initiatives on hold (selling of London Labs and I am Kamu). Meanwhile, the plan was to explore other verticals where it gauged growth, particularly in the digital space.
CM8 opines that there is going to be a "tectonic shift" from conventional retail (i.e. bricks and mortar) to digital as the world combats COVID-19, and it is likely to stay this way even when the crisis period is beyond us.
Besides this, The Company aimed to take advantage of the consumption shift, as more people stay at home and access digital entertainment and spend more time on social media. It is also taking advantage of the opportunity to further streamline operations and complete a round of cost-cutting.
On the COVID-19 measures end, majority of Crowd Media staff were working from home with no staff laid off or furloughed. A virtual organization, rather a digitally native enterprise that uses latest technologies, Crowd Media's business continuity prevailed, and loss of productivity was not anticipated.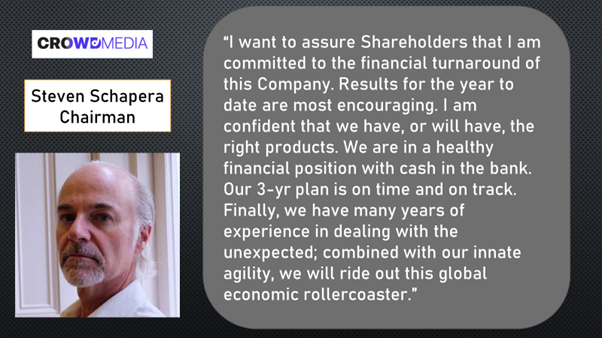 Crowd Media's Business Achievement Amid COVID 19
The Company has evolved into a business run (and part owned) by entrepreneurs. Great ideas executed with vision, capital and passion has kept the Company up and running amid the global crisis period.
Within the pandemic, CM8 saw a silver lining in the form of commercial opportunities and has been tapping on the same-
CM8 remained committed to develop digital based fintech and insurtech products for the millennial market once there is better clarity related to this sector.
Leveraging its core strengths of digital social media / influencer marketing / conversational commerce, CM8 executed a 3 year exclusive distribution agreement with London-based KINN Living in May 2020, to sell KINN's eco-friendly, natural, home-cleaning, sanitisers and laundry-care essentials into the European market (excluding UK). The website launch followed suit.
The Company saw the tide turning in May to pick up marketing spend for 'London Labs' and 'I Am Kamu' products and has been gradually increasing the marketing spend for both, and believes that early benefits of these trials will be witnessed soon.
Crowd Media's Strong Financial Position
In March 2020, the Company notified that it expects to deliver underlying EBITDA of circa $60k for the March Quarter FY20, following a near breakeven underlying EBITDA performance (unaudited) for H1 FY20.
In May 2020, the Board notified that it has recorded another positive result, at the underlying EBITDA level, for April 2020, post positive underlying EBITDA results for January, February, and March. The Company achieved this positive operational position for the year to date with $13.6m in revenue and a small profit of $0.1m in underlying EBITDA.
This further ensured that the Company remains on track to achieve its goal of at least a breakeven operational position for the full year ending June 30, 2020.
It should be noted that this result was recorded despite the substantial downturn in all economies in which the company is active and was driven by Management's continued and relentless focus on quality of revenue, cost efficiency and agility from top to bottom.
ALSO READ- Crowd Media's Encouraging Result: On Track to Achieve Breakeven Operational Position
Good Times Ahead
Crowd Media continues to improve in the most important of all metrics, the bottom line: after two years of substantial losses, underlying EBITDA is now positive and slowly improving, product(s) it sells today are better in every way, close to "exemplary", than the ones it sold 6 months ago. The Company has streamlined every single aspect of the business - from the size of the Team, to the renegotiation of the office rental agreement, to what is in the stationery cupboard.
As Mr Schapera states- "Our future is more secure today than it has been for some time; we have many exciting opportunities ahead"
(Note: All currency denoted in AUD)