Given the unprecedented COVID 19 environment that has disrupted markets and businesses alike, sustaining a significant financial turnaround is one of the healthiest characteristics that a company can currently demonstrate.
A leader in global influencer and social media marketing, Crowd Media Holdings Limited (ASX:CM8) has delivered another positive result at the underlying EBITDA level, for April 2020. This affirms that CM8 is on track to achieve its goal of at least a breakeven operational position for the full year ending June 30, 2020.
CM8's Positive YTD Operational Position
On 12 May 2020, the Company reported $13.6 million in revenue and a small profit of $0.1 million in underlying EBITDA for the year to date. This positive operational position is encouraging in relative to the matching YTD 2019 loss of ($2 million) in underlying EBITDA previously reported. Moreover, it follows positive underlying EBITDA results for January, February, and March 2020.
The Board believes that this financial turnaround is a result of the Management's continued and relentless focus on the quality of revenue along with cost efficiency and agility from top to bottom. The Company has also continued to reap the benefits of earlier discontinuation of its business with unprofitable customers, improved ongoing efficiency, and identification of new opportunities and alliances.
CM8 Tides through COVID 19 Wave
There has been a substantial downturn in all economies in which CM8 is active. However, the recently reported pleasing turnaround well-positions the Company in these volatile times.
Moreover, CM8 is a digitally-native enterprise, which makes its team adept to working from home. During the pandemic period, no staff has been laid off or furloughed. The Dutch law states that unless the company has seen a drop of more than 20% in sales, there is no assistance available. With its performance slightly improved within the qualifying period, CM8 disqualifies itself from any external assistance.
Recent Strategic Alliances
CM8's strategic alliance with 'London Labs' as well as 'I Am Kamu' has progressed as planned. The Company had decided to hold off on committing significant marketing spend due to repercussions of COVID 19, which has made marketing of these types of products relatively difficult. However, things seem to be streamlining since the beginning of May 2020.
The Company is gradually increasing marketing spend and expects to see the early benefits of these trials in May itself. The strategy is simple- at least always break even on early tests, so that it is not a cash burner but an earner ideally. CM8 typically aims for a 4x-7x revenue return on marketing spend.
Below is a plan for Influencer Marketing, which unlike performance marketing is not an "on/off" switch-
In the iterative process, a trial is set up and then tweaked repeatedly to find the successful formula.
Two ideas are typically tested. For example- 4 influencers in each of Germany, France, Italy, and the UK.
Having determined which of the two ideas performed better in each market, CM8 expands on that with (say) two tweaks to that idea, and repeat.
Post several iterations, the which idea/wording performs best, which influencers work best, which content works best is gauged and established.
The process takes 2-3 months and the spend is phased accordingly.
The Company has recently confirmed the agreement with London-based accoladed player, KINN Living. KINN Living has a range of eco, vegan and natural range of laundry-care and home-cleaning essentials are well known in the industry. With heightened awareness of home-care and home/personal hygiene, this agreement seems to have been signed at just the right time. It paves way for products that are especially marketable amid COVID 19 and are the "new normal".
CM8 will operate this vertical with healthy gross margins, and whilst it is expected to be a slow-but-steady approach to revenue building, the company believes this to be a significant and scalable business unit.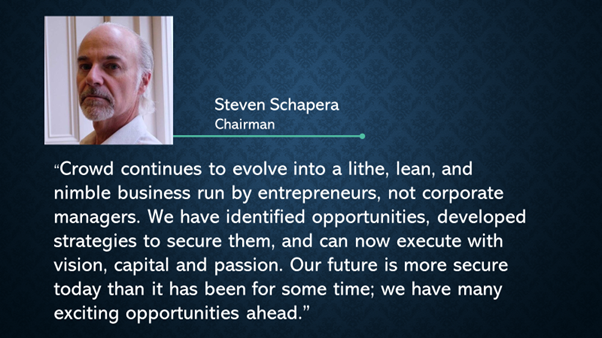 Revisiting CM8's Strategic Vision
At the November AGM, Chairman Steven Schapera outlined the Board's strategic vision for the business-
Horizon One: 2020
Crowd will sell products and/or services that it either owns, or part-owns, or is strategically aligned with, and the focus remains on selling exemplary products that are integral to the lives of its millennial audience.
Whilst the focus was largely on beauty/haircare/skincare products, the Company has competently pivoted to also sell homecare and surface-hygiene solutions.
Horizon Two: 2021
There will be a shift in CM8's focus to the more scalable sale of services via collaborations, partnerships, or strategic alliances.
As part of this vision, CM8's view is that when travel picks up again, travel insurance will rebound strongly, and the Company aims to be at the front of the line. It has already extended its LOI with Pluto Travel and is keeping options open with both insuretech and fintech products.
Horizon Three: 2020 and Beyond
Here, CM8 targeted the launch of a conversational 'voice-and-visual' interactive digital media product, with applications across a range of sectors including influencer marketing, customer service, healthcare, and education.
The Company has already extended their LOI with Forever Holdings Ltd. and both parties remain committed to driving this product to commercialisation.
CM8 last quoted $0.021 a share on the ASX with over 1.7 million shares traded. In the last one month, it has delivered returns of 31.25%.