Physiotherapy is a treatment that intends to help people move freely and with less or no pain, by using physical methods like massage and exercise rather than treatments or surgeries. It is the process used for the treatment of any indication, injury, as well as deformity, by physical methods such as exercise, massage, and heat treatment.
What is online physiotherapy?
Online physiotherapy, also known as Telehealth physiotherapy, is a digital alternative to in-person appointments for physiotherapy. Individuals can get their condition diagnosed and treated by a completely qualified physiotherapist via a video call, rather than in person.
Online physiotherapy consultation service uses the video meeting technology for conducting a video-based consultation between a patient and a physiotherapist.
For consultation, one can use a smartphone, tablet, laptop, or a desktop computer having a camera, microphone and earphones, speakers, or headset.
This is convenient for people who live in rural areas, find it difficult to travel, or don't have the time to stuck in traffic jams on their way to a physio appointment.
Besides, an increasing number of clinical studies have demonstrated that telehealth/online physiotherapy consultations are safe, secure, cost-effective, as well as in the vast majority of cases, as effective as in-room consultations.
Kalkine Group Image
Benefits of Online Physiotherapy Treatment
Physiotherapy has over the years proved its effectiveness in helping patients restore their health along with enhancing their physical strength, function, and mobility. With online physiotherapy, a person can address backaches, joint pains, and old injuries (if any) that were not considered due to work and life commitments.
Some of the benefits of online physiotherapy include:
Enables convenience and provides personalised care.
Brings about a faster healing process without any mobility issues.
Better time management.
Cost-effective.
Family support and supervision.
Physiotherapy Insurance
Medicare is the universal health insurance scheme in Australia. It makes sure all Australians get an access to a variety of services (health and hospital) at low or no cost.
However, Medicare will only cover the physiotherapy costs that incur as an inpatient in a public hospital. Whenever a person takes extras with health insurance, he can obtain benefits towards the cost of physiotherapy. In some health insurance coverage, cover for physiotherapy comes under extras and can offer benefits during the visit to a physiotherapist.
ALSO READ: Physiotherapy Cover: What does it Include?
©Kalkine Group 2021
To know more about extras and how to find the best cover that suits you? CLICK HERE
There are some private health insurance service providers who give cover for physiotherapy under extras policies; though, the benefits given will always depend on the opted health insurance extras plan. For example, a basic extras policy may provide some limited benefits.
If included, an extras policy will cover the below-mentioned physiotherapy services-
ALSO READ: 6 Important checklist items to consider while buying health insurance plans
Let us now get you acquainted with the online physiotherapy service providers across Australia-
Few Selected Available online physiotherapy services in Australia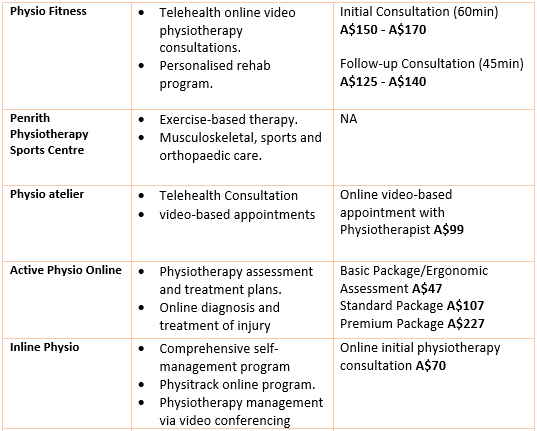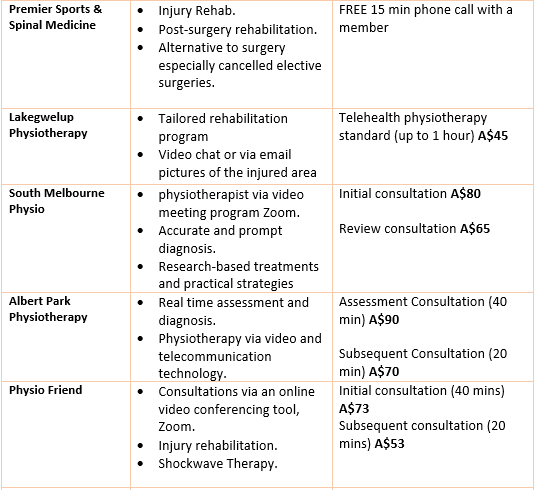 * Prices may vary with time.